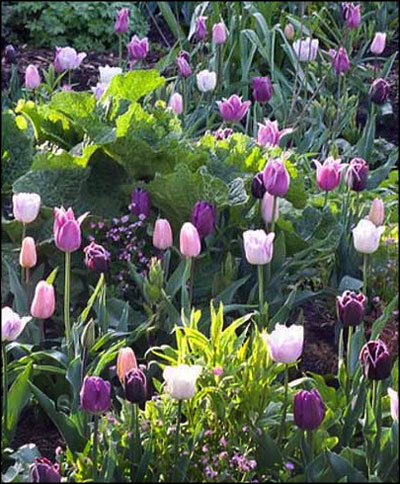 Although "tulips on their own can look spectacular," writes UK garden designer Kristy Ramage in the April 2017 Gardens Illustrated, "I prefer to grow them more sparsely in combination with perennials, where the emerging leaves and a few early flowers are a foil for the shapely heads of the tulips."
Kristy especially likes growing tulips "through mounds of soft foliage" such as that of columbines, meadow-rue (Thalictrum), Jacob's ladder (Polemonium), hardy geraniums, and Anthriscus sylvestris 'Ravenswing', "a variety of wild chervil whose "ferny, copper-colored foliage . . . tones with the dark tulips and sets off the light tulips beautifully." (Sadly for us here in zone-6a Ann Arbor, 'Ravenswing' is hardy to zone 7 and warmer only.)
She also highly recommends three of our favorite heirlooms for planting with perennials:
'Apricot Beauty' tulip – "Named in 1953, this lightly scented, softest salmon-rose tulip is vintage in more ways than one – imagine silk lingerie from the 1920s and you have this Single Early tulip to a tee."
'Columbine' tulip – "Exquisite and rare, a 'broken' tulip of the type that was prized by the English florists' societies of the early 19th century. It opens to a wide cup, displaying black anthers inside."
'Thalia' daffodil – "I wouldn't be without 'Thalia' somewhere in a garden. The form and color of this daffodil is so good it's impossible not to be charmed. Introduced in 1916, it has been deservedly popular ever since for inter-planting with other bulbs or planting in drifts in a woodland."
This spring, before your perennials reach their full-size, why not mark a few spots where a handful of tulips or 'Thalia' would look fabulous next spring– and then order now to make sure you'll get them!