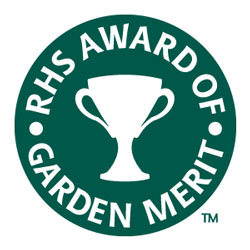 The Award of Garden Merit (AGM) is the Royal Horticultural Society's highest honor for garden plants. It was first bestowed in 1922, and the list of winners has been regularly updated since 1993 to make sure all are still of "outstanding excellence," "good constitution," problem-free, and widely available.
Although many of our bulbs are too rare to make the list, here are 42 AGM-winners that we're offering this fall. Some are already sold out, and others will be soon, so don't delay – add some of these exceptional flowers to your garden today!
CROCUS: Cloth of Gold (save 10%), 'Snowbunting', 'Vanguard', and sold out 'Mammoth Yellow' and C. tommasinianus.
DAFFODILS: 'Carlton', 'Jenny', N. moschatus, pheasant's eye, 'Romance', 'Sun Disc' (save 10%), The Tenby, and sold-out 'Avalanche' and 'Geranium'.
HYACINTHS: Sold-out 'City of Haarlem', 'Gypsy Queen', and 'Hollyhock'.
LILIES: 'African Queen', 'Pink Perfection', regal, and sold-out L. martagon.
PEONIES: Sold-out 'Duchesse de Nemours' and 'Miss America'.
TULIPS: 'Black Parrot' (save 10%), T. clusiana (save 10%), 'Kingsblood', 'Prinses Irene' (save 10%), 'Temple of Beauty' (save 10%), and sold-out 'Apricot Beauty' and 'White Triumphator'.
DIVERSE: Allium senescens, Allium sphaerocephalum, Turkish glory-of-the-snow, Cyclamen hederifolium, snake's-head fritillary, giant or Elwes snowdrop, 'S. Arnott' snowdrop, Byzantine gladiolus, Siberian squill, Sternbergia lutea (save 15%), Trillium grandiflorum, and sold-out 'Atkinsii' snowdrop and Leucojum aestivum 'Gravetye Giant'.