Here's some exciting news for all of you who enjoy the antique images we use in our print catalogs. Last week the Biodiversity Heritage Library celebrated their amazing online collection of over 14,000 historic garden catalogs with a week-long social media event called "Garden Stories." Even if you missed our Facebook alert about it, you can still: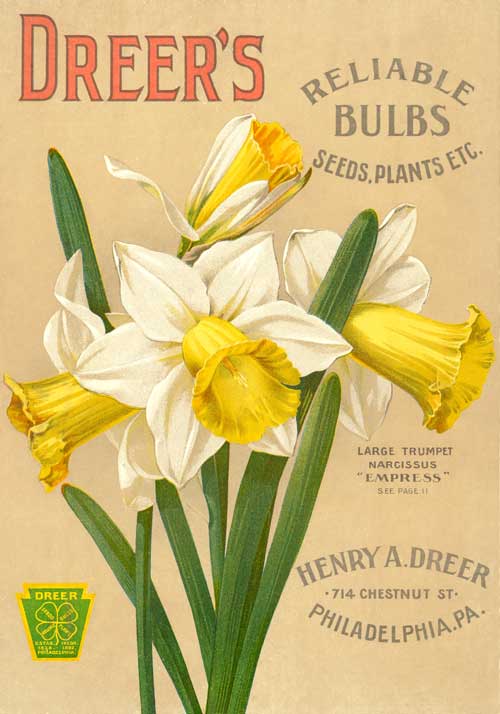 1. Read the Library's 12 blog posts about the history of garden catalogs, including ones on Shaker seeds, catalog art, and "Leading Ladies." Click the "Older Posts" link at the bottom of each set of articles to see them all.
2. Enjoy the thousands of antique catalog images the Library has posted at Flickr. Be sure to click on your favorite images to see others from the same catalog – and if you find one you think would be perfect for our next catalog, let us know!
3. Explore some of the Library's thousands of digitized catalogs dating from 1782 to 1969. Leaf through the 1825 catalog of the William Prince nursery, for example, and you'll find 22 pages of fall-planted bulbs – including several whose names you'll recognize from our catalog – and almost two pages of dahlias which at the time were so new to cultivation they were placed in the section labeled "Green-House Plants."
The Biodiversity Heritage Library is a consortium of natural history and botanical libraries working together to digitize "the legacy literature of biodiversity" and make it more widely available in a global "biodiversity commons." The BHL's garden catalogs were digitized mainly from the collections of the National Agriculture Library (which holds some 200,000 catalogs), the New York Botanical Garden, the Missouri Botanical Garden, and Cornell University. We applaud the BHL's work and we're glad they recognize the value of historic garden catalogs!