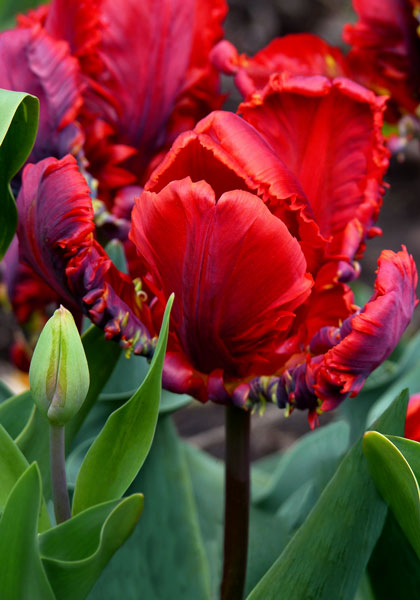 "best of all" 'Rococo', 1942
"Does the kind of flower you send say anything about you as a lover? I think it does."
So says Anna Pavord, superstar garden writer and bulb-lover, in The Curious Gardener. Here's her modern take on the language of flowers, including her favorite Valentine's Day flower – tulips!
Roses – "From a lover who feels safest as one of the herd and for whom imagination will never be a strong point."
Carnations – "Acceptable only if they overpower you with their smell. If they don't, then your lover too must be under suspicion of being unable to deliver what the outside appearance promises."
Daffodils – "I'd trust a man who gave me daffodils. . . . Daffodils fit the bill seasonally, and in love as in life, you like to feel you are getting the right things at the right time. . . . There's hope in daffodils. That's a dangerously fragile commodity at the best of times, but now is the season to indulge it."
Lilies – "Fine if you can live up to the theatrical aura they throw around them. Lilies will come from people who care very much about their appearance. . . . Let the stamens be the deciding factor. If your Valentine insists on cutting them off, on the grounds that the pollen will stain the Armani suit, then get free of the relationship as soon as you can. Just think how such a suitor would hog the bathroom. Impossible."
Tulips – "As far as I'm concerned, these are the best, indeed the only flowers to send or receive on Valentine's Day. Wild, irrepressible, wayward, unpredictable, strange, subtle, generous, elegant, tulips are everything you would wish for in a lover. Best of all are the crazy parrot tulips such as 'Rococo' [pictured here] with red and pink petals feathered and flamed in crinkly lime-green. 'When a young man presents a tulip to his mistress,' wrote Sir John Chardin (Travels in Persia, 1686), 'he gives her to understand by the general red color of the flower that he is on fire with her beauty, and by the black base that his heart is burned to coal.' That's the way to do it."
If you're a daffodil, lily, or tulip kind of lover, we're here for you! Order any of our luscious, romantic, fall-planted treasures now for delivery at planting time in October.