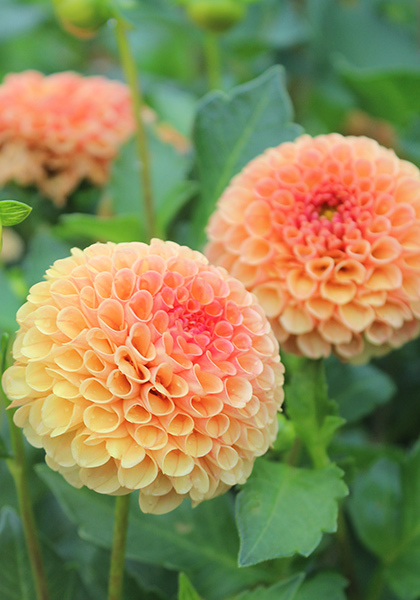 'Amber Queen' dahlia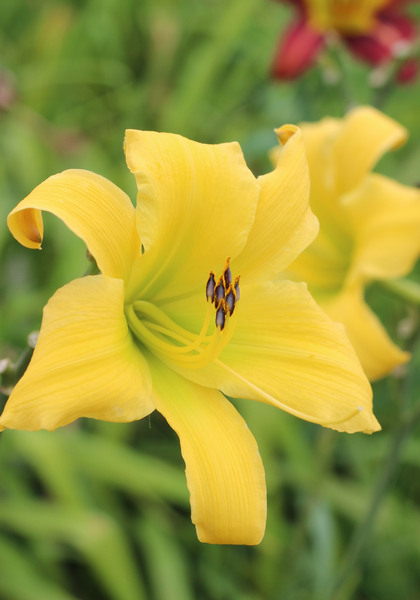 'Bette Russell' daylily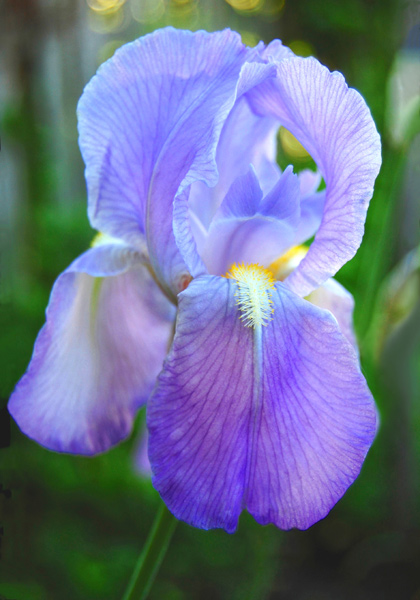 'pallida Dalmatica' iris
A delight of the winter season is the time it gives gardeners to dream and plan what to grow when the weather warms. As seed catalogs flood your mailbox this month, don't forget to order your bulbs for spring planting, too! Enjoy a summer garden filled with:
Bouquet-Friendly Dahlias - Last month's newsletter told you about 6 heirlooms we're offering for the first time, ranging from 1" pompons through giant dinner-plates. We weren't sure then if we'd have enough of some of our favorites to offer this year, but we do! Glowing 'Fatima', Victorian 'Kaiser Wilhelm', peachy 'Amber Queen', bee favorite 'Mrs. H. Brown', and cheerful 'Little Beeswing' are now (while supplies last) available at our website.
Great Glads – Three varieties are small-flowered cuties: perky 'Elvira', ruffled 'Green Lace', and glorious 'Starface'. Two are fragrant: 'Abyssinian' and 'Lucky Star'. And the rest are just as fabulous, including the rare 'Dauntless', shimmering 'Nova Lux', dramatic 'Plum Tart', and charming 'Priscilla'.
Always-Dependable Daylilies - We're offering 4 new to us this year: evening-blooming 'Bette Russell', golden 'Gertrude Condon', elegant 'Purple Waters', and fetching 'Winsome Lady', as well as bringing back past favorites 'August Pioneer', 'Black Friar', 'Challenger', 'Evelyn Claar', 'Marse Connell', and 'Melonee'. We rotate our daylily offerings each year, so if you've been waiting for one of these, here's your chance to add it to your collection!
Incredible Iris - We're so happy to bring back our 'Small is Beautiful' sampler for those of you who like shorter iris that combine beautifully with perennials at the front of the border. If you'd rather choose your own selection, we have 13 varieties back this year, including 7 from the 19th century (and 'pallida Dalmatica' from 1597!). These are tough survivors often found in old homesteads and graveyards generations after they were planted – if you're in zone 3-8a with some full sun, why not leave your own legacy of beauty?
And don't forget to check our Diverse offerings where you'll find fragrant tuberoses, elegant 'Ehemanii' canna (see more below!), starry crocosmia, pixie rain lilies, and our lilies that can't be shipped in the fall, including dazzling 'Uchida' and 1804's lancifolium 'Splendens'.
Assuming the weather cooperates, we hope to begin shipping spring orders the first week of April. But order soon: some varieties will sell out quickly - and if you order by March 1, we'll include an extra something-special of our choice!