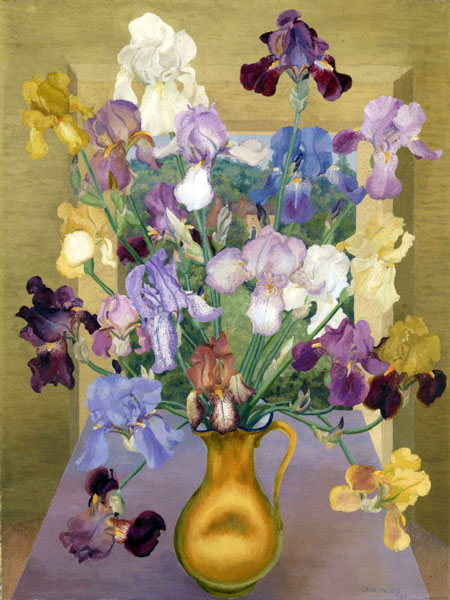 Is it too early to think about spring planting?
Not if you want to snag a rhizome or two of 'Edward of Windsor', one of the most intriguing iris we've ever offered. Some call it soft pink, others pale orange, but either way it's a light, dreamy pastel color with a surprisingly bright tangerine beard.
Unusual colors are one of the hallmarks of iris bred by British artist Cedric Morris (1889-1982) whose paintings hang today in museums around the world. Morris painted in what has been called "a distinctive and often rather primitive post-Impressionist style," and for more than 40 years students flocked to the art school he conducted at his home, Benton End, in the English countryside.
Morris developed extensive gardens there, said to be inspired by Monet's at Giverny, and in the early 1940s he began breeding iris. He eventually registered 45 of the best with the American Iris Society, often with names such as 'Benton Rubeo' (named for his pet macaw) and 'Benton Cordelia' (winner of the British Dykes Medal in 1955).
Unfortunately almost all of these had disappeared from commerce by the time Sissinghurst's head gardener Sarah Cook discovered a long-lost label for 'Benton Nigel' in the gardens there. After taking early retirement in 2004, Sarah launched a quest to rediscover all of Morris's iris, and today she's nurturing some 25 of them as holder of Plant Heritage's National Collection of Cedric Morris Iris.
Learn more about Morris and his iris here (although please note that the photo labeled 'Edward of Windsor' is NOT that iris), view dozens of his paintings here (you may need to be patient as the images load), and if you like what you see, why not order now to enjoy a bit of his incredible floral art in your own backyard!