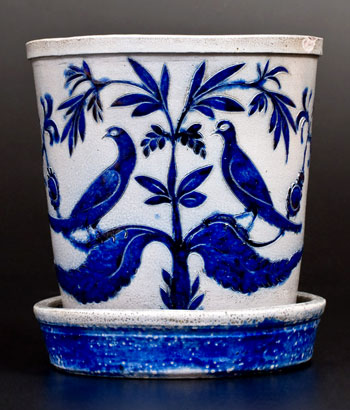 Here's a flower pot I'd definitely like to have sitting on my favorite plant stand. Arguably "the finest American ceramic flowerpot known," it was recently sold at auction for $63,250.
It's a salt-glazed stoneware pot just over seven inches tall that was made in Baltimore in the 1820s. What makes it so special is its age (most flower pots from the early 1800s were broken and lost long ago), its excellent condition (even its saucer has survived), and its unusually elaborate decoration – "an incised and cobalt-highlighted design of birds perched on the stems of a flowering plant" – which raises it to the level of folk art.
As a gardener, I immediately tried to identify the flowers depicted on the pot. They may be purely imaginary, but I think the ones described as daisies may actually be auricula primroses which were much more fashionable in the 1820s. The other, splayed-petal flowers have delicately fringed tips and so may represent pinks, while I'd say the "hanging cluster-shaped blossoms" are simply buds.
Hopefully the pot will end up on display in a museum – and if it's ever reproduced, I'll be first in line to buy one. See additional photos and learn more here.