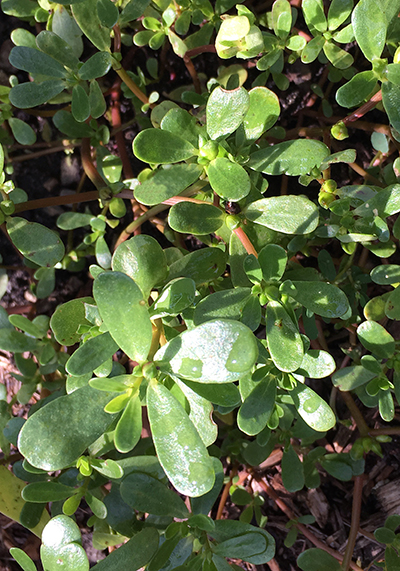 purslane thriving in my garden
Purslane is the weed of the moment in my garden right now. I swear if I look away for just a day or two, areas that were perfectly weeded are covered with big sprawling mats of it.
With its flat, succulent leaves, purslane is part of the Portulaca genus which also includes the heirloom annual moss rose. Its seeds germinate best when soil temperatures reach 90 degrees, which explains why I'm seeing so much of it right now. And it does grow quickly, producing seeds just three weeks after it sprouts – which can remain viable for up to 40 years! Plus any pieces that get missed while you're weeding can root and grow into new plants, so I'm sure I'm going to be battling purslane in my garden forever.
But here's the good news – purslane is both tasty and nutritious, and it has a deep history.
"The moisture-rich leaves are cucumber-crisp, and have a tart, almost lemony tang with a peppery kick," writes Laura Vozzella in the Baltimore Sun, and it's frequently compared to watercress and spinach (though to my taste buds it's milder than all of the above). It's also rich in Omega-3 fatty acids, vitamin A, vitamin C, iron, magnesium, and even melatonin.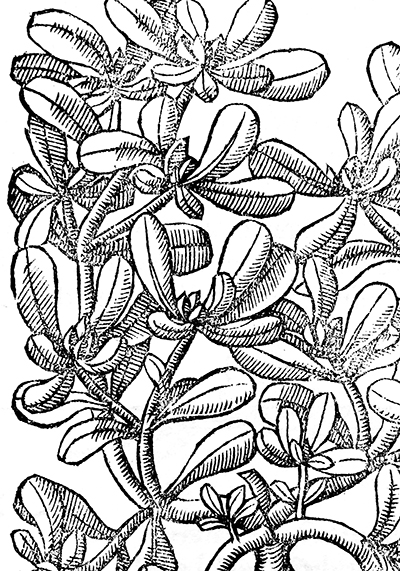 "wild purslane" in Gerard's Herbal, 1597
"Fresh young plants" are best, writes Sandra Mason of the University of Illinois Extension, "especially young leaves and tender stem tips." She recommends eating it "in salads or on sandwiches instead of lettuce or pickles. Next time order a ham and purslane on rye," and adds that purslane "can also be cooked as a potherb, steamed, stir-fried, or pureed."
According to Wikipedia, "archaeobotanical finds … are common at many prehistoric sites" in the eastern Mediterranean, and by the Roman era purslane's "healing properties were thought so reliable that Pliny the Elder advised wearing the plant as an amulet to expel all evil."
In his great Herbal of 1597, Englishman John Gerard described two forms, "garden purslane" and the similar but smaller "wild purslane" which "cometh up of his own accord in allies of gardens and vineyards." (Sound familiar?) It was "much used in salads, with oil, salt, and vinegar," he said, and he listed over a dozen herbal uses for it, from provoking appetite and soothing toothaches to treating hemorrhoids and "killing worms in small children."
I could go on and on – who knew a weed could be so interesting? – but I'll just recommend a couple of excellent articles if you want to explore further: the Baltimore Sun's "Purslane: A Weed Worth Eating" and "What to Do With Purslane" at Epicurious.com.
Happy weeding – and eating!