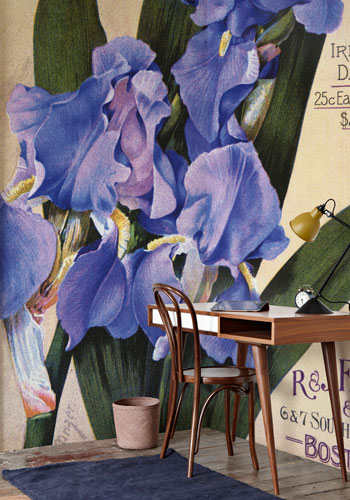 Imagine an entire wall in your home or office covered with a huge image of a Dutch flower painting from the 1700s, or a bulb catalog cover from the 1800s.
For less than you might expect, a British company called Surface View offers custom-sized murals of thousands of images ranging from antique maps and vintage comic books to abstract patterns and modern photography. Any good wallpaper hanger can install them for you, and shipping for most orders is free.
Among the 600-plus botanical images they offer you'll find 18th-century paintings of broken tulips, Victorian chromolithographs of daffodils, floral wallpaper by William Morris, close-up photos of 'Snowbunting' and 'Rip van Winkle', and antique catalog covers such as the one here of 'Pallida Dalmatica' iris.
That image as well as several of our other favorites are part of a recently added New York Botanical Garden collection that you won't want to miss.
Even if you don't end up ordering any, it's fun browsing through the wonderland of images. Enjoy!