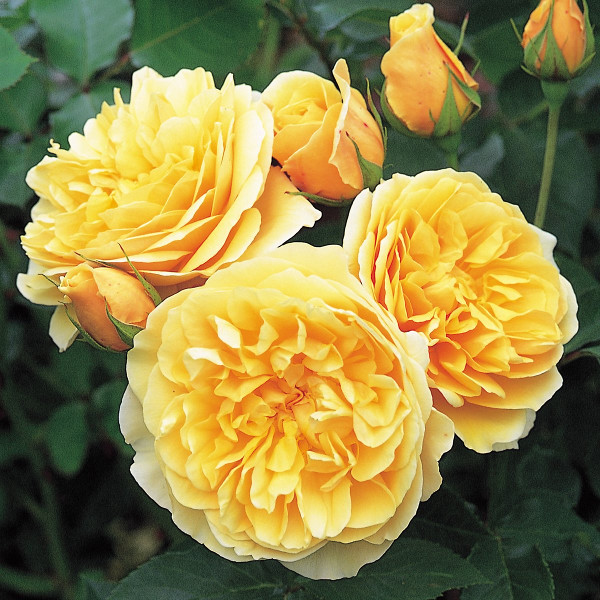 'Graham Thomas' rose
In its December 2019 issue, The English Garden explored how one man's love of heirlooms grew into a worldwide phenomenon.
"The first David Austin English roses were launched [in 1969] – and the rose-growing world would never be the same. Fifty years later, after the launch of more than 240 cultivars, David Austin and his English roses are household names . . . .
"Yet in the 1960s, Austin was regarded as something of a maverick. The rose industry then was in thrall to hybrid teas and floribundas – they sold in their millions. The established breeders and growers of the time couldn't understand why Austin was spending his time producing roses that looked 'old-fashioned', but he had hit on something. . . .
"Austin had always loved plants, but it was when his sister gave him a copy of E.A. Bunyard's Old Garden Roses for his 21st birthday that he fell in love with roses and started to grow them – as a hobby at first. Mainly these were old roses . . . , many with wonderful scent and all with a superb, once-yearly flowering display.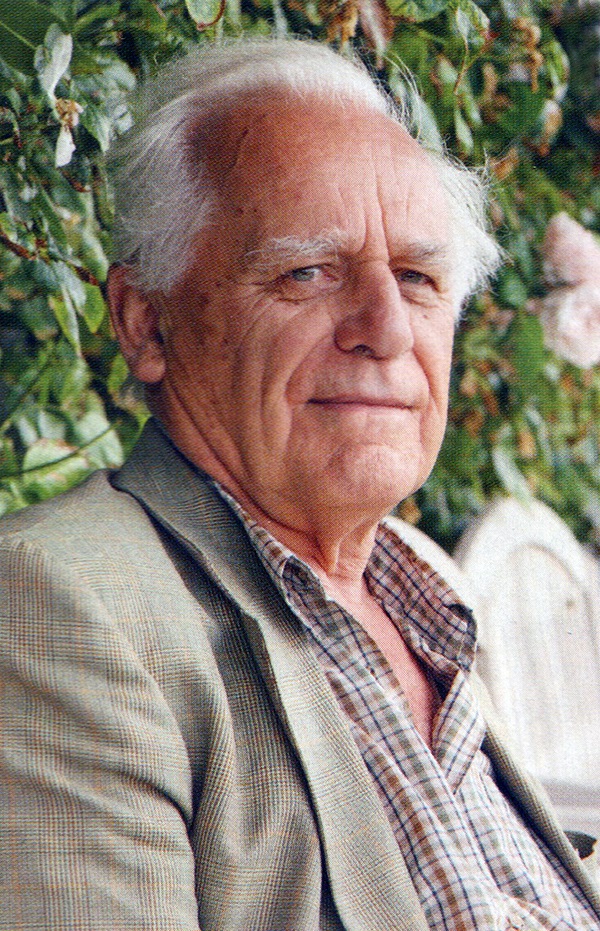 "Growing a few hybrid teas alongside them . . . he recognized they had attributes the old roses lacked. . . . That was when he realized there could be a market for an entirely new rose: one that combined the beauty and fragrance [and toughness!] of the old roses with the more varied colors and repeat flowering of modern varieties. It was the start of a lifelong passion and a breeding project that would go on to transform the rose industry."
Austin introduced his first rose in 1961, and "in those early years, most nurseries refused to stock his roses. By 1969 when he coined the term English roses . . . he had to supply them to the public himself, packaging the plants on his kitchen table. Competition with other rose nurseries was tough, and it took time for his new style of roses to catch on.
"The breakthrough came in 1983, when Austin exhibited the three roses he was launching that year at the Chelsea Flower Show." As the nursery's Michael Marriott explains, "In particular 'Graham Thomas' [pictured here] struck a chord with the public. . . . Before that Austin had been a tiny nurseryman in the depths of Shropshire . . . but when 'Graham Thomas' was introduced people read about it and came flocking. The other rose growers couldn't believe it really, this upstart grower who had suddenly got a whole load of attention for this 'funny' old rose they thought no one would want."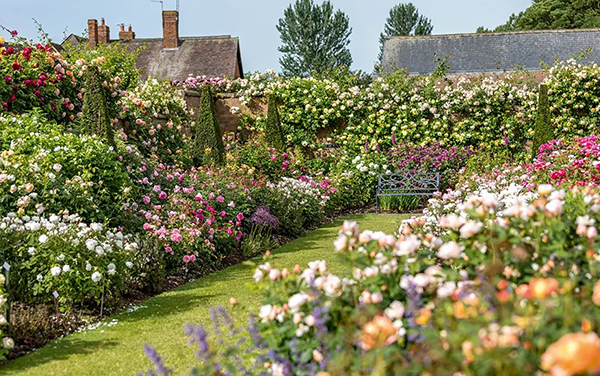 the magnificent Lion Garden at the David Austin Roses nursery
'Graham Thomas' is still an enormously popular rose, Austin's 1986 'Gertrude Jekyll' has twice been voted the UK's favorite rose, and right up until his death in 2018 at the age of 92, Austin continued to create "new old-fashioned" roses that are beautiful, fragrant, and tough. His incredible success also inspired other breeders to re-imagine what roses could be, leading to the multitude of easy-care "landscape roses" that brighten so many places today where roses would have once been unthinkable.
Not bad for one guy who saw something worth saving in flowers that most other people thought were just old.