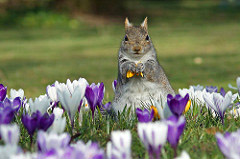 Although some bulbs are rarely bothered by animals (see our complete list here), others are quite tasty.
If, like us, you can't live without tulips, lilies, and other animal favorites, here's a tip from fellow gardener Louise Heern in the August issue of Fine Gardening:
"Trying to garden in the mountains of Colorado is no easy task. Some plants may be deer or rabbit resistant, but voles and pocket gophers don't care what kind of roots they eat.
"To protect plant roots from these burrowing critters, I buy wire baskets from the dollar store and sink them in the ground, leaving an inch or two above the soil to prevent voles from coming in over the top. I then plant the root-ball inside the basket, back-filling with soil to the appropriate level. The basket rim can be hidden with mulch if your plant doesn't cover it.
"Wire baskets can also be turned upside down and secured with U-shaped pins to protect new seedlings from rabbits and chipmunks."