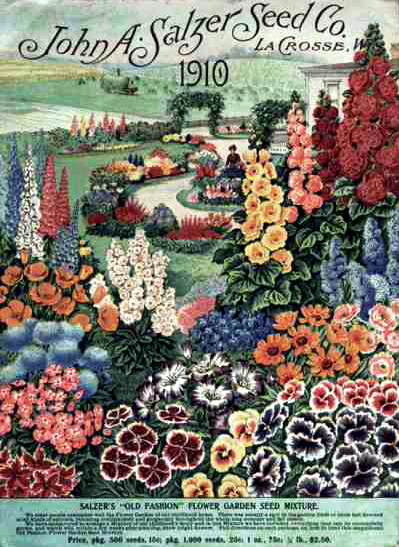 "Salzer's 'Old-Fashion' Flower Garden
Seed Mixture," Salzer catalog, 1910
"Even before the coronavirus crisis sparked renewed interest in vegetable gardens," writes our good friend Dean Fosdick in his April 28 column for the Associated Press, there was "a movement toward more traditional gardening aesthetics," including grandmother's gardens and heirloom flowers.
"Grandmother's gardens" were the informal, mixed flower gardens that arose in the late 1800s as a reaction against Victorian carpet bedding. Today, says Leonard Perry of the University of Vermont, most people are so busy they "strive for simpler gardens," but as some gardeners "add more flowers for pollinators, or combine flowers with edible herbs and vegetables, they are beginning to recreate gardens" that hearken back to this old-fashioned garden style.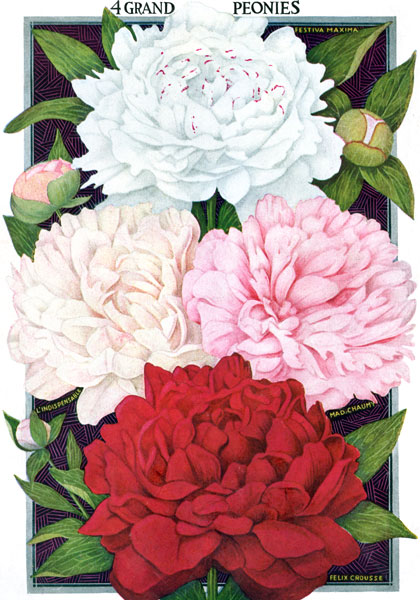 "4 Grand Peonies," John Lewis Childs catalog, 1919
Old-fashioned plants were an essential part of grandmother's gardens, too. As Dean quotes me saying, "Slowly but surely, gardeners turned away from the brightly colored exotic annuals of the Victorian era in favor of flowers that had a long history in gardens, especially perennials such as peonies and iris, self-sowing annuals such as larkspur and poppies, and bulbs that would return and multiply year after year such as daffodils and snowdrops."
When Dean asked me to explain the appeal of these gardens and plants today, I told him that grandmother's gardens "emphasized an appreciation for plants as plants, not just blobs of color," and they offered "a connection with the real world, which I think is an important part of gardening for many of us today. Hardscaping and backyard kitchens do little to connect us with nature, but working with plants does – which is something I learned from my grandmother."