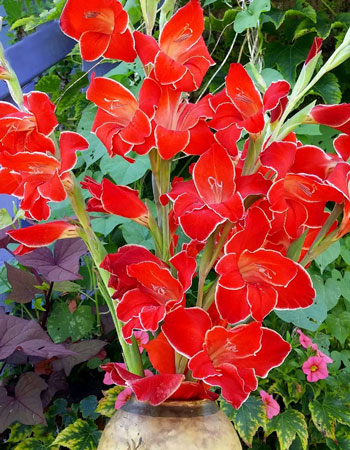 Our signature glad 'Atom' has a famous friend in England – and we introduced them!
Garden designer Rosemary Alexander is the founder of The English Gardening School, author of a half-dozen books, and winner of the RHS Veitch Memorial Medal. We met years ago when we lectured for a series of Horticulture magazine seminars. Although OHG usually ships to US addresses only, when Rosemary asked if she could order a few of the bulbs I'd shown in my slides, I happily agreed.
'Atom' was one of the first she ordered, and she liked it so much that – ten years later – she recommends it in "Rosemary Alexander's 100 Great Plants for an English Country Garden," the February cover article of Gardens Illustrated. "Long overlooked as an attractive garden plant," she writes, "smaller gladioli are now back in fashion."
Another half-dozen heirlooms we offer also made it into Rosemary's top 100 plants: 'Bishop of Llandaff', dahlia, 'S. Arnott' snowdrop ("quickly forming very handsome clumps"), 'Thalia' daffodil ("longevity and vigor make this a popular choice for naturalizing"), regal lily ("I plant the bulbs in plastic pots and sink these in their final position in early summer as a glamorous, scented treat"), winter aconite, and sternbergia.
Spring-planted 'Atom' and 'Bishop of Llandaff' are going fast, but if you order them now you can enjoy their simple, bright blooms this summer – just like Rosemary does.