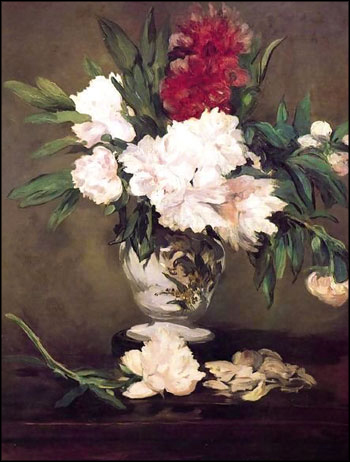 As the buds on our peonies here in Ann Arbor swell with promise, I've been thinking about the great French artist Edouard Manet, whose ground-breaking works helped to launch Impressionism and changed art as we know it forever.
In 1864-65, just after he exhibited his best-known work, the scandalous Luncheon on the Grass, Manet made several paintings of peonies, including Peonies in a Vase on a Stand, pictured here. According to a 1983 exhibition catalog published by the Galeries Nationales du Grand Palais in Paris, these works "painted at the peak of his artistic vitality are allegories of vanity . . . [and] the transience of beauty," as were many of the magnificent Dutch flower paintings of the 1600s.
"Van Gogh was much struck by this painting," the catalog continues, "and mentions it at a time when he was himself working on a flower series: 'Do you remember that one day we saw a very extraordinary Manet at the Hôtel Drouot, some huge pink peonies with their green leaves against a light background? As free in the open air and as much a flower as anything could be, and yet painted in a perfectly solid impasto.'"
Unfortunately, although Van Gogh described the peonies as pink, they look white today because the pigments Manet used have deteriorated over time – a problem which has also afflicted several of Van Gogh's works including Vase with Pink Roses, now at the National Gallery in Washington, DC.
At the time Manet painted this image, peonies were held "in high esteem, recently introduced into Europe and still considered an item of luxury," which would have made the painting especially appealing to Manet's "elegant clientele." More importantly, though, "Manet simply liked peonies. He grew them in his garden at Gennevilliers, and their exuberance . . . was in perfect harmony with his generous and sensuous brushwork."
See more of Manet's peony paintings at Google Images – and then garden like the master himself by ordering your own peonies now for delivery this fall!