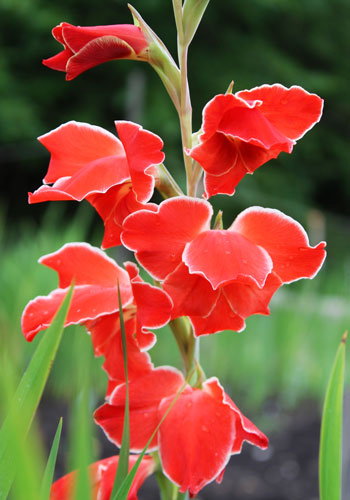 "In my garden? No way." That's what our good customer Susan Stauber of Beacon, NY, had to say about glads — until she took a chance on our small-flowered, best-selling 'Atom'. She writes:
"I grew up in a part of the country where the huge hybrid gladiolus were grown in fields. Great for funeral arrangements and corporate office lobbies, but in my garden? No way.
"But there was something tantalizing about those little 'Atom' glads of yours. So I bought a few. And when they bloomed — wow! They made me chuckle every time I saw them.
"So last year, I bought a few more 'Atom' and some 'Lucky Star'. This time I planted them in groups here and there, and I planted the groups at different times so I was smiling at blooms all summer long. (I even dug and stored them successfully last fall.)
"I never could have predicted that I'd be ordering more gladiolus for this year, but I am – 'Boone' and 'Starface'. I can't wait for the ground to finally defrost so I can plant them. It is possible to recover from childhood traumas.
"P.S. Everyone who walks by wants to know what those wonderful red flowers are. They can't believe they're gladiolus!"