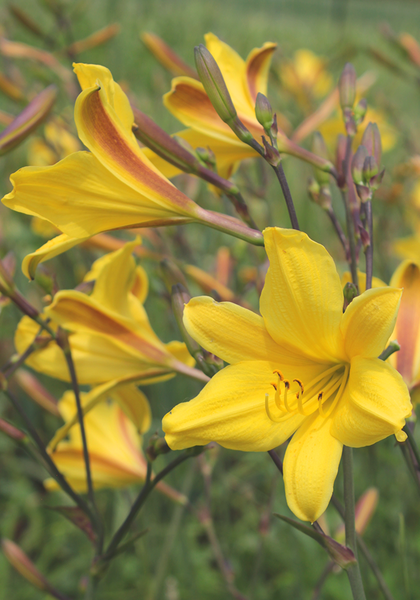 Christopher Lloyd grew thousands of plants in his world-famous gardens at Great Dixter, and he evaluated them all with the discriminating eye of an artist. For choosing daylilies that look great in your garden — not just in a catalog close-up — he offered this advice in Christopher Lloyd's Garden Flowers:
"Don't be carried away by a single bloom seen out of context....
"While being dazzled by large blooms, remember that small-flowered Hemerocallis are the most prolific. Furthermore, their individual flowers tend to die off discreetly, whereas large-flowered kinds really need dead-heading every morning, to prevent the colony from becoming slovenly....
"As with so many 'improved' plants, enlarged flowers are often matched by an increase in leaf size and coarseness. Watch out for this. Then again, the naked flowering stem should present its blooms well above the foliage, this being the graceful effect that gives the flowers style...."
To see exactly what he's recommending, try a couple of our graceful, prolific, Christopher-Lloyd-style daylilies in your garden this spring.