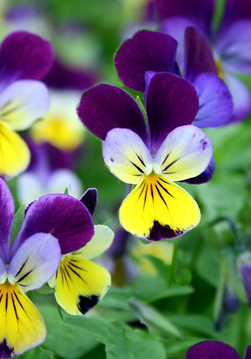 Johnny-jump-up
Tasha Tudor was not only a beloved author and illustrator of children's books, she was an avid gardener with a special love of heirloom flowers – including our bulbs.
But fading bulb foliage is never pretty, and Tudor offered some good advice for hiding it in a 1998 article by Tovah Martin for Horticulture magazine. The first four plants she mentions are hardy, self-sowing annuals in much of the country, which means you can plant them right now by just sprinkling their seeds on top of the soil and letting Mother Nature do the rest. (Planting in early spring will work, too.)
"Spring arrives late in Tasha Tudor's New England garden," Martin wrote, "but when it comes, it arrives with an onslaught of bulbs. The bulbs don't last forever, though, so Tasha plans ahead for summer.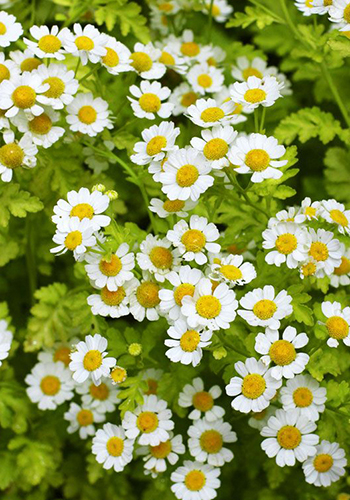 feverfew (This golden-leaved variety is my favorite.)
"Even before the foliage of the bulbs ... begins to turn brown, an underplanting is gearing up to mount the stage and steal the show. Of course, Tasha will insist that she doesn't underplant specifically to hide the dying bulb foliage. The forget-me-nots [Myosotis sylvatica] and Johnny-jump-ups [Viola tricolor] ... now appear in profusion of their own accord. But at one time, they were certainly planted to take up the tempo as the bulbs fade.
"Meanwhile, other enthusiastic fillers take full advantage of Tasha's hospitality. Feverfew [Tanacetum parthenium] seeds in wherever it finds open ground. Annuals are also tucked here and there in promising nooks and crannies. Sweet alyssum [Alyssum maritima] is Tasha's favorite and most frequently employed annual for the purpose.... Later the dianthus [pinks] flushes out; valerian [Valeriana officinalis] adds flowers, and lady's mantle [Alchemilla mollis] adds leaves. By June, you would never guess that the garden was once running rampant with narcissus and that beneath the lush garden, bulbs are slowly slipping away."