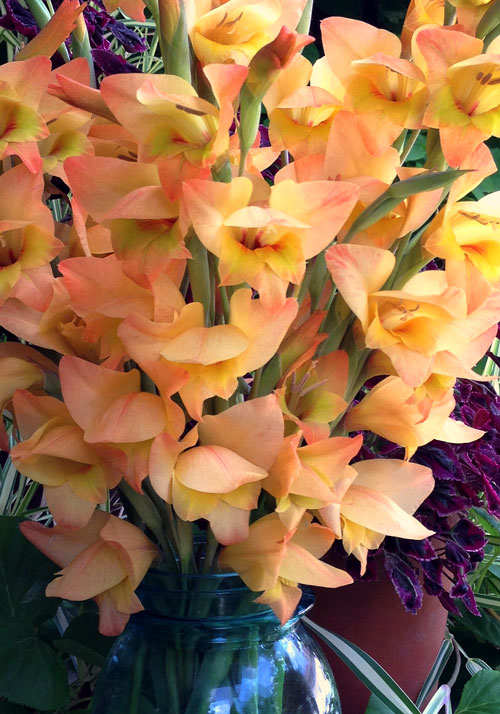 Here in zone-6a Michigan we leave our Byzantine, 'Boone' (pictured), and 'Carolina Primrose' glads in the ground every winter and they come back and bloom the next year just like any other perennial.
But wouldn't it be great if ALL glads were that hardy? A recent article in the NAGC journal Glad World makes me think that might just be possible.
In his always excellent "Talk Radio" column, Cliff Hartline says that glad grower Bert Blanton "is noted for NOT digging his glads yearly," even though he lives in zone-6b Missouri. Bert used to protect his glads in winter with a thick mulch of straw, but he says it "always blew around and I was constantly replacing it."
So three years ago he tried landscape cloth instead, and it worked so well that he's been using it ever since.
"I plant my rows six feet apart," he says, "and cover my aisles and rows with landscape cloth, putting the seams right over the rows." He pegs it down with wire landscape-cloth pins (also called sod staples), and then rolls it back in the spring.
The only problem? After three years of no digging, "I now have jillions of flowers," Bert says. "I have about 20 spikes to a foot, and the rows have expanded themselves to 15 inches wide. I am getting so many spikes, it is more than I can sell at the Farmers Market or give away. My spikes are larger than anyone else's, so I sell them for $2.00 each."
We're going to experiment with Bert's technique this winter, even though our gardens are half a zone colder than his. If you try it, too, please let us know how it works for you and we'll share our results here.