Have you ever seen a flower show devoted entirely to gladiolus? Well, now you can, thanks to a "virtual exhibit" by the Castle Museum of Saginaw County History.
Four photographs at the Michigan museum's website offer glimpses of a 1921 show sponsored by the Saginaw Woman's Club, with thousands of glads displayed in wicker baskets and milk bottles. The show included big displays by commercial growers such as the leading glad hybridizer of the era A.E. Kunderd ("Originator of the Ruffled Gladiolus"), Fred Baumgras, and P. Vos (with mood lighting and what looks like wisteria dangling from the ceiling), as well as a room full of glads grown by local amateurs.
The images are part of a larger online exhibit of garden photos by a 1920s club member. Most of the photos show gardens in Saginaw, including a spectacular formal garden by Charles Platt that's been preserved by the Saginaw Art Museum, but there are also shots of the Michigan gardens of chemical magnate Herbert Dow and popular garden writer Mrs. Francis King. Paging through the nearly 100 photos provides viewers today with an introduction to some of the defining features of early 20th-century gardens – birdbaths, sundials, benches, gates, trellises, pergolas, and summer houses – as well as many of the era's most popular plants – peonies, iris, phlox, golden glow (Rudbeckia laciniata 'Hortensia'), Shasta daisies, and, of course, gladiolus.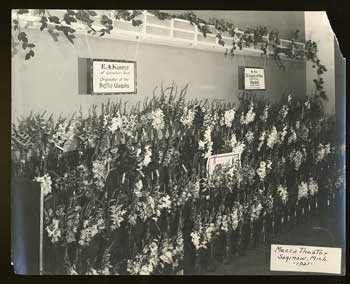 new ruffled glads, Kunderd display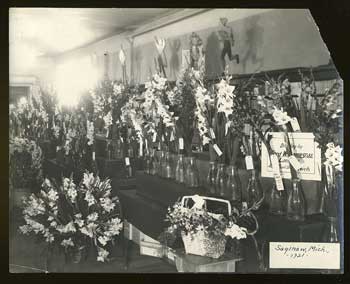 glads in milk bottles, Baumgras display