In a pioneering article in the May 2007 issue of Horticulture magazine, Betty Gatewood sang the praises of heirloom daylilies.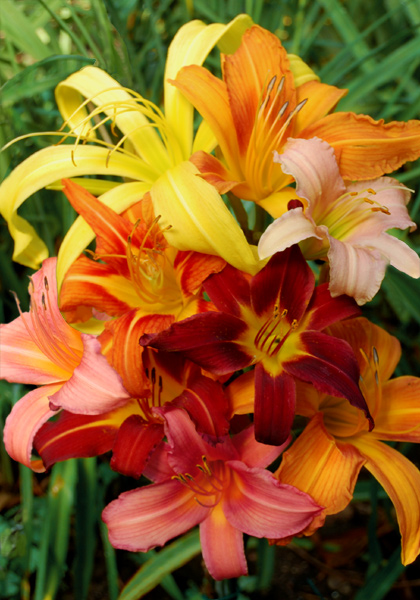 "Daylily fanciers today usually dismiss [heirlooms] as historical curiosities of limited interest," she wrote. "The oldies, they believe, have been superseded by varieties with larger, showier flowers, sturdier stems, longer blooming periods, or other perceived advantages."
But heirloom varieties, she points out, have their own special virtues.
First of all, "they retain the classic lily shape that has largely been bred out of modern daylilies. They are supremely beautiful. For this alone they are worth seeking out. . . .
"Many are fragrant.
"Their thinner, smaller flowers mean that deadheads are not very noticeable – in contrast to modern daylilies, which are disfigured by heavy, ugly spent blooms. . . .
"The old varieties range widely in size and in bloom time – daylilies flower in my garden from mid-May until the end of September, sometimes longer.
"Their colors are clear and stable; they combine well, and most suffer little weather damage.
"They are vigorous and naturalize well."
"Some modern varieties bloom longer," she adds, "but I would rather have three weeks of a flower I love than months of one that is commonplace."
You can read the entire article here. Although most of the 35 daylilies she mentions are impossible to find today, we offer eight of them on a rotating basis and we're building up stock of 'Libby Finch' and 'Neyron Rose'.
Eleven heirlooms and our Classic Daylilies sampler are available now for April delivery. Order any of them and you'll soon see what Betty (and we!) love about these "plants that should not disappear."