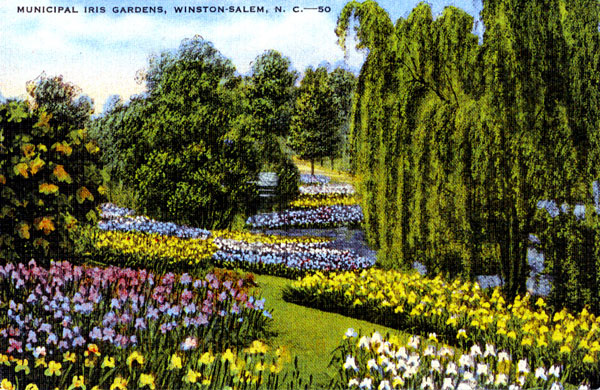 Does your city have a municipal iris garden? Does any city?
That's why I was so surprised when this postcard arrived in the mail recently.
It's a modern reproduction of a 1949 postcard showing the "Municipal Iris Gardens, Winston-Salem, NC." On the back it reads: "The Municipal Iris Garden contains 20,000 plants, of 525 varieties. The blossoms range from pure white to deep purple, gold, and dark red, and are at their best during May. Weeping willows and rustic bridges add to the beauty of the rolling parkway."
20,000 plants – of 525 varieties! I had to know more, so I contacted the folks who sent the card – which announces the 2017 Conference on Restoring Southern Landscapes and Gardens– and here's what I learned.
"The development of the gardens to their present state of beauty is a typical Cinderella story," the Twin City Sentinel reported in 1938, "with many local iris growers acting as fairy godmothers."
It all started in the early 1920s when a new neighborhood was laid out which included a four-acre "gully-way" that was left untouched "since there seemed no other purpose it could serve."
Although today we'd probably consider it a valuable natural area, times were different then and in 1931 a doctor who lived nearby urged the city to beautify it with iris donated from his own extensive gardens. Iris were enormously popular at that time, and before long other neighbors joined the campaign and the Municipal Iris Garden was born.
The city parks department cleared the land, planted weeping willow trees, built stone and rustic-work bridges over the stream, and laid out gracefully curving beds. By 1938 the Twin City Sentinel reported that "Winston-Salem's iris attract visitors from all parts of the state. From an unattractive gully the city parks department has transformed Runnymede Parkway into one of the most popular parks in the city."
But that was then. By the early 1950s the iris had been replaced with lower-maintenance azaleas, and today even those are gone. The stone bridges still stand, though, bearing silent witness to the park's glory days – and who knows what the next chapter might be for this Cinderella gully-way?
For additional images, visit digitalforsyth.org/photos/browse/places-gardens-runnymede-iris-gardens.
For your own little iris paradise, see the heirloom iris we're shipping this spring.
And many thanks to Camilla Wilcox, Kay Bergey, and Martha Hartley for sharing this remarkable story with me!