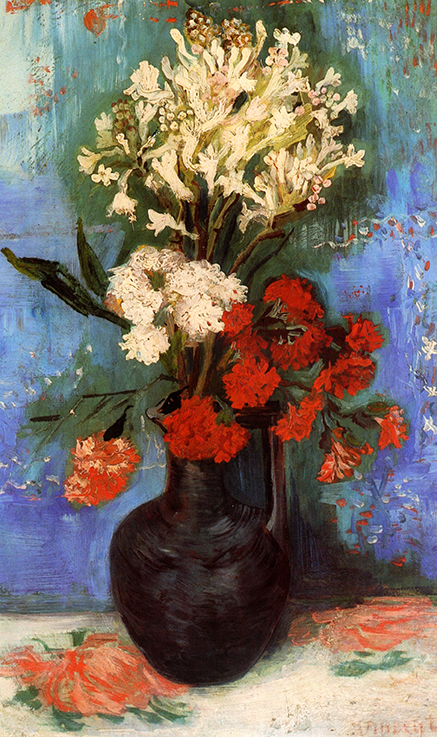 Van Gogh was a flower-lover, to judge by the many paintings he made of them.
His sunflowers, of course, have become iconic, and his magnificent Irises sold in 1987 for a record-breaking $54 million. But there are scores of his lesser-known flower paintings in museums around the world.
Leafing through a Van Gogh book the other day, I came upon this painting titled Vase of Carnations and Other Flowers. Taking a closer look, I noticed that the starry white flowers at the top are tuberoses! In fact, to my eye they're such a dramatic and important part of the painting that it might better be called Vase of Tuberoses and Other Flowers.
Van Gogh painted it in 1886, shortly after moving from the Netherlands to Paris where he soon began painting with the brighter colors and bolder brushwork of the Impressionists. At that time tuberoses were so popular that a Boston writer said "everyone who has a garden knows the tuberose" – and their fragrance today is just as wonderful as it was then.
You can view this painting in person at the Kreeger Museum in Washington, DC, and you can enjoy the same flowers that inspired Van Gogh by ordering your own tuberoses now for planting this spring.