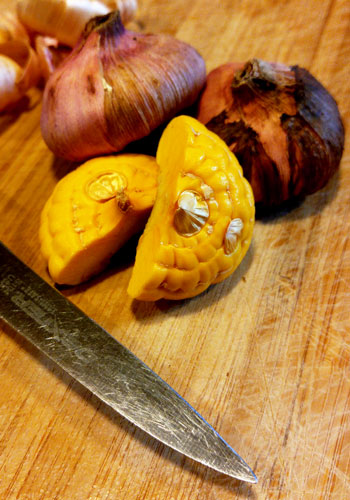 Even if your glad planting season is still months away, here's a tip from expert Cliff Hartline that you can use whenever that happy time arrives.
Cliff writes my favorite section of the NAGC journal Glad World. It's a Q & A column titled "Talk Radio," and a while ago a reader asked, "I heard you can cut corms in two to multiply them. How do you do that?"
First of all, Cliff replied, it's important to "make sure there are eyes and root nodes on both halves. The eyes go across the corm in only one direction. They are not like potatoes that have eyes everywhere. Peel the husk off before cutting, so you can identify the line of eyes." Look for small, individual flaps of shiny husk that protect the eyes, or the emerging tips of the eyes themselves.
Don't do this too early, though. "Without the husk, the corm will dry out quicker, so you need to do this close to the time of planting."
"After cutting it, put powdered sulfur [available at garden centers or online] on the open wound. This helps seal the scar and protect the corm when it is planted."
Before going on to cut another corm, sterilize your knife with alcohol.
If you're feeling lucky, "you can even cut the corm into three or four pieces," Cliff says, although "this increases the chance that it may not survive." Even if you only cut it in half, there's some risk involved, so we recommend you try it with inexpensive glads first (although not Abyssinian glads).
Good luck, have fun, and please let us know how it goes!