To read more by topic or date, see our Newsletter Archives page.
---
"The evening was hot; it was the fragrance of the lemon lilies that was cool, like the breath from a mountain well."
– Eudora Welty, 1909-2001, American author, in Delta Wedding, 1946
'Atom' Makes UK Expert's Best Plants List
Heirloom Daffodils in Garden Design
Toasting Spring with Black Tulip Alen
The snow is gone, the crocus are blooming, and most nights the overnight lows here are finally above freezing which means our growers can ship their bulbs to us and we can ship them safely to you!
Please remember that – although we reserve bulbs for you on a first-come first-served basis – we ship to customers in the warmest parts of the country first. You'll get an email alert when yours are shipped, and we'll deliver every order by mid-May.
So get your trowel ready, stay tuned, and start imagining all the beauty and fun that's headed your way!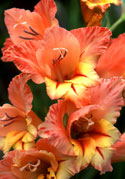 Although dozens are already sold out, we still have plenty of fabulous heirlooms for spring planting – and 18 are now on sale for 10-25% off! Choose from:
21 dahlias, with 5 on sale – dark-leaved 'David Howard', bouquet-friendly 'Glorie van Heemstede', prom-date 'Miss Rose Fletcher', speckled 'Gypsy Girl', and fire-lit 'Old Gold';
12 glads, with 5 on sale – apricot pixie 'Starface' (pictured here) "pink cheetah" 'Bibi', orange-creamsicle 'Peter Pears', informal 'Elvira', bouquet-champ 'Wig's Sensation', sunny 'Nova Lux', and our Glorious Glads sampler;
11 daylilies, with 4 on sale – dramatically tall 'Challenger', spring-flowering 'Gold Dust', dark-eyed 'Mikado', and leather-and-gold 'Caballero';
4 lilies, with 3 on sale – bright little coral lily, wildflowery Henry's lily, and martagon-like 'Guinea Gold';
2 tuberoses, 2 rain lilies, 2 iris ('Gracchus' and 'Honorabile'), and 1 gold-star crocosmia on sale for 20% off.
Can't decide? Try our 7 easy samplers – including our awesome "Intro to Heirlooms" with at least $35 worth of time-tested beauties for just $30!
How can you resist? Order your box-load of summer excitement now!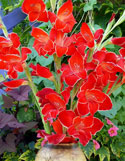 Our signature glad 'Atom' has a famous friend in England – and we introduced them!
Garden designer Rosemary Alexander is the founder of The English Gardening School, author of a half-dozen books, and winner of the RHS Veitch Memorial Medal. We met years ago when we lectured for a series of Horticulture magazine seminars. Although OHG usually ships to US addresses only, when Rosemary asked if she could order a few of the bulbs I'd shown in my slides, I happily agreed.
'Atom' was one of the first she ordered, and she liked it so much that – ten years later – she recommends it in Gardens Illustrated's February cover article, "Rosemary Alexander's 100 Great Plants for an English Country Garden." Woo-hoo! "Long overlooked as an attractive garden plant," she writes, "smaller gladioli are now back in fashion."
Another half-dozen heirlooms we offer also made it into Rosemary's top 100 plants: 'Bishop of Llandaff', dahlia, 'S. Arnott' snowdrop ("quickly forming very handsome clumps"), 'Thalia' daffodil ("longevity and vigor make this a popular choice for naturalizing"), regal lily ("I plant the bulbs in plastic pots and sink these in their final position in early summer as a glamorous, scented treat"), winter aconite, and sternbergia.
Spring-planted 'Atom' and 'Bishop of Llandaff' are going fast, but if you order them now you can enjoy their simple, bright blooms this summer – just like Rosemary does.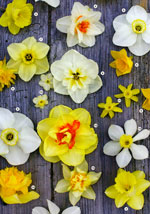 The spring 2017 issue of Garden Design arrived here last week with a host of excellent articles including profiles of Annie's Annuals and Floret Flower Farm as well as "Small Gardens, Big Ideas" which explores gardens ranging in size from a fifth of an acre to a mere 400 square feet.
Best of all, though, is an eight-page article about daffodils which, I'm happy to say, gives heirlooms as much attention as modern varieties. (Thank you, Garden Design friends!)
"Deer hate them," author Meg Ryan begins. "They're low maintenance. They have a wildflowerish charm. And there are enough heirloom and newly developed varieties . . . that they offer gardeners endless opportunities for discovery. Says plant historian Scott Kunst, "They keep things richly complicated. . . ."
To see what else we talked about – as well as photos of dozens of daffodils including our heirlooms 'Bantam', 'Beersheba', 'Butter and Eggs', 'Geranium', 'Mrs. Langtry', 'Rip van Winkle', 'Stainless', 'Sweetness', 'Thalia', Trevithian', and 'Van Sion' (aka 'Telamonius Plenus') – look for Garden Design at your local newsstand or bookstore, or subscribe online at gardendesign.com.
And if you see an heirloom there you especially like, you can order it now at oldhousegardens.com/daffodils/.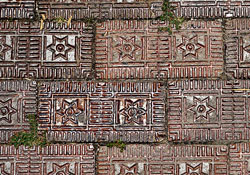 Although streets, sidewalks, and paths are important landscape features – imagine your city or favorite park without them – they're often overlooked as historic resources, and paved over or ripped up without a second thought.
A new website, HistoricPavement.com, hopes to change that by opening our eyes to the rich tapestry that's hiding in plain sight beneath our feet. From colonial cobblestones to mid-century modern hexagons, paving has changed dramatically through the years, often with a fascinating regional diversity.
In Philadelphia, for example, a few old streets are paved with iron-slag bricks that look like dark blue ceramic. In the Midwest, wood blocks were once widely used, "with some cities like Detroit utilizing them for most of their paved streets by 1899," writes HistoricPavement.com's creator, Robin Williams of Savannah College of Art and Design. "Yet nationwide only a handful of streets preserve this material, including Wooden Alley in Chicago – a rare example of a street that has attained historic designation and protection."
See photos and learn more at "Neglected Heritage Beneath Our Feet" and HistoricPavement.com.
Then keep your head down – and if you see something interesting, Robin would love to hear from you at rwilliam@scad.edu.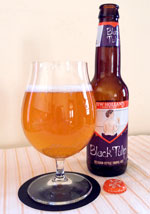 We love bulbs, and I love beer, so when I saw a beer called Black Tulip at the grocery store recently, I felt duty-bound to drink a few and give you a full report.
Black Tulip is a tripel ale brewed by Michigan's New Holland Brewing Company and named for a novel by Alexander Dumas (author of The Three Musketeers) set in 17th-century Holland.
Tripels are "similar to Belgian-style golden strong ales," I learned at craftbeer.com, except they're "generally darker and have a more noticeable malt sweetness." Popular in Belgium and the Netherlands, they're best enjoyed in a goblet-shaped "tulip glass," and New Holland claims theirs is actually "dusted with tulip petals."
Online, fellow beer drinkers have described Black Tulip as "a big, full-flavored, complex, easy to drink beer" that's "very creamy and smooth," with "lots of fruit and spice" and "a reasonable dose of hop bitterness." I'd agree with all of that, and I liked Black Tulip a lot. Tripels have a higher alcohol content than most beers, though, so please drink it with care.
Black Tulip is available in 26 states. To find it near you, enter your zip code at beermenus.com/beers/5675-new-holland-black-tulip – and as our Dutch friends say, Proost!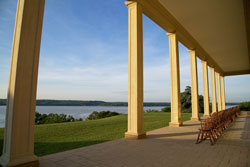 For a good time, call Dean Norton.
Dean is Director of Horticulture at Mount Vernon and the organizer of this year's symposium on "Gardening, Landscape, and Design in the Age of Washington." Three years ago I lectured for him at the first Mount Vernon symposium, and it was more fun than just about any other conference I've ever attended.
Sure I learned a lot, and it was great hanging out with so many fellow enthusiasts, and the Mount Vernon grounds are amazing. What really sticks in my memory, though, was an elegant after-hours reception on the piazza and grand lawn high above the Potomac where Dean fired off his home-made PVC potato cannon to show us how the Washingtons celebrated special occasions – although they, of course, used a real cannon.
This year's symposium is set for June 2-4 with a wide array of presentations including Restoration Agriculture, Creating Central Park, Ceramic Vases and Floral Ornament, Jefferson and Wine, Slavery at Mount Vernon, and The Garden of the Future.
Our good customer Joe Gromacki will also be there talking about his Kelton House Farm, an early-1700s New England farmhouse moved and rebuilt in Wisconsin which Joe has furnished with colonial antiques and surrounded with heirloom plants, including tens of thousands of our bulbs.
To learn more and register, go to the 2017 Symposium page at mountvernon.org. It's sure to sell out, though, so don't delay. I'll hope to see you there!
Early March's articles included:
"Multiplying Glads by Dividing the Corm,"
"'Jersey's Beauty' and the Millionaire Gardeners of Sewickley,"
"Limbering Up for Gardening," and
"43 Daffodil Shows Begin Now."
You can read all of our back-issues at oldhousegardens.com/NewsletterArchives – and we're adding the best articles to our blog!
Please help us "Save the Bulbs!" by forwarding our newsletter to a kindred spirit, garden, museum, or group. Or if a friend sent you this issue, SUBSCRIBE here!
Simply credit www.oldhousegardens.com.