Has Our Brand New Catalog Reached You Yet?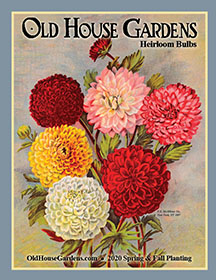 Our 2020 spring/fall catalog was mailed last Friday, and we're already hearing from happy customers who've received it. Woo-hoo!
If you've ordered from either of our past two catalogs, you'll be getting this new one.
But bulk mail can be slow. If you don't find yours in your mailbox by Tuesday, Feb.4, please let us know at 734-995-1487 or help@oldhousegardens.com and we'll rush you another one by first-class mail.
But why wait? Everything in our catalog is now online:
NEW or back from a hiatus – oldhousegardens.com/New,
SPRING-planted bulbs (for delivery in April) – oldhousegardens.com/Spring,
FALL-planted bulbs (for delivery in October) – oldhousegardens.com/Fall,
SEARCH by 17 different criteria – oldhousegardens.com/Search .
As always, shipping starts April 1. Happy spring-is-coming and happy ordering!