To read more by topic or date, see our Newsletter Archives page.
---
"But each spring . . . a gardening instinct, sore as the sap rising in the trees, stirs within us. We look about and decide to tame another little bit of ground."
– Lewis Gannitt, 1891-1966, American journalist and author
It may be spring where you live (you lucky soul!), but here in Ann Arbor we still have snow and lows in the teens. Most years our temperatures don't stay reliably above freezing until April, which is why we don't start shipping until then.
When we do, we'll ship to our customers in warmer zones first. Thanks for your patience, and enjoy the anticipation!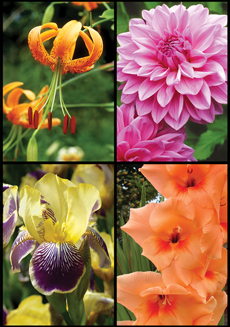 Although 27 of our treasures for April delivery are already sold out, we have such good supplies of 15 others that we've cut their prices by 10-15%.
Choose from:
our fabulous Immortal Iris, Classic Daylilies , and Dreamy Dahlia samplers,
lavender-rose 'Mrs. I. De ver Warner' and four other great dahlias,
graceful Henry's lily, luscious 'Peter Pears' gladiolus, sweet little 'Loreley' iris, and MORE.
See them all at our Bulbs on Sale page – and then save on a summer full of unique flowers!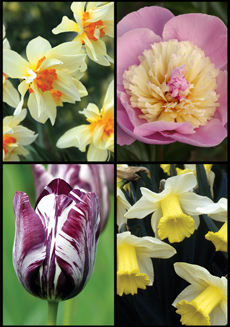 PEONIES – So many great old peonies survive today that we change our line-up every year. Newly added for this fall are extra fragrant 'Philomele', extra-dark 'Mons. Martin Cahuzac', and one of our all-time favorites, baby-pink 'Madame Ducel'.
DAFFODILS – Two of our very rarest daffodils are back for the first time in years – 'Feu de Joie' and 'Mrs. Krelage' – along with five more from one of Holland's greatest daffodil collections.
TULIPS – More will follow once we hear from the Hortus, but willowy T. marjolettii is back and the incredible 'Insulinde' and 'Clara Butt' – both of which are sure to sell out early – are now available.
See more at the bottom of our New This Year page – and since you can add to your fall order any time before Sept. 1, why not reserve a couple of these rare beauties for your garden right now?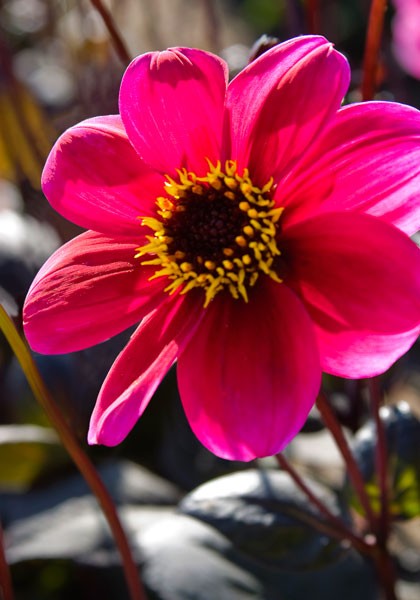 Renowned garden designer and author Mary Keen says dahlias – including some of our heirlooms – are "an indispensable feature" of her Gloucestershire garden.
In her long career, Keen has worked on many grand gardens, including those of the Rothschilds. At home, as she wrote in the July 2017 issue of Gardens Illustrated, she prefers the informal look of "a mingled matrix with a few spots of larger, brighter plants." In this setting, "dahlias are a much better bet than roses."
Along with the single red Dahlia coccinea, she favors "strong pinks and reds – 'Grenadier', 'Pontiac', 'Fascination', 'Roxy' [pictured here] – pale pink 'Gerrie Hoek', and pale-yellow 'Glorie van Heemstede'."
And here's a tip: Mary says if you use too many "attention grabbers" such as tulips, peonies, delphiniums, and dahlias, "planting lacks depth and mystery." But "you can scale down the impact by choosing more subtle forms" such as single, cactus. and waterlily dahlias which "lighten a planting better than a dinner-plate flower."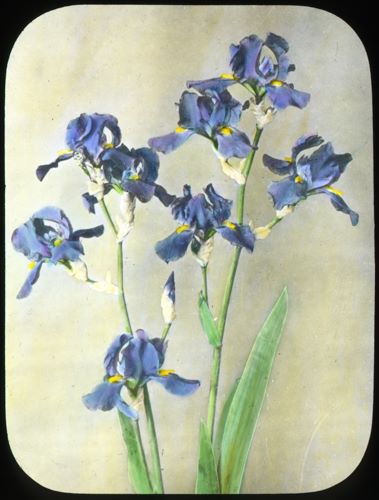 If you're a fan of heirloom iris, and you're on Facebook, we think you'll enjoy the Facebook page of the Historic Iris Preservation Society.
Launched in 2011, it includes antique images and modern photos along with helpful tips and occasional links to other online resources. It has over 3000 followers, including us, and you could be next! Check it out at facebook.com/HISTORICIRIS/. And bravo, HIPS!
The past is full of a rich diversity of plants – and flower pots.

In his 1859 Manual of Practical Gardening, George Glenny wrote that "there is nothing half so good as the old-fashioned pots" which looked just like the clay pots we use today except that their rims were narrow. They were offered in 23 different sizes, starting with two-inch "thumbs" and increasing inch-by-inch all the way up to pots 24 inches across.
Glenny describes some more unusual pots, too.
"Some pots have been made with feet to stand in saucers [pictured above] to keep the bottom drain-hole out of the water that runs through. . . .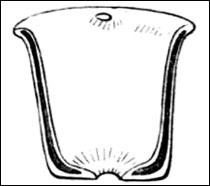 "Others have been made with hollow sides to be filled with water [pictured left], that the sun may not burn the young fibers [roots] next the side.
"Some are made with gutters all round the top rim, that a glass shade may cover the plant; and the edge being in this gutter filled with water [which] excludes the air, these are admirably adapted for fern-growing in dwelling-houses, each being, so far as the plants are concerned, a small Wardian case [terrarium]."
Even more unusual was the verbena pot, pictured below. Verbenas, introduced from South America in the 1820s, were wildly popular, and British potteries responded by developing a special pot to display their sprawling growth.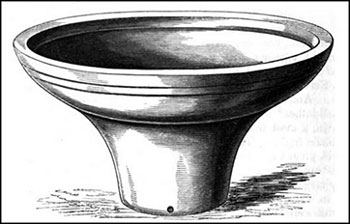 "The body of the [verbena] pot is like another," Glenny wrote, "but the upper part, occupying one-third of the whole height, they turn outwards and form a broad dish, giving us a surface, twelve or fourteen inches in diameter, on which we can spread and peg down the plant to cover the whole. It has been usual to grow them in large pots, and have a round wire about two inches above the pot, and so tie the plant down upon it to cover it. These [verbena] pots will doubtless become popular for that purpose. They are light, compared with a fourteen-inch pot, and yet possess all the advantages of one that size; and we must admit that the appearance is greatly before [better than] a platform of wire-work."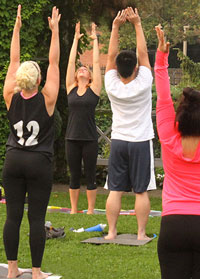 As many gardeners know, yoga is great for developing flexibility and strength. See what it can do for you at "Yoga for Gardeners" on Sunday, April 8, at the Yoga Space in Ann Arbor.
In this two-hour, indoor class taught by the gentle and encouraging Pam Lindberg (who just so happens to be my yoga teacher), you'll learn poses to help prepare your back, shoulders, knees, and wrists for gardening; poses to do in the garden; and recovery poses for after gardening.
To learn more or register, visit yogaspaceannarbor.com.
And if you live too far away, check out these other suggestions for yoga and gardening. Namaste!
February's articles included when 'White Aster' looked more like an aster, the virtues of heirloom daylilies, simpler garden record-keeping, and Eudora Welty on creativity and gardening. You can read all of our back-issues at oldhousegardens.com/NewsletterArchives – and we're adding the best articles to our blog!
Please help us "Save the Bulbs!" by forwarding our newsletter to a kindred spirit, garden, museum, or group.
Simply credit www.oldhousegardens.com.