To read more by topic or date, see our Newsletter Archives page.
---
"Compared to gardeners, I think it is generally agreed that others understand very little about anything of consequence."
– Henry Mitchell, 1923-1993, one of America's best (and funniest) garden writers
When 'White Aster' Looked Like an Aster
The Virtues of Heirloom Daylilies
Garden Record-Keeping Simplified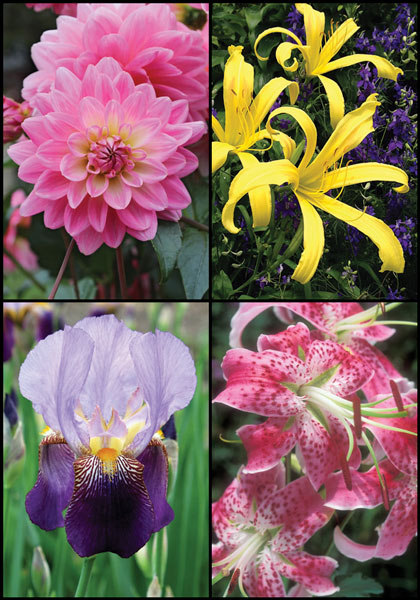 Or at least it seems that way! Stop cursing the cold and start daydreaming about the beautiful flowers you've ordered.
Choose from centuries-old iris, graceful daylilies, lush dahlias for bouquets, fragrant tuberoses, stereotype-busting glads, majestic lilies, starry crocosmias, cast-iron crinums, pixie rain lilies, and our 7 easy samplers.
Just don't delay – 12 of our rarest beauties are already sold out, and spring IS coming!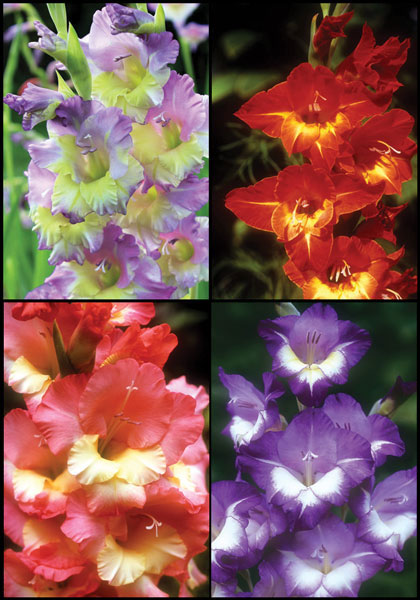 Woo-hoo! A baker's dozen of fabulous glads from our Maine grower are now online, including
Small-flowered – 'Bluebird' (bottom right), 'Caribbean', 'Chipper', 'Kakaga' (top right), 'Spring Maid', 'Sunbonnet Sue', and 'Sunset Sky';
Full-size – 'Charisma' (bottom left), 'Contentment', 'Lilac and Chartreuse' (top left), 'Lucky Star', 'Snow Princess', and 'Violet Queen'.
We're getting only 50-75 corms of most of these treasures, so do yourself a favor and order today for April delivery!
In 1879 a customer wrote to nurseryman James Vick, editor of the popular Vick's Illustrated Monthly, praising a white dahlia that was "the prettiest thing I ever saw" with flowers that "didn't look much like dahlias, but more like asters."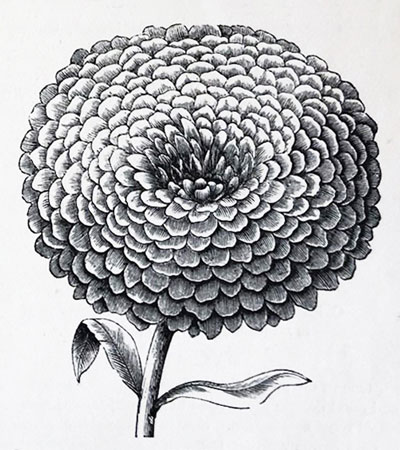 Vick explained that "this class of dahlias is called Pompon or Bouquet," and added that "there are two very good white sorts, White Aster and Little Snowball."
But do the globe-shaped flowers of 'White Aster' really look like asters?
Not compared to the perennial asters that are commonly grown today, but back in 1879 the most popular asters – by far – were the annual bedding plants known as China asters, Callistephus chinensis. Vick devoted an entire page of his 1872 catalog to images of them, including 'Imbrique Pompon', pictured here. Although it's an idealized image, I hope you agree that it looks something like a pompon dahlia – and some modern China asters do, too.
But originally 'White Aster' looked even more like an aster because its petals were notched at the tip, making them look narrower, more numerous, and, well, more aster-like. You can see what I mean in the color image here which is part of a full-page chromolithograph published in Vick's Monthly in 1878. (See the entire image at our blog.) Although none of the dahlias in the image are labeled, I'm virtually certain that's 'White Aster'.
Dahlia genetics are complex and unstable, though, and sometime during 'White Aster's long history its DNA apparently reverted to producing normal, rounded petals. (Something similar seems to be happening with 'Old Gold', whose petals are sometimes notched and sometimes not.) The change must have occurred sometime after 1956 because the de Jager catalog that year describes 'White Aster' as having "lovely laciniated flowers." Although nowadays "laciniated" refers to the fringe-like petals of dahlias such as 'Tsuki Yori no Shisha', its dictionary definition is simply "cut into narrow lobes; slashed; jagged."
Of course it could be that today's 'White Aster' is simply an impostor substituted for the real thing sometime between 1956 and when we first acquired it 50 years later from one of Germany's oldest and most respected dahlia nurseries – but, at least for now, I'm willing to give it the benefit of the doubt and believe that it's the real thing minus the notching.
Could the notching reappear someday? Yes! So please keep your eyes peeled and if you ever find a notched bloom on your 'White Aster', contact us ASAP. With a little luck we might be able to root a cutting and eventually re-introduce the original, more aster-like 'White Aster'.
(Thanks to garden historian Thomas Mickey who inspired this article and shared the amazing chromolithograph with us. Read Tom's blog post "Victorian Dahlia 'White Aster' Still Shines" and more at American Gardening.net.)
In a pioneering article in the May 2007 issue of Horticulture magazine, Betty Gatewood sang the praises of heirloom daylilies.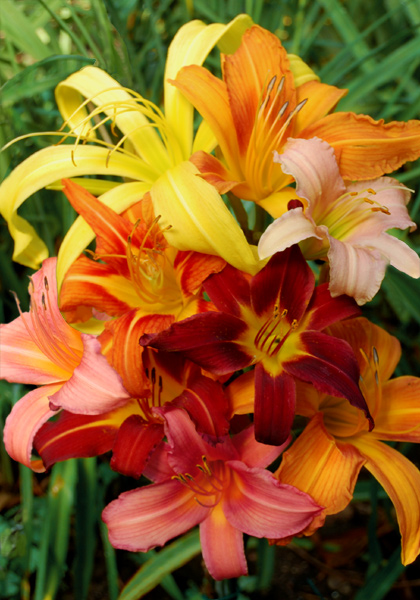 "Daylily fanciers today usually dismiss [heirlooms] as historical curiosities of limited interest," she wrote. "The oldies, they believe, have been superseded by varieties with larger, showier flowers, sturdier stems, longer blooming periods, or other perceived advantages."
But heirloom varieties, she points out, have their own special virtues.
First of all, "they retain the classic lily shape that has largely been bred out of modern daylilies. They are supremely beautiful. For this alone they are worth seeking out. . . .
"Many are fragrant.
"Their thinner, smaller flowers mean that deadheads are not very noticeable – in contrast to modern daylilies, which are disfigured by heavy, ugly spent blooms. . . .
"The old varieties range widely in size and in bloom time – daylilies flower in my garden from mid-May until the end of September, sometimes longer.
"Their colors are clear and stable; they combine well, and most suffer little weather damage.
"They are vigorous and naturalize well."
"Some modern varieties bloom longer," she adds, "but I would rather have three weeks of a flower I love than months of one that is commonplace."
You can read the entire article here. Although most of the 35 daylilies she mentions are impossible to find today, we offer eight of them on a rotating basis and we're building up stock of 'Libby Finch' and 'Neyron Rose'.
Eleven heirlooms and our Classic Daylilies sampler are available now for April delivery. Order any of them and you'll soon see what Betty (and we!) love about these "plants that should not disappear."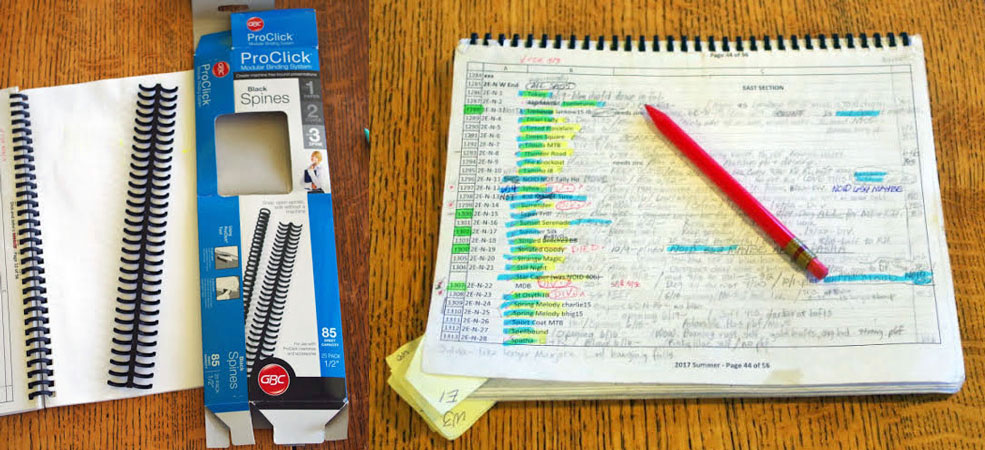 Although keeping notes on your plants – their names, how to take care of them, when they bloom, and so on – can be helpful and even fun, it can quickly turn into a challenging mess.
But here's a great tip from our good friend Nancy McDonald, as reported by Cathy Egerer in the Dec. 2017 e-newsletter of the Historic Iris Preservation Society.
Nancy, believe it or not, "has about 1750 irises in her care. She keeps them in a master Excel file on her computer, and brings printouts of the file to the garden where she can make notes.
"'I needed something that would stand up to the wind, and sheets simply tore right out of a three-ring binder,' she explains. 'Clipboards were unwieldy and the wind would catch papers and tear them off. Then I found a system called Pro-Click, which allows me to print right on perforated sheets and bind them myself. The sheets flip 360 degrees and I can easily open the bindings to add and remove sheets, and the paper doesn't tear out of the binding. I haven't chased a paper across the field since I started using it.'
"ProClick supplies are readily available online and at office suppliers. A pre-packaged presentation kit comes with 50 sheets of perforated paper, two clear front covers, two black back covers, and two reusable spines, all for less than ten dollars."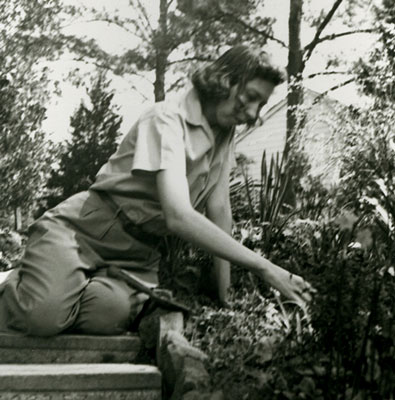 That's not just any woman weeding her garden in this 1940s photograph – that's the iconic Southern writer Eudora Welty.
Welty was a lifelong gardener, and in a conversation shortly before her death in 2001, she talked about gardening, her work as a writer, and finding wonder:
"I think that people have lost the working garden. We used to get down on our hands and knees. The absolute contact between hand and the earth, the intimacy of it, that is the instinct of a gardener. People like to classify, categorize, and that takes away from creativity. I think the artist – in every sense of the word – learns from what's individual; that's where the wonder expresses itself."
January's articles included the real David Howard, The Reason for Flowers, the first concrete sidewalks, mapping the tulip genome, and more. You can read all of our back-issues at oldhousegardens.com/NewsletterArchives – and we're adding the best articles from the past to our blog!
Please help us "Save the Bulbs!" by forwarding our newsletter to a kindred spirit, garden, museum, or group.
Simply credit www.oldhousegardens.com.