Order these summer-planted bulbs NOW for delivery in July.
All bulbs for summer 2023 are SOLD OUT.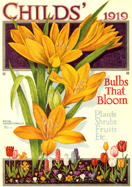 ARE DAYLILIES BULBS? Not really, but bulb catalogs in the past offered their thick, fleshy roots, and today many antique daylilies are at risk, so we've added them to our Ark. Modern daylilies can be amazing, but older ones blend better into most gardens. They're not huge or gaudy, and their classic, lily-like forms are full of grace.
TIPS FOR SUCCESS: Daylilies are one of the easiest of all perennials. See what you'll get: freshly dug, bare-root plants with 2-4 fans (growing points). Plant in full sun to light shade, and learn more here.
| | |
| --- | --- |
| | Our longest blooming daylily, 'August Pioneer' opens its bright, graceful trumpets for up to eight weeks. Its color is something special, too, a softly glowing orange with hints of apricot that blends in harmoniously yet will draw you across the garden. And it multiplies quickly. All in all, it's a masterpiece from A.B. Stout, the patriarch of daylilies. 34", mid-late, deciduous, 3-4 fans, zones 4a-8b(9bWC), from Missouri. Chart and care. |
| | |
| --- | --- |
| | Last offered in 2020. Tall, tall, TALL – with bloom stalks up to 7 feet! – this remarkable daylily may get you and your garden visitors babbling. Up close its spidery, gold and chestnut flowers are nothing special, but when you see them held high against the sky on their strong, slender stalks – often with hummingbirds flitting about – they're magic. By A.B. Stout, from the wild H. altissima, 5-7', late blooming, lightly fragrant, deciduous, zones 4a-8b(10aWC), grown by us here in Ann Arbor. Chart and care. |
| | |
| --- | --- |
| | Cute as a button, this Texas-bred heirloom combines petals of cool, pale, lemon yellow with lightly ruffled petals of old-rose-to-burgundy brightened by a wide yellow midrib-line. Its extended blooming habit means its profuse flowers stay open longer than most, giving you more time to enjoy them. AHS Award of Merit winner, 32-36", mid-season, deciduous, zones 4a-8b(10aWC), from Missouri. Chart and care. |
| | |
| --- | --- |
| | Back in the day, 'Black Falcon' was celebrated as the darkest daylily of all, and 70 years later it's still a stunner. A glowing center of molten gold makes its rippled, mahogany-red petals seem even darker. It's free-flowering, easy-growing, mid-summer blooming, 32-36", deciduous, for zones 4a-8b(10aWC), from Missouri. Chart and care. |
| | |
| --- | --- |
| | 'Caballero's long, curling petals are gold and an intriguing rusty brown (yes, brown!) that may remind you of saddle-leather and sandstone buttes – which is probably just what Stout had in mind when he named it. Caballeros were the noble "gentlemen-cowboys" of popular movies such as The Bold Caballero of 1936 with its dashing hero, Zorro. 36-40", early-mid season, evergreen, 2 large fans, zones 4a-8b(10bWC), from Ann Arbor. Chart and care. |
| | |
| --- | --- |
| | With charming, not-so-big flowers of a lemon yellow that's both soft and bright, this rarely offered Depression-era beauty mingles easily with other perennials and adds a cooling note to the mid-summer garden. It was bred by the master A.B. Stout himself who liked it so well that he named it for Odysseus's enchantress, the "loveliest of all immortals." Long-blooming, 32-36", mid-summer blooming, deciduous, 2 fans, zones 4a-8b(9bWC), from Ann Arbor. Chart and care. |
| | |
| --- | --- |
| | Exceptionally early-blooming, this cheery little daylily opens its fragrant, cinnamon-shaded flowers just as spring is turning into summer (and when it's happy, it often reblooms). It's also one of the oldest daylilies, by the very first person to breed them, English schoolteacher George Yeld, who crossed the classic lemon lily with the Japanese H. dumortieri to get this enduring charmer. Just 24-26", very early, deciduous, zones 5a-8b(10bWC), Missouri. Chart and care. |
| | |
| --- | --- |
| | With three sets of petals tucked neatly inside one another, this opulent daylily is quirky enough to appeal to Victorian gardeners yet "handsome" enough (to quote taste-maker Louise Beebe Wilder in 1916) to earn it a leading role in the sumptuous Red Borders at England's famous Hidcote Gardens. 36-40", early summer blooming, deciduous, zones 4a-8b(10bWC), from Missouri. Chart and care. |
| | |
| --- | --- |
| | Last offered in 2021. The "rich, lustrous, velvety black cherry color" of this old daylily (in the words of the 1949 Schreiner's catalog) would be great no matter what, but it's the creamy white line down the center of each petal that makes it so striking and unforgettable. You'll find yourself drawn to it from across the garden – and looking forward to it every summer. 34-36", mid-season, dormant, 2 fans, zones 4a-8a(10aWC), from our Ann Arbor micro-farm. Chart and care. |
| | |
| --- | --- |
| | Last offered in 2021. One of the oldest daylilies of all, and very hard to find today. This lightly fragrant beauty came from a clump growing in OHG founder Scott's front yard – until we dug it up to share with you. (No problem!) It was bred by R. Wallace and Co., importers of some of the first daylilies from China, and praised in the June 1900 Country Life as "a Day Lily of great beauty, vigorous and handsome." 28-32", early-mid, deciduous, 2 fans, zones 5a-8a(10aWC), grown by us here in Ann Arbor. Chart and care. |
| | |
| --- | --- |
| | With a name that's pure 1950s, this luscious daylily looks like a cool, refreshing cantaloupe and ice cream smoothie. It was bred by Orville Fay of Illinois whose day job was working as a chemist in a candy factory. Just 30" tall, mid-summer blooming, deciduous, 3-4 fans, zones 5a-8b(10aWC), from Missouri. Chart and care. |
| | |
| --- | --- |
| | Last offered in 2021. This striking daylily was one of Stout's first and favorite introductions. Over the years its bold mango-and-mahogany coloring and graceful star-like form have won it many fans, including the great Elizabeth Lawrence who praised it as one of her "15 Best." Vigorously multiplying and floriferous, it often reblooms in the fall in warm areas. 30-36", early-mid season, semi-evergreen, 2 fans, zones 4a-8a(10aWC), from our Ann Arbor micro-farm. Chart and care. |
| | |
| --- | --- |
| | We're thrilled to finally offer this dramatic beauty, after years of building up stock. It's a deep raspberry-rose highlighted by an orange throat and ivory midrib lines that really make it pop. And its name? Artists may recognize it as the name of the color of the celebrated old rose 'Paul Neyron' of 1869. RHS AGM, 30-32", mid, 2 fans, zones 4a-8a(10aWC), from our Ann Arbor farm. Chart and care. |
| | |
| --- | --- |
| | Much more than just another yellow daylily, 'Ophir' has unusually long, trumpet-shaped flowers – almost like an Easter lily – making it one of the most graceful and distinctive daylilies we've ever seen. It's also one of the first American-bred daylilies, by Bertrand Farr, and the great Elizabeth Lawrence grew it, writing in 1943 that it was "more beautiful than ever this season, and the only attention it has ever had is a mulch of cow manure each fall." 38-46", mid-season, semi-evergreen, zones 4a-8b(10aWC), from Ann Arbor. Chart and care. |
| | |
| --- | --- |
| | Last offered in 2016. We love how profusely this charming little daylily blooms, and how its small, rusty red flowers glow warmly in the summer sun. Bred by the great A.B. Stout, it was named by globe-trotting "lady botanist" Mary Gibson Henry in memory of her youngest son, Porteous. 26-32", early-mid to mid, semi-evergreen, zones 4a-8a(10aWC), from our Ann Arbor micro-farm. Chart and care. |
| | |
| --- | --- |
| | With its red-violet undertones, this Stout Medal winner was an exciting color advance for its time, and although no one today would describe it as "pansy purple," it's still a striking flower. And potent – it often develops small plantlets called proliferations on its bloom stalks which you can root and grow into new plants! 36-42", mid to late-mid, deciduous, zones 4a-8a(10aWC), from our Ann Arbor micro-farm. Chart and care. |
| | |
| --- | --- |
| | Last offered in 2021. One of the most famous daylilies of all, this wild beauty was the best of the three reddish forms of Hemerocallis fulva sent to A.B. Stout from China in 1924 – and which Stout used to breed the very first of the thousands of pink, red, and purple daylilies that have graced gardens ever since then. Rusty red with a darker eye-zone, 38-42", late-mid, dormant, 2 large fans, zones 4a-8a(10aWC), from our Ann Arbor farm. Chart and care. |
| | |
| --- | --- |
| | Bred by Ophelia "Bright" Taylor, winner of the AHS's highest award for hybridizers, this purple-shaded, wine-colored daylily has slender petals curling back gracefully from a vivid yellow throat. It's been a favorite oldie of our Missouri growers for over 40 years thanks to its "rich color, recurved petals, and beautiful foliage." 32-36", mid-season, semi-evergreen, zones 5a-9a(10aWC), from Missouri. Chart and care. |
| | |
| --- | --- |
| | This rarely offered, landmark daylily was bred by A.B. Stout, the New York Botanic Garden scientist who unlocked the amazing potential of daylilies, setting them on the road to superstardom. Although Stout introduced 92 remarkable daylilies, he's said to have been especially proud of 'Theron', whose mahogany blooms made it the first "red" daylily. 30", early-mid blooming, deciduous, zones 4a-8b(9bWC), grown by us here in Ann Arbor. Chart and care. |