To read more by topic or date, see our Newsletter Archives page.
---
flower arrangement: / just two yellow daffodils, / the first to bloom
– L. A. Davidson, American haiku poet, 1917-2007, in The Shape of the Tree
Seeking Engleheart's Lost Daffodils
Seeking Engleheart's Lost Daffodils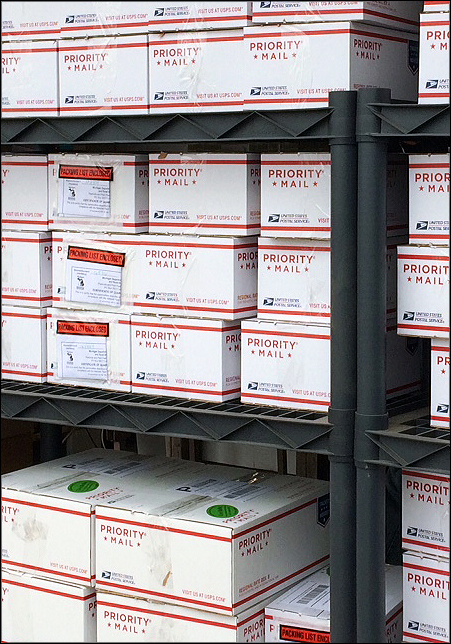 We always plan to start shipping the first week of April, but sometimes the weather just won't cooperate.
This year we started right on time, but with overnight lows dropping into the 20s, we're hitting pause until they climb back above freezing on Wednesday, April 11 – to make sure your bulbs reach you in perfect condition.
As always, we'll be shipping to customers in warmer zones first. (But don't worry if you're in a colder zone – bulbs are always reserved for you on a first-come first-served basis.) You'll get an email alert when your order is on its way, and every order will be delivered by the middle of May.
We know it's hard to wait, and we appreciate your patience!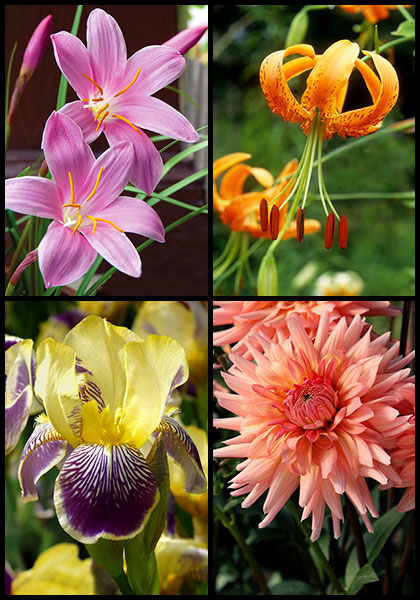 Can't decide? Try our 7 easy samplers including the ever-popular Intro to Heirlooms – $35 worth of summer beauty (or more!) for just $30.
Or start at our Bulbs on Sale page for 22 spring-planted treasures at savings of 10-20%, including 'Guinea Gold' martagon lily, wild Abyssinian glad, freckle-faced 'Nonette' dahlia, sunny 'George Davison' crocosmia, and our Immortal Iris sampler.
Or check out all of our perennial lilies, freshly-dug iris and daylilies, dahlias for bouquets, unusual glads, fragrant tuberoses, pixie rain lilies, and stately crinums.
Amelia and Kelsey are standing by to help you at 734-995-1486, and our easy website is open 24/7.
Don't miss out on all the fun. Order your own box-load of summer excitement now – before everything is gone!
You don't have to start your dahlias indoors, but it can be fun – and reassuring if you're new to dahlias. Here's how our long-time office manager Rita Bailey does it.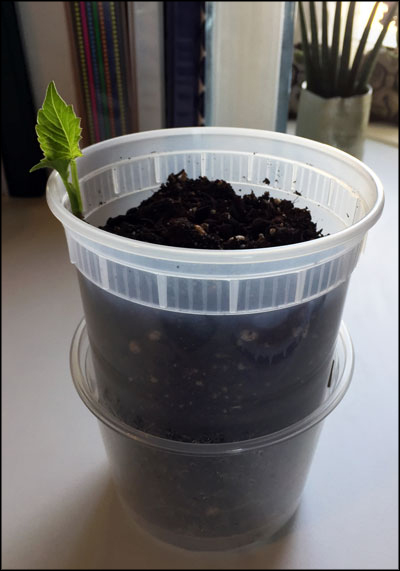 First of all, if you don't see any eyes on your tubers when they arrive, don't worry. This is perfectly normal. And if you do see eyes, you can skip right to step 4.
1. Start a month or even six weeks before your area's last frost date. Find yours by zip code at almanac.com/gardening/frostdates.
2. For each tuber you'll need some potting soil, a zip-lock bag, and a clear plastic deli container. Any size is okay as long as the tuber fits, Rita says, since it won't spend much time in either.
3. Put some potting soil that's moist but not soggy in the bag, lay your tuber on it, and close the bag most of the way. Set it someplace warm (room temperature is fine) and bright (but not in direct sun), and keep an eye on it.
4. Within a week or two you'll see eyes – little purplish or pale bumps like the eyes of a potato – emerging from the crown just below the old stem. Poke a drainage hole in the bottom of the deli container, fill it with damp potting soil, set it on a saucer (or in a shorter deli container, as in the photo), and plant your eyed-up tuber with the crown covered by about an inch of soil.
5. Keep it warm. Within a week or so, small white roots will begin to show at the sides of the container. Enjoy that sign of progress as you wait for the first sprout to emerge above the soil which, according to Rita, sometimes takes as long as two more weeks.
6. Once you see a sprout, give it as much light as possible and gently shake the container once or twice day to help strengthen the new growth.
7. As your last-frost date approaches, get your dahlia acclimated to outdoor conditions by hardening it off. This means setting it outside for a short period of time every day. Start with an hour or so in a sheltered spot and gradually increase the time and exposure until your plant is tough enough to spend all day in full sun.
8. When it's hardened off and the last-frost date is past, gently remove it from the container and plant it outside, burying the tuber a little deeper than it was in the container. Water it well and enjoy!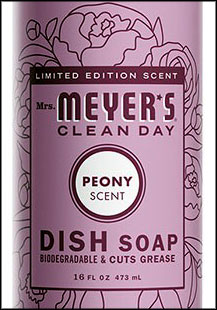 Have you ever been excited about dish soap? As head dish-washer at our house, that's exactly how I felt when I saw peony-scented dish soap at the supermarket recently.
With a vintage vibe and environmentally-friendly ingredients, Mrs. Meyer's Clean Day household products have a gained a national following. The company's founder named the company for her mother, saying she was inspired to make cleaning products that "smell nice, like my mom's garden."
Scents include basil, lavender, and honeysuckle, along with more unusual "limited edition" fragrances such as rhubarb, sunflower, and – the one I plan to try next – radish.
So does the peony-scented soap really smell like peonies? Not to my nose, but it does smell wonderfully flowery and fresh, and I like it a lot. See their full line-up – from air freshener to hand lotion – and find a source near you at MrsMeyers.com.
You may not know it, but if you love 'Beersheba', 'Lucifer', or 'White Lady', you're a fan of the Reverend George Engleheart.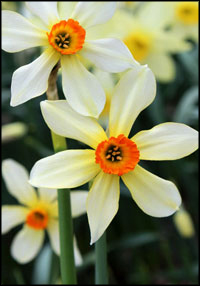 One of the greatest daffodil breeders of all time, Engleheart introduced some 700 named varieties starting in 1889. Although most of these have been lost over the years, a brand new National Collection in England is hoping to find and preserve as many as they can.
Engleheart was the vicar of a small country church when he first started breeding daffodils in the 1880s. Once a minor garden flower, daffodils at the time were on the rise, championed as perennial, graceful, and old-fashioned – heirloom, that is! – in contrast to the new, brightly colored exotics that filled Victorian carpet beds and conservatories.
Engleheart was so devoted to his daffodils that it's said parishioners would sometimes find a note tacked to the church door reading, "No service today, working with daffodils." His place in daffodil history was assured in 1898 when he sold three bulbs of his vividly orange-cupped 'Will Scarlett' for the equivalent today of over $12,000.
The new National Collection holds just 34 of Engleheart's 700 daffodils, with another four located but not yet in their hands. To help them find more, the Collection's Anne Tweddle asked us to spread the word about their project, so that's what we're doing.
Of the 34 they grow, we're currently offering six for delivery this fall – 'Bath's Flame', 'Beersheba', 'Cassandra', 'Firebrand' (pictured here), 'Lucifer', and 'White Lady' – and in the past we've offered six others that we'll offer again once our stocks increase – 'Albatross', 'Argent', 'Brilliancy', 'Horace', 'Seagull', and 'Will Scarlett'.
For more about Engleheart and the Collection, and to see photos of 23 of his daffodils, go to suffolkplants.org.uk/national-collections/narcissus. For a complete list of his 700 introductions, enter Engleheart in the Hybridizer box at daffseek.org. And if you know where the Collection can find any they don't already have, Anne would be very happy to hear from you at anne@tweddle1.co.uk.
March's articles included flower pot diversity in 1859, subtle dahlias, heirloom iris on Facebook, yoga for gardeners, and more. You can read all of our back-issues at oldhousegardens.com/NewsletterArchives – and we're adding the best articles to our blog!
Please help us "Save the Bulbs!" by forwarding our newsletter to a kindred spirit, garden, museum, or group.
Simply credit www.oldhousegardens.com.