To read more by topic or date, see our Newsletter Archives page.
---
"A flowerless room is a soulless room, to my way of thinking; but even one solitary little vase of a living flower may redeem it."
– Vita Sackville-West, English novelist, poet, garden writer, and creator of Sissinghurst Castle Garden
Although it's bitterly cold here in Ann Arbor, the days are already getting longer and we know spring is on its way. Hallelujah!
Thanks to you and our veteran crew, the first seven months of the new OHG have been great – challenging, exhausting, but great. Fall orders were up a bit, your kind notes were much appreciated, and just outside the windows here at our new place the thousands of iris and daylilies we transplanted this fall are peacefully sleeping under the snow.
May your new year be green and happy – and may we all be gardening again soon!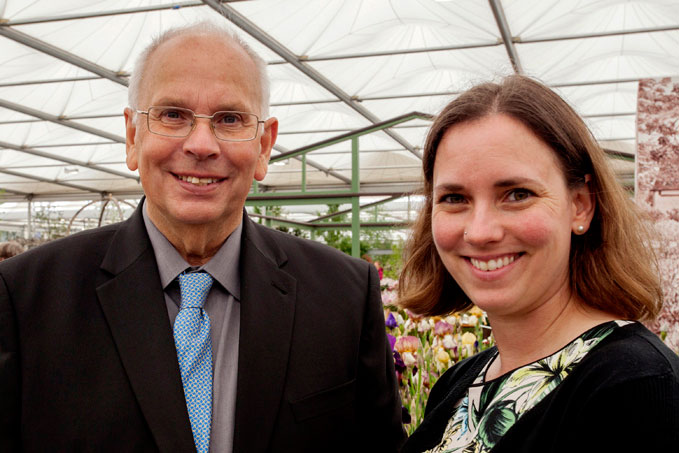 With its dark foliage and apricot-orange flowers, 'David Howard' is one of our most popular heirloom dahlias.
But who was David Howard?
Back in the late 1950s he was just a British teenager who'd always loved plants. Instead of raising hell he was raising dahlias from seed, and – according to a 2004 article in The Telegraph – "one of these, a seedling from Dahlia 'Bishop of Llandaff', was taken up by a visiting nurseryman, who named it 'David Howard'." Introduced in 1960, it became "an instant hit with gardeners and it remains one of the best dark-leaved dahlias around" – so good that it's won the prestigious RHS Award of Garden Merit.
Howard went on to launch his own nursery in 1969 with £50 in the bank and a half-acre of rented land. In time it grew to be as successful as his namesake dahlia, and today Howard Nurseries Ltd. - which Howard runs with his daughter Christine, pictured here - is one of England's largest wholesale perennial growers, annually producing over two million plants of some 1500 varieties.
Although Howard has always championed the best of the new, "it's not just new varieties that attract his eye. One firm favorite is a long-established bearded iris called 'Rajah' [from 1942], which has rich burgundy falls shot with gold and butter-yellow upper petals." Howard introduced it to leading garden designers "who have since used it to great effect in several show gardens. Its appeal has filtered down to garden centers" and it's now a popular iris throughout the UK.
We don't offer 'Rajah' – yet – but you can order 'David Howard' right now for planting this spring. Who knows, it may inspire you or a teenager you love to do what David Howard did and follow your garden dreams.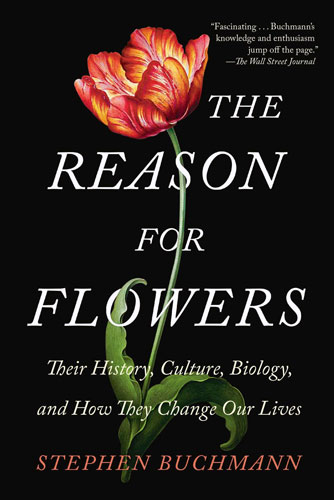 "I am reading an amazing book about flowers," one of my favorite former employees texted me recently. "It would be great for the newsletter. It is so delightful! I love all of the info on the history of flowers in different civilizations (rituals, architecture, etc.) and learning about the various pollinators."
As it turned out, I'd bought the book a couple of years ago but set it aside after just a few pages. Brienne's enthusiasm spurred me to give it another try, though, and I discovered that she was right – The Reason for Flowers: Their History, Culture, Biology, and How They Change Our Lives is a fascinating book.
Here's my advice, though: skip the first 80-page section about "Sexuality and Origins," which I found slow going. (The author is an expert on pollination ecology and evolutionary biology so he has a LOT to say about these topics.) Start instead with one of the other sections:
"Growing, Breeding, and Selling," in which I learned that there's evidence Neanderthals buried their dead with flowers,
"Foods, Flavors, and Scents," which includes an ancient Egyptian perfume recipe that starts with 2000 Madonna lily flowers,
"Flowers in the Service of Science and Medicine," which introduced me to the theory of biophilia, and
"Flowers in Literature, Art, and Myth," which includes Ezra Pound's evocative, two-line poem "In a Station of the Metro": "The apparition of these faces in the crowd: / Petals on a wet, black bough."
Once you've enjoyed these faster-paced sections, all of which are rich with surprising information you won't find in most garden books, I think you'll want to go back and read the first section. I know I did. (Thanks, Brienne!)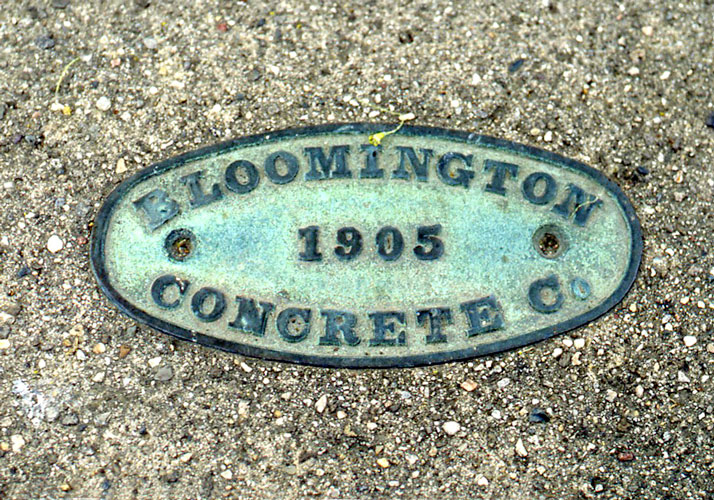 What was snow shoveling like before sidewalks were made of concrete – and when people walked everywhere? Were wooden walks slipperier, or harder to shovel? And what about dirt walks?
These are some of the questions I got to thinking about after reading Albert Baxter's History of the City of Grand Rapids published in 1891.
The earliest sidewalks, Baxter writes, were "usually voluntarily laid," as needed, by property owners. "Generally they were only such as were absolutely necessary to keep the feet of pedestrians out of the mud, often not more than two or three feet wide, of planks laid lengthwise rather loosely on sleepers." Eventually the city replaced these with walks made of "two-inch pine or hemlock plank, in general laid crosswise on stringers and well spiked down." Widths ranged from four to eighteen feet, with "those in the residence districts averaging six feet."
Although there were a few "handsome and solid walks of dressed stone," Baxter notes that "the stone for these is brought mostly from other states," which no doubt made it quite expensive. In fact, the city hall had stone sidewalks on only three of its sides.
Baxter ends by mentioning recent "experiments" with "walks of artificial stone or concrete made of cement, sand, and gravel. These are molded in blocks to suit the locality, usually of lengths corresponding with the width of the walk, and six or eight inches in thickness. The molding is done on the spot, and when dry and hardened they are apparently as solid as granite rock This walk is handsome and gives promise of being durable and permanent as stone, judging from the short trial it has had here of only two or three years."
So how old are your concrete sidewalks? In my neighborhood the oldest date-stamped slabs date from the 1920s, but the oldest I've ever seen date from the first decade of the century, including the one pictured here in Bloomington, Illinois.
We've posted a few more early date-markers at our blog, and we'd love to see the oldest you've found. Email us a photo or two and we may publish them in a future article. Happy searching – and shoveling!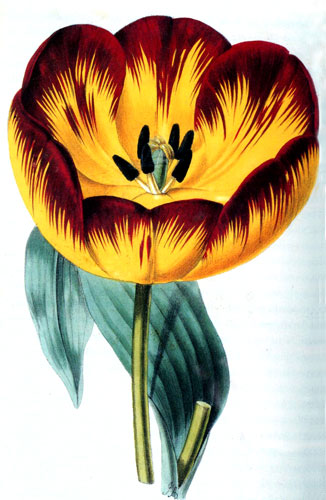 Here's some cutting-edge news from the 182-year-old Wakefield and North of England Tulip Society's latest newsletter:
"A consortium of three Dutch companies . . . have sequenced tulip DNA using Oxford Nanopore Technologies and the TULIP algorithm (The Uncorrected Long-read Integration Process).
"It seems the tulip has the biggest genome that has ever been sequenced. Its size is estimated to be nearly 11 times larger than that of humans.
"Far more work lies ahead to analyze the data but the intention is to link gene sequences to particular characteristics that can be manipulated to 'transform tulip breeding, making it faster, more predictive, and above all "greener" because we will focus on varieties that can be grown sustainably,' according to Hans van den Heuvel of Dümmen Orange [one of the largest Dutch flower breeders and growers]. This would mean using genetic engineering to raise tulips with in-built resistance to pests and diseases, thus reducing the use of chemicals, for ecological and financial benefits."
At Dümmen Orange's website, van den Heuvel goes on to say that "the tulip genome makes the human genome look tiny: the entire human genome fits into one tulip chromosome." Bas Reichert, CEO of the lab that sequenced the genome, says the project "proves that this technology is now feasible and affordable" and will "further accelerate developments in the ornamental sector."
So are fragrant, deer-proof tulips that return and bloom for decades just around the corner? Maybe not, but it looks like our centuries' old quest to develop better and better tulips is about to enter a momentous new stage.
December's articles included stylishly retro bouquets, warm winter iris woes, great new books about peonies, garden bugs, and the landscapes of Laura Ingalls Wilder, and more. You can read all of our back-issues at oldhousegardens.com/NewsletterArchives – and we're adding the best articles from the past to our blog!
Please help us "Save the Bulbs!" by forwarding our newsletter to a kindred spirit, garden, museum, or group.
Simply credit www.oldhousegardens.com.