To read more by topic or date, see our Newsletter Archives page.
---
"From December to March, there are for many of us three gardens – the garden outdoors, the garden of pots and bowls in the house, and the garden of the mind's eye."
– Katharine S. White, New Yorker editor and writer, in Onward and Upward in the Garden, 1979
Frumpy No More: Stylish Bouquets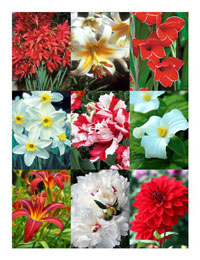 The promise of spring makes an unbeatable gift, and what gardener wouldn't love growing our fabulous flowers?
Holiday Gift Certificates – Pictured here, the holiday version of our gift certificate is merry and bright. For postal delivery, please order by Monday, December 18.
Instant Gift Certificates – Can't wait for the mail? Print a gift certificate to deliver in person, or deliver it instantly by email.
Bulbs for Spring Planting – Antique iris and daylilies, dahlias for bouquets, majestic lilies, graceful little glads, fragrant tuberoses, easy samplers (including our Intro to Heirlooms), and more, all for delivery in April. And – from now through December 18 only – we'll send a card announcing your gift of bulbs for FREE!
Bulbs for Fall 2018 Planting – Next fall is a long way off, but anticipation makes the heart grow fonder, right? And if you order by December 18, we'll send a card announcing your gift of bulbs for FREE!
If you've missed the order forms that we dropped from our print catalog this year, here's some good news.
We've recently added a downloadable order form to our website that you can print out, fill in, and mail. Look for the link for "Mail-In Order Forms" under the Ordering tab in our navigation bars and on our shopping basket page.
Even easier, simply call us at 734-995-1486 and we'll be glad to send you the forms. However you like to order, we want to serve you!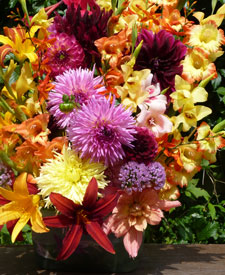 Alstroemeria and gazanias, step aside. According to a leading British newspaper, dahlias and glads are the hot new flowers for bouquets.
Although the news took a while to reach us here in Michigan, The Telegraph reported in September 2016 that "nostalgic Britons have revived an English country garden trend by decorating their homes with 'frumpy' British-grown flowers such as gladiolus, dahlias, and delphiniums."
"Despite once being associated with other 'undesirable' stems such as chrysanthemums, experts said . . . more families are choosing these retro-style flowers instead of classics such as roses and lilies." In fact, one major supermarket chain reported that glad sales were up 30%.
"Although gladiolus are often used in magnificent displays at venues such as Westminster Abbey, they are perfect for the less experienced arranger," said a spokesperson at the National Association of Flower Arrangement Societies. "Gladiolus make a bold modern statement in a large vase or container on their own."
For easy, on-trend bouquets from your own backyard, why not order a few of our retro-style glads and dahlias now for spring delivery?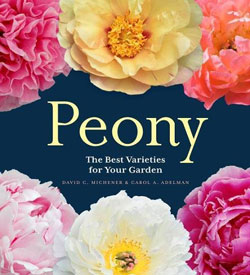 Peony: The Best Varieties for Your Garden – This book is so new that Amazon isn't even shipping it until later this month, but I got a copy Monday and couldn't wait to tell you about it.
It's definitely "a stunner," as co-author David Michener of the University of Michigan Peony Garden told me, with page after page of glorious photos, many by co-author Carol Adelman of Oregon's Adelman Peony Gardens. After chapters on peony history and origins, peony types, gardening with peonies, and peonies as cut flowers, most of the book is devoted to mouth-watering close-ups and short descriptions of nearly 200 peonies.
Although I wish there were more heirlooms, David and Carol have put together a line-up that's impressively diverse. Most are herbaceous peonies, but there are plenty of intersectional and tree peonies, too, all dating from 1824 to 2015, and the incredible range of colors and forms is sure to have you ooo-ing and ahhh-ing. The book's price is impressive, too – just $19 at Amazon. So what are you waiting for?
The World of Laura Ingalls Wilder: The Frontier Landscapes that Inspired the Little House Books – Before she was a famous author, Marta McDowell was a customer of ours. (See our blog for a photo of her visiting OHG this past September.) I loved her first book, Emily Dickinson's Gardens, published in 2004, and since then she's written three other gems: Beatrix Potter's Gardening Life, All the Presidents' Gardens, and now this one.
You don't have to be a fan of the Little House on the Prairie books or TV series to enjoy it. The illustrations – antique images, original artwork from the books, and historic and modern photos – drew me in immediately, and Marta's writing reads more like a conversation with a friend than a dissertation. The Wilders homesteaded in a half dozen states, from New York to South Dakota, and their story is more about growing food than flowers, as well as the untamed natural world they lived in.
At the end are chapters on "Visiting Wilder Gardens" and "Growing a Wilder Garden" today, and then just before the index there's my favorite photo: a snapshot from 1962 of Marta's family standing in her great-aunt's backyard – "the flower garden that I imprinted on" – next to a big beautiful swath of tiger lilies.
Garden Insects of North America, second edition – I got a copy of this book for my birthday recently, and it's even better than I expected. First of all it's BIG: 704 pages, weighing a hefty five pounds. It's so well bound, though, that it opens flat for easy reading, and the cover seems so durable that I won't hesitate to take it with me into the garden.
Then there are the photos: 3300 of them, all in full color, and helpfully organized into chapters such as "Insects That Chew on Leaves and Needles." I admit my first reaction to them was "gross!" Most bugs, after all, aren't as photogenic as the caterpillar on the cover, and it's daunting to see page after page of damaged plants. But before long I was discovering insects I'd seen before but didn't know what they were – such as the tiny, mosaic-patterned ailanthus webworm moth – and I realized this book is going to be both useful and fun.
Superstar garden blogger Margaret Roach recently called it "a must for every gardening household," and I couldn't agree more. One caution, though: be sure to get the brand-new second edition which is bigger and better than the 2004 original.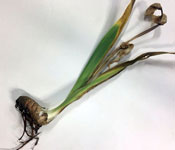 Warmer than usual winters can cause all sorts of problems for plants, including bearded iris. In a recent post at the AIS blog, World of Irises, Bonnie Nichols of zone-8a Dallas explains:
"In December [last year] when the Christmas Day temperature was 82 degrees . . . , we knew the iris bloom season was in jeopardy. And, it didn't get better when on January 31 the high was 79 degrees.
"When I saw various bearded irises blooming in December and January, I asked friends if they thought it was rebloom or what would have been our spring bloom. We all had no idea. In April, we knew [it] was the 'spring' bloom because we . . . had no additional bloom. Maybe 20% of tall bearded irises bloomed. . . .
"We saw more than normal increases on some of the plants because they did not use their energy to bloom. On other plants we noticed something that we had not had much experience with – 'lightbulb' rhizomes. Lightbulbs are rhizomes with no increases and the roots wither away. . . . The rhizome increases in size and twists slightly as if it is pushed out of the ground. [If it blooms] the stalk comes up in the middle of the fan and dies back quickly. The rhizome eventually dries up and dies also. . . ."
Commenting on Bonnie's post, Phil Williams offered an alternative explanation: "Strong root growth is what produces good spring bloom here. Makes me wonder if the prolonged heat [in summer and fall] might have created a false dormancy . . . , and the plants did not root deeply."
Either way, warmer temperatures are the culprit. Is that global warming? Bonnie says she's not sure but "I'm beginning to believe it is."
Please help us "Save the Bulbs!" by forwarding our newsletter to a kindred spirit, garden, museum, or group.
Simply credit www.oldhousegardens.com.