To read more by topic or date, see our Newsletter Archives page.
---
"Earth knows no desolation. She smells regeneration in the moist breath of decay."
– George Meredith, 1828-1909, English novelist and poet
42 Award-Winners to Plant this Fall
Heirloom Gardener Spotlights Rare Hyacinths
Was Your Street Paved with Wood?
It's Not Too Late! And 32 Great Heirlooms are Now on SALE!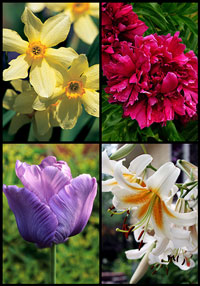 We're about halfway through our fall shipping season – which usually runs through the first week of November – and orders have been flying out the door.
As usual, though, we got a little too excited and ordered a few too many of some of our favorite bulbs. To help them all find a good home, we just reduced prices on 32 amazing heirlooms by 10% or more!
Save on 10 tulips, 9 daffodils, 5 peonies, 3 lilies, 2 crocus, and sternbergia, surprise lily, and the exquisite Roman Blue hyacinth.
See them all at our Bulbs on Sale page – and then order (or order more) for your best spring ever!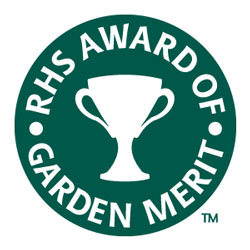 The Award of Garden Merit (AGM) is the Royal Horticultural Society's highest honor for garden plants. It was first bestowed in 1922, and since 1993 the list of winners has been regularly updated to make sure all are still of "outstanding excellence," "good constitution," problem-free, and widely available.
Although many of our bulbs are too rare to make the list, here are 42 AGM-winners that we're offering this fall. Some are already sold out, and others will be soon, so don't delay – add some of these exceptional flowers to your garden today!
CROCUS: Cloth of Gold (save 10%), 'Snowbunting', 'Vanguard', and sold out 'Mammoth Yellow' and C. tommasinianus.
DAFFODILS: 'Carlton', 'Jenny', N. moschatus, pheasant's eye, 'Romance', 'Sun Disc' (save 10%), The Tenby, and sold-out 'Avalanche' and 'Geranium'.
HYACINTHS: Sold-out 'City of Haarlem' and sold-out 'Gypsy Queen' and 'Hollyhock'.
LILIES: 'African Queen', 'Pink Perfection', regal, and sold-out L. martagon.
PEONIES: Sold-out 'Duchesse de Nemours' and sold-out 'Miss America'.
TULIPS: 'Black Parrot' (save 10%), T. clusiana (save 10%), 'Kingsblood', 'Prinses Irene' (save 10%), 'Temple of Beauty' (save 10%), and sold-out 'Apricot Beauty' and 'White Triumphator'.
DIVERSE: Allium senescens, Allium sphaerocephalum, Turkish glory-of-the-snow, Cyclamen hederifolium, snake's-head fritillary, giant or Elwes snowdrop, 'S. Arnott' snowdrop, Byzantine gladiolus, Siberian squill, Sternbergia lutea (save 15%), Trillium grandiflorum, and sold-out 'Atkinsii' snowdrop and Leucojum aestivum 'Gravetye Giant'.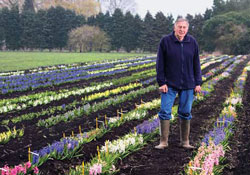 Our good friend Alan Shipp and his ark of hyacinths are featured in the fall 2017 issue of Heirloom Gardener magazine. Editor Rebecca Martin tells the inspiring story of how Alan, a third-generation vegetable farmer, became the world's leading expert on historic hyacinths and guardian of some 250 rare varieties.
Nine of Alan's treasures are pictured in the article, and if some of the photos look familiar it's because you've seen them at our website. As Rebecca writes, shortly after Alan sold his first hyacinths he started exporting bulbs to "Scott Kunst, founder of Old House Gardens, who's also passionate about saving old cultivars. OldHouseGardens.com is a Michigan mail-order company specializing in heirloom flower bulbs, and the exclusive U.S. dealer for Alan's hyacinths. 'There's nothing like a phone call from Alan, out of the blue, telling me about some exciting new hyacinth he's found,' Scott says. 'It's like the sun suddenly bursting out of the clouds on a beautiful spring day. He's truly an inspiration and a world treasure.'"
You can read the entire article – and explore Heirloom Gardener magazine – at heirloomgardener.com/profiles/people/heirloom-bulbs-zm0z17fzmar. Although all of Alan's hyacinths are sold out this fall, seven other fabulous, fragrant heirloom hyacinths are still available – if you order now!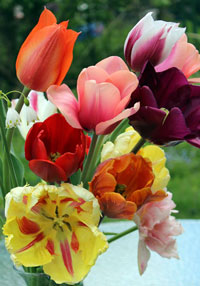 We're proud to have made the short list of Martha Stewart's "top bulb sources" in the September 2017 issue of Martha Stewart Living.
"My excitement for tulips," Martha writes, "is a bit like what occurred in 17th-century Holland during the time of Tulipomania." She reminds her readers to check tulip bulbs as soon as they arrive to be sure they're "firm, with no soft spots, rot, or cracking," but wait to plant them until "nighttime temperatures are consistently in the 40s."
Although spring may be a long way off, tulips are "more than worth the wait," she adds. "It's always pure joy to see those first shoots appear after a long winter."
For your own boxful of tulip joy, order now at oldhousegardens.com/Tulips.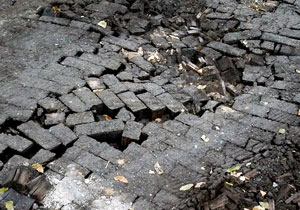 Workers repaving a street in Grand Rapids, Michigan, this past August were surprised by what they found buried under the layers of old asphalt – wooden paving bricks from over a century ago, many of which were still in perfect shape.
In his 1891 History of the City of Grand Rapids, Albert Baxter explains that "a change in Grand Rapids pavements from cobblestone to wood was made in 1874. The first wood pavements were made of blocks cut from four-inch pine planks set on end upon a gravel bed, . . . making a wood roadway six inches in depth." Unfortunately the pine decayed in five or six years, so "the next advance was in the use of cedar blocks." Cedar is naturally rot-resistant, and "the cedar block has proved much the more durable, and is the popular pavement to this day."
I learned a lot more about the evolution of the city's streets in Baxter's book – and the early history of paving in your city was probably similar to it.
"Naturally the first wagon roads to the village," he writes, followed "paths which the Indians had trod and were correspondingly crooked." In 1835 the first right-angled streets were laid out and cleared but otherwise unimproved except for "little plank or log bridges across streams and mud holes."
Further improvements "involved a vast amount of labor and expense." Although Grand Rapids isn't especially hilly, some high spots were cut down by as much as 40 feet and the resulting fill dirt used to raise low-lying streets by up to 15 feet – all without the help of mechanized equipment.
The next advance was paving, with Canal Street "macadamized" in 1847. This relatively new process involved layers of crushed stone that, with use, would bind into a solid surface. Unfortunately the mud under Canal Street proved to be too much for the macadam which was soon riddled with "mire holes."
Next the city tried a few sections of wooden plank road, a "passably good pavement," before turning to cobblestone in 1856. "Cobble stone well laid on a solid even bed is a good pavement, indefinitely durable," Baxter writes, but it's "very noisy and hard upon the horses' feet."
"During the war period," he continues, "not much progress was made in paving," but starting in 1866 some streets were paved with "round stone" – which, as best as I can figure, consisted of smooth, uncrushed stones an inch or two in diameter. (If you know more, please let me know.)
Wooden blocks came next, and "after this little if any stone pavement was laid except along street borders and gutters" – although Baxter does mention recent "experiments" with a brand-new paving material for sidewalks known as "artificial stone or concrete."
If you've read this far, you might enjoy the entire Chapter 50 of Baxter's History, "Village Roads and City Streets." As you can probably tell, I found it fascinating.
Late September's articles included a deer-proof (?) tulip, fall protection for peonies and iris, dahlia 'Little Beeswing' (now with no "s") stars at UK flower show, eye-opening Mozart's Starling, and more. You can read all of our back-issues at oldhousegardens.com/NewsletterArchives – and we're adding the best articles from the past to our blog!
Please help us "Save the Bulbs!" by forwarding our newsletter to a kindred spirit, garden, museum, or group.
Simply credit www.oldhousegardens.com.