To read more by topic or date, see our Newsletter Archives page.
---
"The man [or woman!] who has planted a garden feels he has done something for the good of the whole world."
– Charles Dudley Warner, 1829-1900, American writer and editor, from My Summer in a Garden
Holiday Gift Certificates and Bulbs
Garden Books for Giving and Getting
Smithsonian Garden Internships
From all of us here at Old House Gardens, thank you for another year of helping us keep our tiny ark afloat and our hearts full. Despite our many differences here in America and around the world, when we meet in the garden we find ourselves united in our love of nature, beauty, and the sheer awesomeness of life. May the new year nurture us all!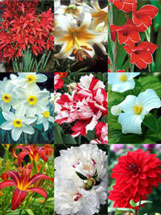 Warm someone you love with our unique, dream-inspiring gift certificates or the promise of bulbs to arrive at planting time in April.
Holiday Gift Certificate – Pictured here, the holiday version of our gift certificate is merry and bright. For mailing by Christmas, please order by December 19.
Print Your Own Gift Certificate – Can't wait for the mail? You can print your own gift certificate and deliver it in person. Or fastest of all. . . .
Email Gift Certificate – Last-minute shoppers, rejoice! No matter how late it is, you can deliver your gift certificate instantly by email. That's even quicker than reindeer-delivery!
Heirloom Bulbs for Spring Planting – Luxurious dahlias, perennial iris, small-flowered glads (see below), fragrant tuberoses, all-but-lost daylilies, easy samplers (including our Intro to Heirlooms) and more, all for delivery in April.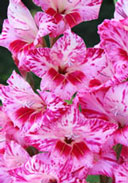 Good news! Despite the extreme drought that afflicted much of Maine this year, all was not lost at our glad growers' farm. In fact, we recently learned from Paul and Elisabeth that we'll be getting at least four of their rare beauties this spring –
'Bibi', the "pink cheetah" glad (pictured here),
tiny, apricot 'Starface',
radiant little 'Green Lace', and
one of our most antique-looking glads, the incomparable 'Dauntless'.
We're hopeful that more will follow in January – but don't delay. Supplies are even more limited than usual, so do yourself a favor and order early!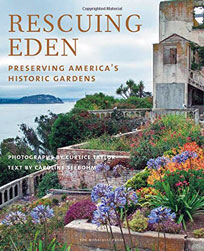 Although the cold, short days of winter aren't the best for gardening, they're perfect for garden reading – and books make great holiday gifts. Here are five new ones I'm hoping to enjoy before spring returns.
Rescuing Eden: Preserving America's Historic Gardens, by Curtice Taylor and Caroline Seebohm: "Most gardens do not survive their creators, being sold off, dug out, or, if not utterly destroyed, then so drastically changed as to be sadly unrecognizable. The 28 remarkable properties in this book" – ranging from Middleton Place plantation to the gardens of Alcatraz – "are happy exceptions to that rule, rescued from near-obliteration because of historic connections. . . . Some are still in the process of renovation, and others will never be fully restored, but all offer rare glimpses into this country's horticultural history." (reviewed by Adam Levine in Country Gardens)
Garden Flora: The Natural and Cultural History of the Plants in Your Garden, by Noel Kingsbury: "This must be the most beautiful book of the publishing season, with an oversize format rich in botanical art and historic and contemporary photos. Every page is stunning, a revelation in art and text of flora's long and curious history. Kingsbury's writing is a lively backstory to what we grow in our gardens" – including most of the bulbs we offer – and "it's also right up to the minute with insight on current plant breeding and a poignant look at the plants we've lost." (reviewed by Val Easton in the Seattle Times)
The Botanical Treasury, by Christopher Mills: "The excitement of discovering a new plant is almost tangible in this lavish collection of plant histories. A delightful compendium of 40 plants from around the world, The Botanical Treasury tells the story of each one through a fascinating mix of botanical illustrations, letters sent to Kew from plant hunters, and reprinted extracts from botanical periodicals. . . . The book also includes forty reproduced prints of featured plants which can be framed – the icing on the cake of this tremendous and fascinating collection." (reviewed in The English Garden)
A Garden for the President: A History of the White House Grounds, by Jonathan Pliska: "The White House grounds are the oldest continually maintained ornamental landscape in the United States. Handsomely illustrated with historical images and newly commissioned photography, A Garden for the President explores not only the relationship between the White House and its landscape but also the evolution of its design; the public and private uses . . . ; and the cultivation of the grounds with a focus on the specimen trees, vegetable and ornamental gardens, and conservatories. (reviewed by the White House Historical Association)
Bliss Irises: Family and Flowers, The Journey to a National Collection, by Anne Milner: "Anne Milner blends personal history with gardening in this beautifully illustrated book. Her story starts with the discovery that her grandfather's cousin was . . . Arthur J. Bliss, who introduced 'Dominion', a ground-breaking purple iris that made him world famous. . . . The book's second half focuses on the [more than 175 iris Bliss introduced], with detailed information about the plants, accompanied by photographs, watercolors, and line drawings." (reviewed in Plant Heritage)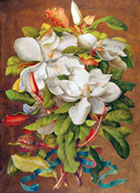 If you're lucky enough to be anywhere near New York City this winter, treat yourself to the New York Botanical Garden's small but impressive exhibit of botanical art from the vast collection of the late Bunny Mellon. Some 80 works selected from the 16,000 Mellon collected are on display, ranging from a 1350 book illustration to a 1958 print by Picasso and beyond.
As you may remember from previous articles here, Mellon redesigned the White House Rose Garden for President Kennedy, filling it in spring with masses of tulips. The Dutch Tulipomania in the 1630s was a special interest of Mellon's, and several works in the NYBG exhibit feature tulips, including one that could very well be 'Zomerschoon'.
"Redoute to Warhol: The Botanical Art of Bunny Mellon" runs through February 12, and even if you can't get there in person you can enjoy several of its highlights online.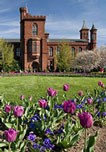 If you're in college or grad school, or recently graduated, here's an exciting opportunity. Imagine working and learning in the gardens of the Smithsonian Institution, the world's largest museum complex. Applications are currently being accepted for internships that offer "a strong practical background to emerging professionals hoping to enter the public gardening world."
The internships focus on various areas such as education and outreach, the greenhouses, landscape architecture, and even the photographic treasures of the Archives of American Gardens. Learn more at gardens.si.edu/get-involved/internships.html.
With just under 15,000 likes, it's one of the most popular Facebook pages for bulbs, heirlooms, and garden history. (Thank you, all!) Please come check us out at facebook.com/HeirloomBulbs.
November's articles included:
a clickable history of Old House Gardens (with a photo of two-year-old Scott picking tulips),
mural-sized botanical images for your walls,
fall tips for protecting iris and peonies, digging and storing dahlias, etc., and
Garden Gate says "your garden needs this flower" (can you guess what it is?).
You can read all of our back-issues at oldhousegardens.com/NewsletterArchives – and we're adding the best articles to our blog!
Please help us "Save the Bulbs!" by forwarding our newsletter to a kindred spirit, garden, museum, or group. Or if a friend sent you this issue, SUBSCRIBE here!
Simply credit www.oldhousegardens.com.