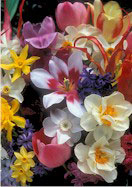 Our easy, unique gift certificates make memorable gifts for friends who love gardening, old times, or both. We'll either send our fabulous catalog and a lovely card with your personal message hand-written inside, or you can print and deliver it in person yourself or send it instantly by email.
Certificates start at $40 to cover our minimum order plus shipping.
Please enter the amount you want to give in the Order Summary at the bottom here.
Required information is highlighted in purple.