Last Chance to Order Iris for Delivery this Summer!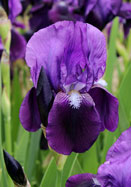 Next Wednesday, July 15, is the last day you can order any of the nine fabulous iris we'll be shipping later this month and into August.
'Pallida Dalmatica' is already sold out (sorry!), but you can still get your hands on 400-year-old 'Swerti', smoke-and-lavender 'Quaker Lady', perfectly imperfect 'Loreley', early-blooming (and reblooming) 'Eleanor Roosevelt' (pictured here), and five other heirloom beauties.
Summer is the traditional time for transplanting iris, and NOW is the time to order!