To read more by topic or date, see our Newsletter Archives page.
---
"An idealist is one who, on noticing that a rose smells better than a cabbage, concludes that it will also make better soup."
– H.L. Mencken, 1880-1956, American journalist and cultural critic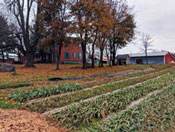 Thanks to everyone who helped make our first fall here at the new Old House Gardens such a good one!
Moving to our new place was a lot of work, but we've settled in happily. Bulb quality was excellent this fall, most of our incredible shipping crew returned, and Miriam and Jessie kept our thousands of newly transplanted iris and daylilies growing strong.
Most importantly, our beloved customers ordered more bulbs than ever this fall. Thank you! We never forget that we couldn't do this without you, and this Thanksgiving you can be sure that we'll be thinking of you with special gratitude.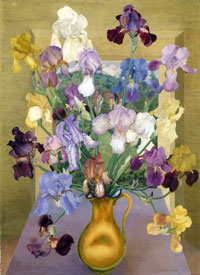 Is it too early to think about spring planting?
Not if you want to snag a rhizome or two of 'Edward of Windsor', one of the most intriguing iris we've ever offered. Some call it soft pink, others pale orange, but either way it's a light, dreamy pastel color with a surprisingly bright tangerine beard.
Unusual colors are one of the hallmarks of iris bred by British artist Cedric Morris (1889-1982) whose paintings hang today in museums around the world. Morris painted in what has been called "a distinctive and often rather primitive post-Impressionist style," and for more than 40 years students flocked to the art school he conducted at his home, Benton End, in the English countryside.
Morris developed extensive gardens there, said to be inspired by Monet's at Giverny, and in the early 1940s he began breeding iris. He eventually registered 45 of the best with the American Iris Society, often with names such as 'Benton Rubeo' (named for his pet macaw) and 'Benton Cordelia' (winner of the British Dykes Medal in 1955).
Unfortunately almost all of these had disappeared from commerce by the time Sissinghurst's head gardener Sarah Cook discovered a long-lost label for 'Benton Nigel' in the gardens there. After taking early retirement in 2004, Sarah launched a quest to rediscover all of Morris's iris, and today she's nurturing some 25 of them as holder of Plant Heritage's National Collection of Cedric Morris Iris.
Learn more about Morris and his iris here (although please note that the photo labeled 'Edward of Windsor' is NOT that iris), view dozens of his paintings here (you may need to be patient as the images load), and if you like what you see, why not order now to enjoy a bit of his floral art in your own backyard!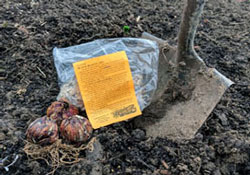 Nature is amazing, as any gardener knows.
For example, you've probably noticed that seed pods can form on your tulips, lilies, and other bulbs if you don't deadhead them after flowering – but how do those seeds end up as bulbs six or eight inches underground, without a gardener to plant them there?
The answer involves contractile roots, blue light, and – for tulips – the evolutionary pressure of marmots. Canadian blogger Larry Hodgson explains it all at LaidBackGardener.blog/2017/09/20/how-bulbs-plant-themselves/.
One caution, though: In an accompanying article, Larry recommends planting tulips a foot deep and says Darwin Hybrid and Viridiflora tulips often return best – but that's not been our experience. For our tips on how to get your tulips to return and bloom year after year, visit oldhousegardens.com/HowToFall#Tulipa.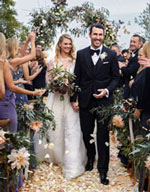 A few days after his team won the World Series this fall, Houston Astros pitcher Justin Verlander (former star of our hometown Detroit Tigers) married super-model Kate Upton in an intimate ceremony in Tuscany – and 'Café au Lait' dahlia was there!
At least we think that's what's decorating the aisle in this photo the happy couple posted on Instagram. The shape is right, the soft, dreamy color is right, and 'Café au Lait' is very much in vogue for weddings. (Although some of the blooms pictured have open centers, this is common late in the season when there's less sunlight for petal production.)
Take a look at a larger version of the photo at our blog and see what you think. Then to add some All Star/super-model romance to your garden, order 'Café au Lait' now for spring delivery!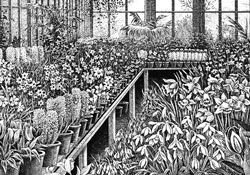 Forcing is fun, and end-of-season bulbs are often deeply discounted at local garden centers – so why not try blooming a few this winter? Some are easy enough for children, while others require more finesse. For inspiration and tips, see our Forcing Bulbs How-To page and our Forcing Bulbs newsletter archives.
Storing tender bulbs like dahlias, glads, and tuberoses is also easy. For our expert advice, see the "Winter Care" sections throughout our spring-planted Planting and Care page.
October's articles included 42 award-winning bulbs, Martha loves tulips (and us), the wooden streets of Grand Rapids, rare hyacinths in Heirloom Gardener magazine, and more. You can read all of our back-issues at oldhousegardens.com/NewsletterArchives – and we're adding the best articles from the past to our blog!
Please add newsletter@oldhousegardens.com to your email address book or safe/approved list today.
We hope you enjoy our monthly Gazette, but if not UNSUBSCRIBE here and we'll drop you from our list immediately.
Please help us "Save the Bulbs!" by forwarding our newsletter to a kindred spirit, garden, museum, or group.
Simply credit www.oldhousegardens.com.