See our micro-farms in "Saving Heirloom Bulbs" in Country Gardens!
---
Growing Our Own: Micro-Farming Heirloom Bulbs
Josh breaks ground for our First Street micro-farm, with the old Ann
Arbor Railroad station, condos, and a downtown office building in back.
Although most of our bulbs come from small farmers who we've been working with for many years, some heirlooms proved so hard to get that we're now growing them ourselves in five urban micro-farms just blocks away from downtown Ann Arbor.
We first started doing this many years ago when we noticed our neighbor Mark's abandoned vegetable garden and asked if we could plant a few bulbs there. He agreed, loved the results, and kept asking us to plant more until eventually rows of our flowers filled most of his sunny backyard.
Inspired by this success and the good work of Detroit-based Urban Farming, in 2008 we abandoned our search for a small farm to move our growing business to and started looking instead for other bits of under-used land to develop into a network of urban micro-farms.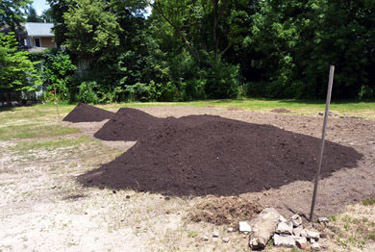 The biggest rocks are out and a dump-truck load of
compost is waiting for us at our newest micro-farm on
the appropriately named Spring Street.
Since then we've tilled up, added tons of compost, and planted four more vest-pocket farms in vacant lots and empty backyards within a few blocks of our office/barn in Ann Arbor's Old West Side historic district. Thanks to the generosity and community spirit of Mark, Ken, Tess, Lavinia, the Knights, and two friends who prefer to remain anonymous, we're now producing many of our rarest glads, 75% of our daylilies, and all of our iris right here in the neighborhood. (See one of our big, freshly-dug iris here.)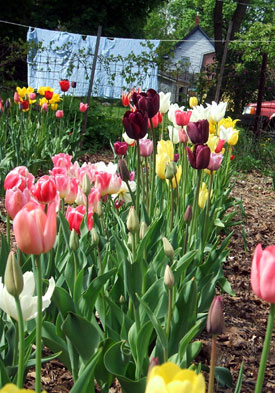 Tulips welcome spring in our micro-farm
in the backyard of our next-door
neighbor, Mark (best neighbor ever).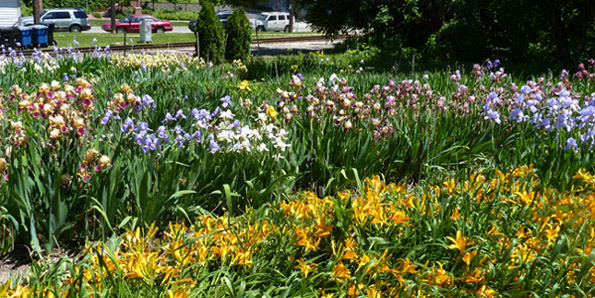 Where just a year ago only weeds grew – and they were struggling! – our First
Street micro-farm is alive with the blooms of heirloom iris and 'Orangeman' daylily.
The owners of our micro-farms and their tenants have all been enthusiastic about the results. They get to enjoy the beautiful flowers – which they're helping to save from possible extinction – while our talented and tireless crew does all the work. (Thanks, Kelly, Josh, Donna, and all!)
We love working with our growers overseas and the 22 small farmers we work with in 15 states, but micro-farming allows us to save more heirlooms and grow our business while we help to green the planet. What could be better than that?
We're posting photos and up-dates at our Facebook page. Come take a look – and thanks for your support!
Our first spring on Spring Street, with daffodils starting to bloom and Kelly, Ellie, and Kate pulling weeds by the thousands.
In back are the Ann Arbor Railroad tracks which also run along our micro-farm on First Street.

Almost-endless summer: our trial-garden dahlias keep on blooming
on a cold October morning in Mark's yard.

At Second Street, Kelly tends iris, daylilies,
and dahlias in water-saving collars.

Snow blankets our First Street iris, with a red caboose
in back, now part of a nursery school playground.