Bulb sales for fall 2021 are SUSPENDED.
Sign up for an alert here for our end of season sale.
Fall 2021 shipping is over. Thank you for a great season!
Order these fall-planted bulbs NOW for delivery in October.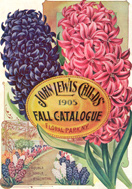 SAVE THE HYACINTHS! — Hyacinths are the most endangered garden bulbs. In 1886, D. M. Ferry offered 135 — twice the number of tulips and ten times the number of daffodils. But today you'll find very few in most catalogs and gardens. What a loss!
Fragrant and quaint, hyacinths bring a rainbow of color into the garden well before tulip time. Wind a drift through your perennial border or force a few indoors and see if you don't agree that they're just too wonderful to let go extinct.
Even Rarer Hyacinths
— Every year we get a handful of spectacular bulbs that are so rare we offer them
Web-Only
. For an alert the moment they go on sale, subscribe to our free, monthly
email newsletter
.
double

Chestnut Flower hyacinth

The starry, overstuffed florets of this Victorian double are a lovely "dawn pink." Though double hyacinths were once the most sought after (learn more), today only a handful survive – and 'Chestnut Flower' is one of the best. 10-12", zones 5a-8a(10bWC), from Holland. Chart and care.
| | |
| --- | --- |
| | Every bit as sweet as its name, "Fondant" is a pure apple-blossom pink and (according to Cornell scientists) one of the best hyacinths to perennialize – and its delightful fragrance will perfume your garden in the springtime. 8-12", zones 5a-8a(10bWC), from Holland. Chart, care, and learn more. |
double

General Kohler hyacinth

The opulent, lavender-blue bells of this rare double look as if they've been sculpted out of Bavarian sugar-frosting. Once discarded as freaks, double hyacinths rocketed into vogue in the early 1700s and remained the world's most popular bulb for 150 years. 10-12", zones 5a-8a(10bWC), from Holland. Chart, care, and learn more.
| | |
| --- | --- |
| | "If I could grow only one hyacinth," wrote Rand Lee in The American Cottage Gardener, "it would be this." He praised its "luminous" apricot color, the "melon undertone" of its "considerable fragrance," and how it "naturalizes effortlessly" in his dry, zone-6a Santa Fe garden. 10-12", zones 5a-8a(10bWC), from Holland. Chart and care. |
| | |
| --- | --- |
| | Named after the Greek-mythic son of Zeus and Europa, 'Minos' brings a touch of mystery to the hyacinth bed. He was the king of Crete while alive and a judge in the underworld after his death, and his fragrant namesake can be as blue as the Aegean sea or a deeper lilac-blue that hints of eternal mysteries. 8-12", zones 5a-8a(10bWC), from Holland. Chart, care, and learn more. |
| | |
| --- | --- |
| | Like all true Roman hyacinths, this soft pink charmer is fragrant, graceful, and – maybe best of all – it will multiply into a clump that gets bigger and more beautiful every year. A little less cold-hardy than regular hyacinths – zones 6a-8a(10bWC), 8-10", from the Hortus Bulborum. Chart and care. |
| | |
| --- | --- |
| | After decades of searching, we'd all but given up hope of ever offering true white Roman hyacinths, but our prayers were finally answered by the Hortus Bulborum! Once so popular they were exported by the millions from the south of France, white Romans are graceful, deliciously fragrant, slightly less cold-hardy than regular hyacinths – zones 6a-8a(10bWC), 8-10", from the Hortus Bulborum– and they multiply eagerly! Chart and care. |
Splendid Cornelia hyacinth

When our friend Alan Shipp described this variety as being "a lovely lilac and one of my favourites," we knew we had to have it! Its unusual color will add delightful accents to your spring bouquets while its sweet fragrance enchants your nose. As Alan told us, "You will love it!" 8-12", zones 5a-8a(10bWC), from Holland. Chart, care, and learn more.
One of our most sought-after bulbs, this graceful, cinnamon-scented wildflower multiplies happily year after year. It's been passed along since colonial days, and though counterfeits are rife, ours from the Hortus Bulborum are 100% true. Slightly less cold-hardy than regular hyacinths – zones 6a-8a(10bWC), 8-10". Last offered in 2021. If you'd like to be notified when it's back in stock, click here to sign up for an email alert.

Last offered in fall 2021.

HISTORY — Hyacinths came to Europe from Turkey in the mid-1500s, and by 1730 some 2000 varieties were reported. From about 1780-1880 they were more popular than tulips. First grown as mixed collections of choice specimens, they later starred in the 1800s rage for forcing and were planted en masse in Victorian pattern-beds.
For the whole fascinating story, from their wild beginnings to the Ottoman Empire, Mme. de Pompadour, and beyond, see our Hyacinth History page.
HYACINTH ARCHIVES — For customer tips and raves, the stories behind the bulbs, links and books, history, news, and more, see our Hyacinth Newsletter Archives.
HYACINTHS AS CUT FLOWERS — Hyacinths are fabulous in bouquets. For tips on making them last, see our Bulbs as Cut Flowers page.
EASY FORCING — Forcing hyacinths into winter bloom became a great rage in the 1800s, and it's a pleasure you can easily enjoy today. For simple instructions, see our Forcing Bulbs page.
TIPS FOR SUCCESS OUTDOORS — Hyacinths like rich, well-drained soil that's dry in summer and full sun. Best in zones 5-7, they can succeed in zones 4 (well-mulched) and 8, too. Most grow 10-12 inches tall. We send 15-17 cm bulbs, the best size for gardens.
Some people are allergic to hyacinth bulbs, developing a localized itch, so you may want to handle them with gloves. Plant in mid-fall. If necessary, store till then in open bags in a cool, dry spot.
Hyacinths do best when DRY (but not hot) in summer. Choose a sunny site with well-drained soil, avoiding or improving clay or damp soil, or plant in raised beds. Plant bulbs with base 6-8 inches deep and 5-7 inches apart on center (or closer for a lush look). Scratch a tablespoon of bulb fertilizer into the surface soil (slow-release 10-10-10 is ideal). Water.
A light, airy winter mulch such as straw, oak leaves, or pine boughs is helpful in colder zones to minimize root damage from soil repeatedly freezing and thawing.
For best results, re-fertilize lightly spring and fall, and assure even moisture then. After bloom, strip off spent florets but allow foliage to yellow (to feed the bulbs for next year's bloom) before removing. Close the hole left in the soil by the withering foliage to deter pests. And keep those bulbs dry!
Five-Second Staking — All hyacinths — even wild ones — topple eventually. Usually it's no big deal, but if the weather is unseasonably warm it can be disappointingly premature. To counter this, take a thin green bamboo stake about 12 inches long and run it along right next to the stem from the top of the bloom-spike down into the soil a few inches (but not so deep that you hit the bulb). The florets will clasp the stake and you're done!