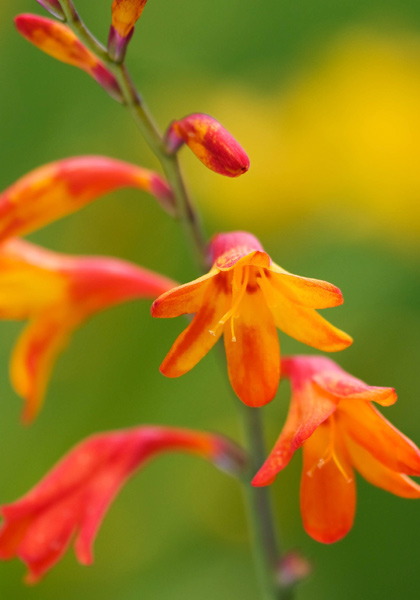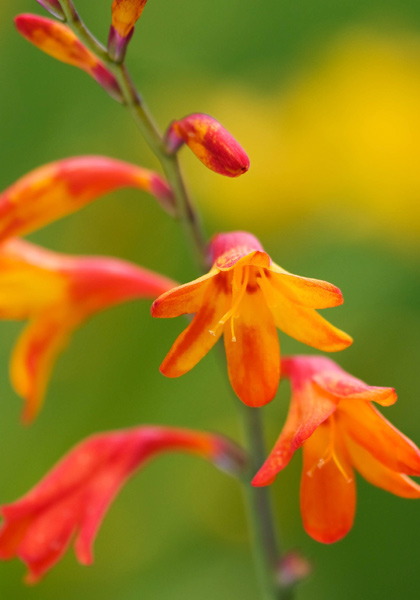 "The Luther Burbank of France," Victor Lemoine introduced many of the 19th century's most exciting new lilacs, peonies, and glads — and the first named crocosmias. His fiery 'Météore' endures, lighting up the late summer garden with a smoldering mix of orange, red, and gold as it has for well over a century. 22-26", zones 7a-9b(10bWC) or store like glads, from Holland. Unfortunately we lost our grower and haven't found another who offers authentic stock.
ZONES 7a-9b(10bWC) or dig/store
HEIGHT 22-24"
LIGHT full sun
PLANTING & CARE
CAUTION! In warm climates, Crocosmia multiply vigorously and can easily become INVASIVE. Do NOT grow near streams, lakes, etc. Do NOT compost corms, cormlets, plants, or the soil they've grown in. Instead, dispose of by bagging in plastic or burning.
There's no need to panic, though. In a well chosen spot, with reasonable care, crocosmia can bring you decades of pleasure, as they have for generations of gardeners.
For best results, well-drained soil is crucial. Avoid or improve clay soil, or grow in raised beds or pots with a fast-draining soil mix. Crocosmia prefer full sun to part-shade in the South and full sun in the North.
Plant corms after the last-frost date in spring. If necessary, store till then in open bags in a cool, dim, dry place. Plant with the pointed end up, 2-3" deep and about 8-10" apart. Water well.
Foliage usually emerges within a couple of weeks. After bloom, allow the leaves to continue growing to feed the bulbs for increase and next year's flowers. Remove only after they yellow into dormancy in the fall.
WINTER CARE — Where they're not winter-hardy, crocosmia can be stored as easily as glads. Dig them after first frost and immediately cut the stalks off as close to the corms as possible. Air dry for 2-3 weeks at 60-70° F. Some experts recommend dusting corms with an insecticide-fungicide before storing, but many gardeners skip this. Store loose or in mesh bags or even old nylon stockings in a cool, dry place with good air circulation, ideally at 35-45° F. Please remember: to prevent them from becoming invasive, do NOT compost corms, cormlets, plants, or soil. Bag in plastic or burn instead.
Crocosmia are great in bouquets. Learn more at our Bulbs as Cut-Flowers page.