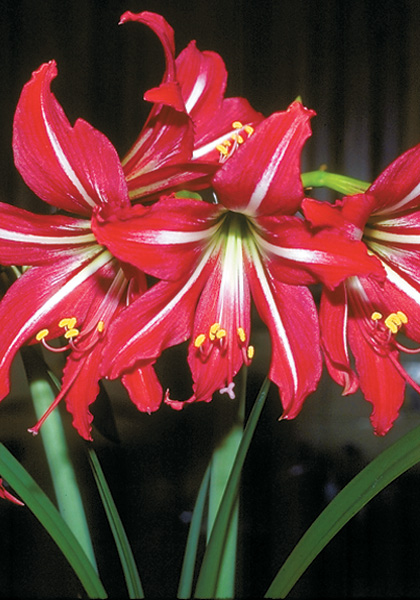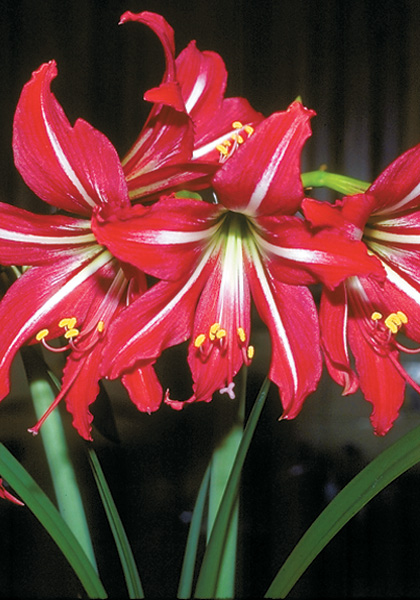 This is the cold-hardiest amaryllis and "the finest... for garden culture," according to Greg Grant in The Southern Heirloom Garden. It's also the oldest hybrid amaryllis, bred by British watchmaker Arthur Johnson in 1799, and offered by nurseries in Virginia and California by 1853. With graceful red and white flowers, it's hardy in zones 7a-11b, says Tulsa's Russell Studebaker in full-page praise of it in Horticulture magazine. It's not quite as easy to bloom in pots as the modern monsters, but if we can do it, you can, too! We ship small plants that will bloom the following year. Click here for a cool St. Joe's lily image from 1920. Unfortunately we lost our grower and haven't found another who offers authentic stock.
SUB TYPE American
ZONES 7a-11b
HEIGHT 20-26"
SOURCE Louisiana, America
LIGHT full sun
PLANTING & CARE
Care for this great old amaryllis the way you would any other amaryllis. It's just a lot hardier! You can grow it outdoors in zones 7 (possibly 6b) and warmer, or in a pot anywhere.
Unlike modern amaryllis, heirloom amaryllis — with their long, fleshy, permanent roots — don't like to be moved and often take a long time to re-establish themselves. So if yours doesn't bloom this year, please don't be too disappointed. All of our bulbs are blooming-size, and these glorious beauties are well worth waiting for!
To grow it outside, choose a spot in full sun if you're in the northern parts of its range, or in light shade further south. Fertile, well-drained soil is best, but St. Joseph's lily can thrive in heavy clay, too. Outside, plant so that the neck of the bulb is just barely buried. Water sparingly till the foliage resumes growth — which can take distressingly long — then water well and fertilize as long as it is actively growing. Stop when the leaves begin to yellow and the bulb goes into dormancy in the fall. (You may actually find the foliage stays evergreen for you.) In the northern parts of its range — zone 7 — we recommend deep, light winter mulch (straw, etc.) for winter protection, just in case. You don't want to lose this bulb to an unusually harsh winter!
To grow in a pot, choose a clay pot that's just a bit bigger than the bulb and use a fast-draining potting soil. Plant so that the top third of the bulb is exposed. Water sparingly till the foliage resumes growth — which, again, can take distressingly long — then water and fertilize regularly. When outdoor temperatures warm up, put it in a sunny spot outside or plunge it, pot and all, into the garden. The better it grows through the summer, the better it will bloom next year. In fall, bring indoors for the winter. At this point, most experts recommend that you gradually withhold water to encourage dormancy and then leave the pot completely dry for 2-3 months. When you can't wait any longer, or you see green growth emerging again in spring, gently remove the top layer of soil (without injuring any roots), replace with fresh soil, and resume watering and fertilizing. On the other hand, some experts report success re-blooming St. Joseph's lily by keeping it growing in pots throughout the year, without a dormant period. They do recommend giving it some fall chilling, though — but not freezing. You may want to experiment (and let us know!).