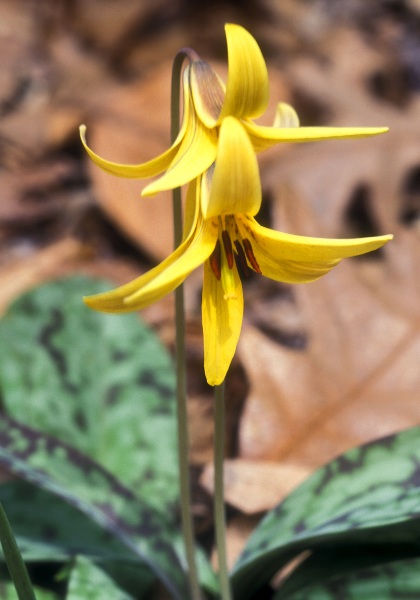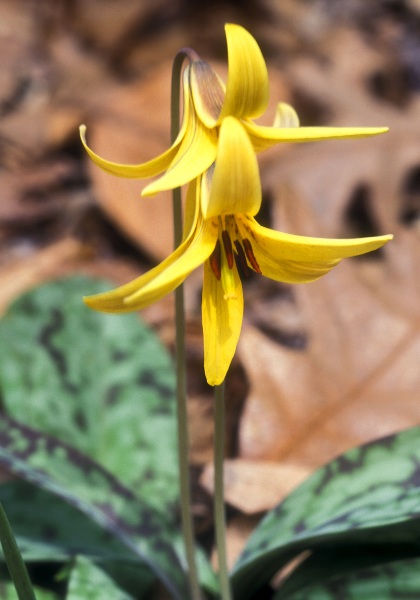 This rarely-offered native of our eastern woodlands is neither a violet nor a lily — nor any of the common European or West Coast hybrids — but it is exquisite. Its graceful yellow flowers nod above hauntingly beautiful leaves of milk-green dappled with brown, the inspiration for one of its many names, trout lily. One caveat, though: even our top-size bulbs may not bloom their first year, and though they'll multiply eagerly, their offspring will take years to reach blooming-size. Aka adder's tongue, amberbell, fawn lily, 7-10", part shade, zones 3a-7b(8bWC), nursery-grown for us in Tennessee.
SUB TYPE American, native, LittleBulbs
ZONES 3a-7b(8bWC)
HEIGHT 7-10"
BLOOM SEASONS early spring
SOURCE America, Tennessee, wildflower
PLANTING & CARE
Plant ASAP when they arrive in October. The naturally tiny bulbs of trout lily can dry out quickly and even die in storage.
Choose a site in light to half shade in zones 3-5, or half to full shade further south. Soil that's moist, humus-rich, and acidic is usually recommended, but we've seen trout lilies growing in drier, neutral-to-alkaline soils in oak-hickory forests throughout the Midwest.
Plant deeper than you'd expect for bulbs this small – 3-5" deep (in the wild they can be found up to 12" deep) and about 6" apart. Water well.
Do not apply thick or bark mulch. A light layer of shredded leaves is fine, but thick or heavy mulch can be too much for these small bulbs.
Keep moist in spring until blooms fade. Shortly afterwards the leaves will yellow and then wither away as these spring ephemerals go dormant for the summer. This is normal.
Transplanted bulbs are often slow to bloom, so please be patient. Over time they will multiply underground, spreading by stolons, and they may multiply by seeds, too. New bulbs typically take years to reach blooming size, but the mottled leaves make an attractive spring groundcover to enjoy in the meantime.
Learn more about growing and enjoying trout lily at our Fall Diverse Newsletter Archives.