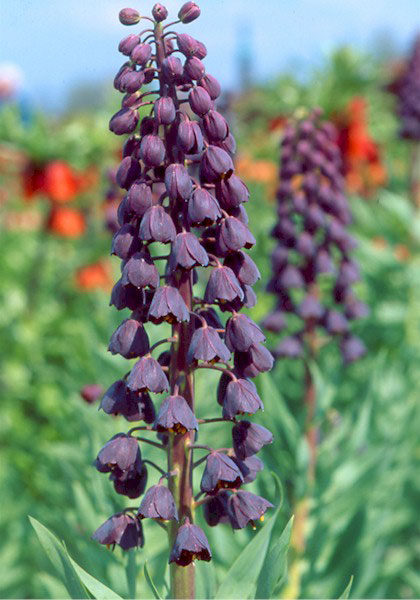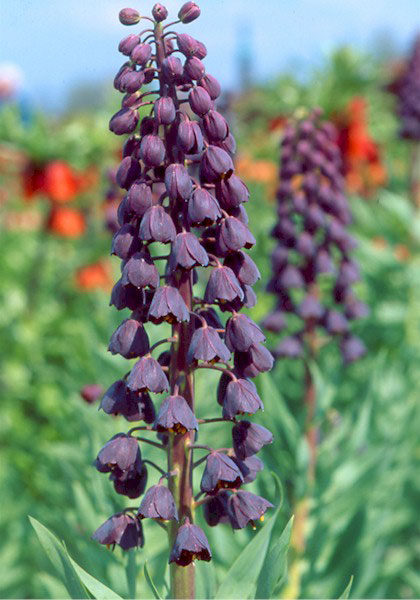 Strange and stylish, this great fritillary has been in US gardens since at least 1830. Angular, dusky-purple bells cluster on 24-40 inch stems over wavy sage green leaves — very Japanesque. Give it full sun/part shade in rich, well-drained soil. Zones 5b-7b, from Holland. Last offered in 2003. Widely available elsewhere.
SUB TYPE wildflower
ZONES 5b-7b
BLOOM SEASONS spring
LIGHT full sun
PLANTING & CARE
Plant ASAP when you receive them in October. Though our snake's-head bulbs are wax-dipped — which helps a lot — they are naturally small, fragile, tunic-less bulbs that are never happy in storage. If you absolutely have to, store them briefly in their closed bags in the refrigerator (but not the freezer) — and keep your fingers crossed.
Plant 3"-5" deep — some experts say the deeper planting leads to better flowering — and 4"-6" apart in a lightly shaded site with moist, humus-rich soil. Consider protecting with plastic netting, chicken-wire, etc., for a few weeks after planting when they're most attractive to animals.
Mulch lightly, if at all. Mulch is often too thick or heavy for small bulbs such as snake's-heads and their growth will suffer — if they emerge at all.
Water well, and then assure even moisture in spring and fall. Even in the summer, unlike most bulbs, snake's-heads don't want bone-dry soil. Fertilize occasionally. After bloom, allow the seed heads to mature and scatter their seeds. In the right spot snake's-heads will spread by seeding themselves about rather randomly (and charmingly).
Learn more about growing and enjoying snake's-head fritillaries at our Fall Diverse Newsletter Archives.