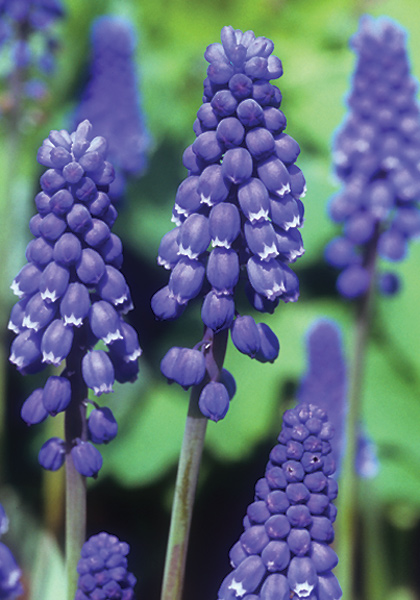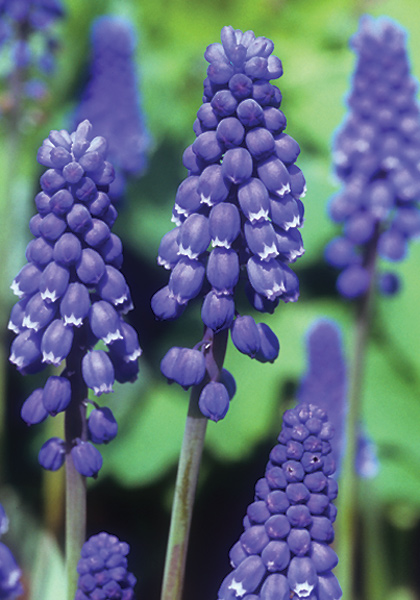 For 400 years this was the grape hyacinth, but today it has all but disappeared from the bulb trade, shoved aside by the modern M. armeniacum. What a loss! It's cold-hardier and — maybe best of all — bluer than armeniacum, much more vigorous than its wimpy white form 'Album', and its leaves are upright and blissfully sprawl-free. 6-8", zones 3a-7b(9bWC), from Holland. Last offered in 2012. Sadly this 400-year-old garden classic has gone "commercially extinct" in the Netherlands. We're searching for another source, so please keep your fingers crossed!
SUB TYPE wildflower
ZONES 3a-7b(9bWC)
HEIGHT 6-8"
BLOOM SEASONS spring
LIGHT full sun, half sun, light shade
PLANTING & CARE
Plant ASAP when you receive them in October. Grape hyacinth bulbs are naturally small and can dry out and die very quickly in storage.
Choose a sunny to lightly shaded site with well-drained soil. Plant about 3" deep, 3"-4" apart. Scratch a tablespoon of bulb fertilizer into the surface soil; slow-release 10-10-10 is ideal. Water well.
Consider protecting with plastic netting, chicken-wire, etc., for a few weeks after planting, typically the only time pests bother these animal-resistant little bulbs.
Do not mulch. Mulch is often too thick or heavy for small bulbs such as grape hyacinths and their growth will suffer — if they emerge at all.
For rapid spread, allow flower-spikes to mature and scatter seed after bloom. In subsequent years, your Muscari may begin to send up leaves in the fall. Don't be alarmed. Mother Nature has built them tough, and their leaves can survive great cold.
Learn more about growing and enjoying grape hyacinths at our Fall Diverse Newsletter Archives and Bulbs as Cut-Flowers page.