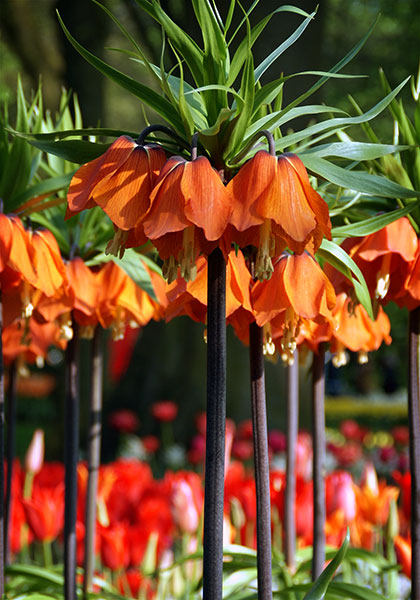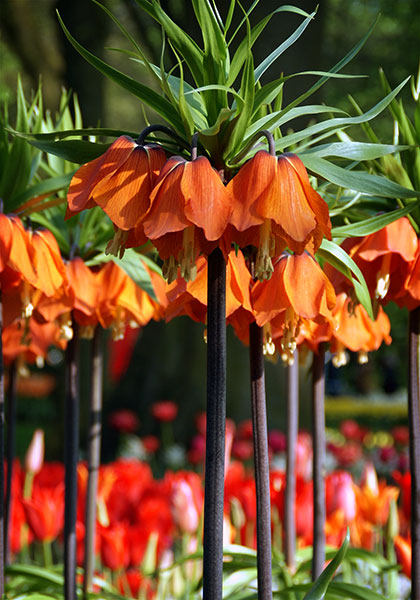 In 1629 Parkinson put this tall, dramatic flower on page 1 of his mammoth florilegium, noting that "for its stately beautifulness, [it] deserveth the first place." Brought to America by the early colonists, they became so popular that by 1820 the Prince nursery of Long Island was offering 22 different kinds. Best in rich, very well-drained soil. 3-4 feet, zones 5a-7b(8bWC), from Holland. Last offered in 2013. Widely available elsewhere.
SUB TYPE wildflower
ZONES 5a-7b(8bWC)
HEIGHT 36-48"
BLOOM SEASONS spring
LIGHT full sun
PLANTING & CARE
Plant ASAP when you receive them in October. Though our snake's-head bulbs are wax-dipped — which helps a lot — they are naturally small, fragile, tunic-less bulbs that are never happy in storage. If you absolutely have to, store them briefly in their closed bags in the refrigerator (but not the freezer) — and keep your fingers crossed.
Plant 3"-5" deep — some experts say the deeper planting leads to better flowering — and 4"-6" apart in a lightly shaded site with moist, humus-rich soil. Consider protecting with plastic netting, chicken-wire, etc., for a few weeks after planting when they're most attractive to animals.
Mulch lightly, if at all. Mulch is often too thick or heavy for small bulbs such as snake's-heads and their growth will suffer — if they emerge at all.
Water well, and then assure even moisture in spring and fall. Even in the summer, unlike most bulbs, snake's-heads don't want bone-dry soil. Fertilize occasionally. After bloom, allow the seed heads to mature and scatter their seeds. In the right spot snake's-heads will spread by seeding themselves about rather randomly (and charmingly).
Learn more about growing and enjoying snake's-head fritillaries at our Fall Diverse Newsletter Archives.