Here's a wealth of information about CROCUS from our email Gazette and past catalogs, starting with the most recently published. For other topics, please see our main Newsletter Archives page.
To subscribe to our FREE email newsletter, click here.
---
2016 Great Plant Picks: They're Not Just for Humans
Every year since 2001, Seattle's Elisabeth C. Miller Botanical Garden has released an annual list of Great Plant Picks. Although especially well-suited to gardens in the Pacific Northwest, many of these plants are also outstanding choices for gardens across the country.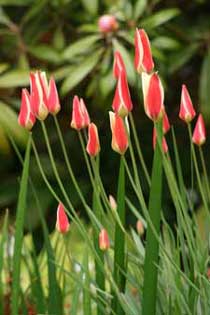 Butterflies, bees, and hummingbirds are the focus of this year's GPP list, and Rick Peterson provides an excellent introduction to it in Pacific Horticulture. "As temperatures warm, bees emerge from their winter slumber looking for nourishment," Peterson writes, and since "crocus are among the garden's earliest blooming bulbs," the GPP list includes several such as C. tommasinianus, 'Jeanne d'Arc', 'King of the Striped', and 'Mammoth Yellow'. A few species tulips are also recommended, including T. clusiana and T. sylvestris which will have bees "bustling around the garden with satisfaction" and, in the right spot, will "reliably return year after year."
Other Great Plant Picks that we're offering now for delivery this fall include:
extra early-blooming winter aconite, traditional snowdrop, and giant snowdrop,
wildflowery Grecian windflower, 'Gravetye Giant' snowflake, and sowbread cyclamen,
unbeatable 'Saint Keverne', 'Thalia', and pheasant's-eye daffodils,
and elegant martagon and regal lilies.
Learn more and see the entire list organized into categories such as "Fantastic Foliage," "Made in the Shade," and "Plants that Make Scents" at greatplantpicks.org/plantlists/search. (May 2016)
Tiny Crocus Make it Big in Martha Stewart Living and Garden Gate
Animal-resistant and happily multiplying in gardens from Vermont to Texas, Crocus tommasinianus has been in the spotlight recently.
Martha Stewart Living opens its March 2011 issue with a full-page photo taken by Martha herself of tommies under the pin oak allée at her home in Bedford, NY. "Every autumn," she writes, "I plant spring-flowering bulbs — tucking the small, seemingly lifeless objects along pathways, at the bases of trees, and amid perennials and shrubs in my garden. Every spring, I wait with anticipation for each of them to bloom, a sure indication that a new season has arrived, a new cycle of growth has started."
And in Garden Gate, tommies are the April 2011 "Editor's Choice." There's a full-page photo, text that draws from our catalog and website, and a planting plan for an "Early Spring Surprise path-side combo" that includes tommies, snowdrops, Pulmonaria 'Bertram Anderson', and the narrow-leaved hosta 'Stiletto'.
Tommies are wonderfully inexpensive, and if you order them (or any of our other fall-planted bulbs) NOW for delivery this fall, you'll get them at last fall's prices! (March 2011)
Crocus in Lawns: Our Readers Teach Us How to Make it Work
Last month we asked, "Have you ever had long-term success growing crocus in your lawn?" So many readers responded — thank you very much! — that we ended up with a dozen single-spaced pages of information to sift through trying to figure out why sometimes it works and sometimes it doesn't. You can read our conclusions and a condensed version of what gardeners from across the country told us at oldhousegardens.com/Lawn-Crocus.asp. But beware: It may tempt you to plant a few crocus in your own lawn this fall. (Sept. 2010)
The Frugal Gardener: Crocus, Yes! But in the Lawn? Maybe
Crocus are inexpensive, and they multiply without care. You can tuck them into even the most crowded garden. And their blooms pack a lot of punch at the dawn of spring.
Susan Reimer gave this big little bulb some well-deserved attention in the Baltimore Sun recently. Then in her engaging blog, "Garden Variety," she asked both Becky Heath and us if we recommend planting crocus in the lawn. Becky said yes but we said no because we've never seen them do well there long-term. We're always eager to learn, though, so we thought we'd ask: Have you ever planted crocus in your lawn, how did they do there, and would you recommend it? (August 2010)
Crocus for Kids (And a Tub of Boiling Oil)
If you've ever found your front-yard flowers ravaged by persons unknown, this bit by Henry Mitchell, one of America's wisest and funniest garden writers, may help:
"Though I have only a tiny yard, I have given a place of honor to the grand Dutch crocuses, not only because I love them myself, but because I know few flowers are so attractive to children. I do not expect to see many flowers; I expect the children to pick them. For this reason I have planted them conveniently near the sidewalk.
"When children pick flowers, I do not like the word 'steal,' and the quickest possible route to hell, it has been said, is to growl at a child for picking crocuses. The child should be gently taught the curious customs of our society, that he should not pick flowers without permission, but it is also intolerable to think of a child's excitement over these wonderful sweet gaudy flowers all ruined by harsh reproaches. Now of course if the child gets into Lilium langkongense or the irises, well, that is something else again, and a tub of boiling oil is recommended." (March 2008)
Bulb Cake: A Fun Family Tradition
A crocus-filled Bulb Cake is a fun, easy way to get your kids or grandkids involved in the pleasures of gardening. For photos and all you need to know about planting one — from the creative mother who invented it, our good customer, Debra Anker of Fredericksburg, Virginia — click here. (March 2007)
Learning from You: Are Purple Crocus Animal-Proof?
Many of you responded (thanks!) to the question we posed in our last issue: In your garden, are purple crocus more animal-resistant than yellow and white ones? Apparently it depends.
Nikki Hanes of Bethel Park, Pennsylvania, wrote to say that she planted equal numbers of white, yellow, and purple crocus under a tree where she feeds squirrels, and though the purples bloomed fine, almost no whites or yellows survived. And as we've been telling people for years, in trials at the Brooklyn Botanic Garden lavender Crocus tommasinianus was rated most animal-resistant.
But other readers told us that the animals in their yard were equal-opportunity eaters, and we have to agree that though purples may have an edge in our garden this spring, it seems to be slight. (March 2006)
Do Animals Avoid Purple Crocus?
Here's an interesting observation posted by Bob Huesmann on Daffnet, the online discussion group of the American Daffodil Society. Could it be true? Please let us know how it compares with your experience and we'll share the results in a future newsletter.
"I have read somewhere that blue/purple crocus contain a substance that animals, including squirrels, don't like. This is certainly borne out by our experience here in our small home garden/woodlot. We have loads of purple crocus, both the Dutch and the snow/species types. We also have loads of squirrels. But white or yellow crocuses are scarce indeed, no matter how many I plant." (Feb. 2006)
Focus on Crocus: Who Was Paulus Potter?
'Paulus Potter' may be growing in your garden, but did you know that this distinctive crocus was named after a famous Dutch painter of the 1600s? Potter was born in 1625 and died of tuberculosis before he was 30, but in his short lifetime he made his mark on European painting. Potter had an affinity for animals and specialized in countryside scenes and portraits of farm animals. In the 1800s his life-size "The Young Bull" was as popular as Rembrandt's "Night Watch." Take a look at the real Paulus Potter and his best-known painting at oldhousegardens.com/PaulusPotter. (And if you have any proof that Paulus is related to Harry Potter, please let us know!) (Sept. 2005)
Do Rodents Eat Your Crocus? Here's a Solution!
Joe Eck, writing in Horticulture (March/April 2004), says:
"Crocuses . . . gladden hearts of gardeners and bees, who travel great distances to find their pollen-rich anthers, almost the first, for them, of the year. But Crocuses can be heartbreakers, since far less benign creatures than bees are partial to their corms. . . . For this reason, we learned years ago to plant all our crocuses in black plastic nursery cans [pots], each covered with a lid of hardware cloth, its corners bent down to clasp the edges. The cans are buried so that the rims and lids lie about two inches below the surface of the soil, and the crocus corms are planted deep, up to eight inches, which prevents them from splitting into tiny cormlets too small to flower. A two-gallon can will hold a dozen species crocus corms comfortably and still leave room for multiplying. Our oldest crocuses planted in this way have been in their cans for 15 years undisturbed, and still flower abundantly each spring. Also, the perennials that come later grow happily over and into the cans, seeming to cause the crocuses no discomfort at all." (Oct. 2004)
A Tip for Making Your 'Roseus' Crocus Rosier
'Roseus' is the pinkest crocus, but when our bulbs bloomed last spring for our good customer Otis Nance of Portland, Oregon, he was disappointed. "They were too much like regular tommies," he said. But then he tried a little experiment and this spring his 'Roseus' are spectacular! The secret? Two tablespoons of crushed eggshells mixed into the gallon pot he's growing them in. The calcium in the shells reduced the pH of the soil, making it more like the alkaline soils where tommies are native. Lime or wood ashes will do the same.
Otis knows his 'Roseus' will never be truly pink, but with the soil more to their liking, he says, "their rosy tones are now rich and distinctive." (March 2004)
The Thrill of Something New
If crocus bloomed for months, would we love them more? Here's a thoughtful response from one of my favorite garden writers in Henry Mitchell on Gardening:
"In the garden, at least, you soon grow almost sick of flowers that bloom endlessly. . . . Floribunda roses can become boring after a while; so can marigolds. They are nice enough, it's just that after a few months you wish they would look a little different. It is otherwise when the snowdrops bloom. Wow. Look at that. Right through the snow. Nobody ever gets bored with snowdrops or crocuses." (1999-2000 catalog)
'Snowbunting' Crocus: Bright, Cheery, and Fragrant
Our good customer Beverly Klein of Sedalia, Missouri, writes:
"The best surprise was 'Snowbunting'. 'Just another white crocus,' I muttered while ordering. Yet when they bloomed in February, they were anything but that, with their bright orange center and delicate purple/brown pin-striping fading up and away from the bottom of the petals. There I was, down on my knees in the snow sniffing them in all their glory. Their fragrance was astonishing. I am glad I ordered 200 because the effect of their bright cups in the snow — and they did stand out in the snow — was so cheery." (1999-2000 catalog)
"My Special Favorites": Christopher Lloyd on Crocus
Garden-guru Christopher Lloyd writing in the March 1998 issue of Horticulture praises a small flower that we love, too:
"Crocuses are my special favorites. When they open wide, it is for a reason, and you can share their enjoyment early in the year when you feel the sun shining through your clothes. . . . I cannot have too many. Among the winter crocuses, C. chrysanthus is chief. . . . 'Snowbunting' is my favorite. . . . Crocus x luteus ['Mammoth Yellow'] . . . is the richest, purest orange imaginable. It combines ideally with C. tommasinianus, in shades of mauve. . . . The Dutch hybrids of C. vernus . . . end the crocus season. In purple, mauve, white, and stripes, they have substantial flowers. Anyone seeing them on a sunny day at Dixter is amazed. I find it hard to take my eyes off them." (1999-2000 catalog)
Copenhagen's Grand Crocus Lawn
Almost 20,000 square feet of crocus in bloom? That's what our friend and customer Marty Ross describes in the March 1995 issue of the RHS's The Garden:
"In the heart of Copenhagen, an enormous formal crocus lawn stretches from King Christian IV's Renaissance residence, Rosenborg — the Rose Castle — out into the King's Garden beyond. It was in 1606 that the King's Garden was laid out around the fairytale castle with its romantic stair turrets. It has become one of the most popular public parks in Copenhagen. . . .
"In early April, before the beech and chestnut trees in the park show even a hint of green, the crocus lawn — 11 m (36 ft.) wide and 160 m (525 ft.) long — springs into bloom down half the length of the garden, the display at its height lasting two or three weeks. From one end, the eye sails up this sea of crocus, more than 200,000 corms planted in a rich purple weave, across the moat to the castle. . . .
"The crocus lawn was planted in 1968, a collaboration between landscape architects Ingwer Ingwersen and Erna Sonne Friis. . . . Ingwersen, the royal gardener, . . . designed a simple repeating pattern of meter-square blocks. Friis, who translated one of Gertrude Jekyll's works into Danish, was intrigued by color play, and choose a combination of purple, white, and striped cultivars of Crocus vernus. . . .
"It is a spectacular, carefully controlled, horticultural expression of uncluttered, dramatic, but relaxed Danish design. . . ."
This modernist classic was recently replanted with newer crocus (alas!). 'Remembrance', 'Victor Hugo', and 'Pickwick' replaced 'Purpureus Grandiflora', 'Flower Record', and 'Striped Beauty'. The white remained 'Jeanne d' Arc'. (1997 catalog)
Plant More Crocus! Scott's Tips for Where and How
If historic authenticity is your goal, crocus should probably be used sparingly. If not, plant them lavishly for an invigorating spring tonic weeks before the major bulbs.
Even the smallest and most crowded yard has room for more crocus, since they thrive in scraps of space that are usually left empty. Though they rarely do well in grass (except maybe in England's lilliputian turf), crocus thrive at the base of perennials such as peonies, asters, coreopsis, hardy geraniums, and phlox that grow up to claim the space later in the season. Plant them in swirling ribbons through the middle or even back of your borders. They bloom so early that little will block your view of them.
Try planting them in the shade of deciduous trees or shrubs, too, even winding through astilbes or hostas. They ripen their foliage so early that later shade rarely fazes them. In fact, in my garden they bloom and increase happily in an old peony bed that is now under the north dripline of a large sugar maple.
Be sure to plant some in a warm spot along the south side of your house where they'll probably bloom before you think to look for them. Plant others where you can enjoy them when it's still too cold to spend a lot of time in the yard — along the drive, maybe, or outside the window at your desk or kitchen sink. And announce spring to your neighbors with a generous display in your front yard. (1995 catalog)
---
For articles on other topics, see our main Newsletter Archives page.