Order these summer-planted bulbs NOW for delivery in July.
All bulbs for summer2023 are SOLD OUT.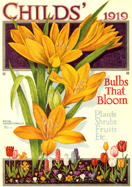 ARE DAYLILIES BULBS? Not really, but bulb catalogs in the past offered their thick, fleshy roots, and today many antique daylilies are at risk, so we've added them to our Ark. Modern daylilies can be amazing, but older ones blend better into most gardens. They're not huge or gaudy, and their classic, lily-like forms are full of grace.
TIPS FOR SUCCESS: Daylilies are one of the easiest of all perennials. See what you'll get: freshly dug, bare-root plants with 2-4 fans (growing points). Plant in full sun to light shade, and learn more here.
With cottage-garden grace and surprising diversity, antique daylilies are waiting to be rediscovered by modern gardeners. Sample their old-fashioned charms with 3 of our favorites, all different, labeled, and great for your area. (Several possibilities are pictured.) For zones 4a-8b(9aWC).

For more of each variety, order additional samplers. Daylily care.
| | |
| --- | --- |
| | Our longest blooming daylily, 'August Pioneer' opens its bright, graceful trumpets for up to eight weeks. Its color is something special, too, a softly glowing orange with hints of apricot that blends in harmoniously yet will draw you across the garden. And it multiplies quickly. All in all, it's a masterpiece from A.B. Stout, the patriarch of daylilies. 34", mid-late, deciduous, 3-4 fans, zones 4a-8b(9bWC), from Missouri. Chart and care. |
| | |
| --- | --- |
| | Excellent bloomer 'Bette Russell' brings rich lemony-yellow accents to the summer garden. Unusually for a daylily, her flowers are open in the evenings, welcoming you home at the end of your day! 36", early-mid, 3-4 fans, 4a-8b(10bWC), from Missouri. Chart and care. |
| | |
| --- | --- |
| | This dramatically tall, colorful daylily will draw your eye from the farthest reaches of your garden. It gets its height – five feet or more here – from H. altissima, native to the mountains of Nanjing, and with 25-30 buds per stem, its striking red flowers will entertain you from mid-summer into fall. By A.B. Stout, 48-72", deciduous, 2-3 fans, zones 4a-8b(10bWC), from Missouri. Chart and care. |
| | |
| --- | --- |
| | One of the best of the ground-breaking mid-century pinks, 'Evelyn' is a warm, peachy-pink highlighted by a glowing, golden throat. Free-flowering and vigorous, it was bred by University of Chicago botany professor Ezra Kraus – who clearly knew what he was doing. 24-30", early-mid, deciduous, 3-4 fans, zones 4a-8b(10aWC), from Missouri. Chart and care. |
| | |
| --- | --- |
| | Golden-orange 'Gertrude' is as refreshing as an orangesicle or a cool slice of cantaloupe with 5" blossoms that positively glow even on cloudy days! 28", early-mid, 3-4 fans, zones 4a-8b(10bWC), from Missouri. Chart and care. |
| | |
| --- | --- |
| | This exuberant daylily is one of our favorite reds. We like its long, pointed petals, its big, bright, star-like center, and that breeder Hooper Connell of Baton Rouge named it for his grandfather. 34-38", mid-season, evergreen, 3-4 fans, zones 4a-8b(10bWC), from Missouri. Chart and care. |
| | |
| --- | --- |
| | With a name that's pure 1950s, this luscious daylily looks like a cool, refreshing cantaloupe and ice cream smoothie. It was bred by Orville Fay of Illinois whose day job was working as a chemist in a candy factory. Just 30" tall, mid-summer blooming, deciduous, 3-4 fans, zones 5a-8b(10aWC), from Missouri. Chart and care. |
| | |
| --- | --- |
| | 60 years ago this tall, dark-red/burgundy daylily caused ripples with its long elegant petals and vigorous growth. It contrasts beautifully with yellow and gold neighbors and can rebloom throughout the summer. 36", early-mid, 2-3 fans, zones 4a-8b(10bWC), from Missouri. Chart and care. |
| | |
| --- | --- |
| | A fetching blush pink with a green throat, 'Winsome Lady' was voted by the American Daylily Society in 1974 the best performer over a wide geographic area. Her subtle fragrance only adds to her appeal! 24", early, 3-4 fans, zones 4a-8b(10bWC), from Missouri. Chart and care. |
| | |
| --- | --- |
| | With its velvety, wine-dark petals, chartreuse throat, and graceful, lily-like form, 'Black Friar' is one of the best of the mid-century "black" daylilies. Tall and vigorous, it was bred by the first woman to win the AHS's top award for hybridizing, "Sun-Proof" Mary Lester of Georgia. 32-38", mid-to-late, deciduous, 2 fans, zones 4a-8b(10aWC), from Michigan & Missouri. Chart and care. Last offered in spring 2023. If you'd like to be notified when it's back in stock, click here to sign up for an email alert. |
DAYLILY ARCHIVES — For customer tips and raves, history, news, and more, see our Daylillies Newsletter Archives.
PLANTING & CARE — Plant these bare-root perennials as soon as possible in the spring. They're eager to grow, can take light frost, and need water and sunlight to stay healthy. If necessary, store in a plastic bag in the refrigerator for a few days or "heel in" briefly in moist sand or soil in a shady spot.
Daylilies like lots of sun but most bloom well in light shade, too, and often prefer it in the South. Loamy, well-drained soil suits them best, but they're adaptable and should do fine in any soil that's not too wet or dry.
Plant 18-24 inches apart (to leave growing room for future years) with the crown (where the foliage meets the roots) no more than one inch below the soil surface. Dig a hole big enough to fit the roots comfortably, mound soil in the center, set the plant on top, and spread the roots out down the sides of the mound. Fill in and firm soil around roots, making sure the crown ends up no more than one inch deep. Water well.
Water regularly, especially the first year and from spring till flowering in future years. First-year plants usually bloom sparsely — if at all — concentrating instead on developing a strong root system. Deadhead (remove) spent blooms daily for a neater look and, to increase bloom the following year, remove any seedpods that may form.
After bloom, normal senescence (aging) may cause foliage to subside, yellow, or turn brown at the tips. If this bothers you, feel free to trim it a bit or even cut the foliage to the ground completely — though not the first year! With good care, fresh new foliage will emerge.
Daylilies are hardy perennials and winter protection is rarely needed. In spring, remove dead foliage, fertilize if indicated by a soil test, and resume watering.
For more information, including tips on the few pests and diseases that occasionally trouble daylilies, see the "Frequently Asked Questions" section of the excellent American Hemerocallis Society website.