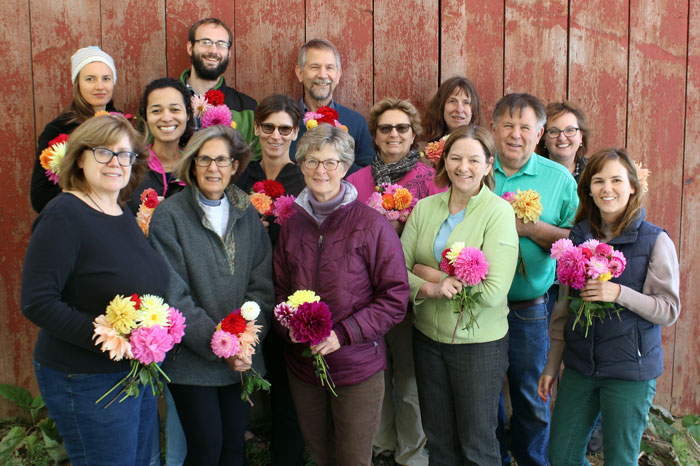 Our friendly, expert, bulb-loving crew!
WHO WE ARE: Old House Gardens is the world's only mail-order source devoted to antique flower bulbs. Since 1993 we've been tracking down rare bulbs around the world, researching their histories, growing some ourselves and recruiting small farmers to grow the others, and sharing them with gardeners through our catalog and website. Learn more.
WHEN WE NEED HELP: Part time, 20-25 hours per week throughout the year and full time hours during our shipping seasons. We ship bulbs twice a year: our spring season is late March through early May and fall is late September through early November.
THE JOB — OFFICE ASSOCIATE: To be responsible for Orders Management and Customer Service. If you enjoy working in a small office (there will be just four of us), in a relaxed atmosphere with the rush of a crazy shipping season, we would love to hear from you.
The Job
Order processing: Process orders using our in-house order-management system. Record additions and changes to the orders and prepare the paperwork for shipping
Customer care via phone and email: Answer phones, take orders and help with plant related questions
Mailings: Mail catalogs and gift certificates as needed
Skills Required
Customer focused and sincerely enjoy working with people
Pleasant and professional phone etiquette
Exceptional organizational and time management skills, ability to take initiative
Exceptional written and spoken communication skills
Gardening interest and experience
Team oriented with proven ability to be adaptable and dependable
Shipping season is fast-paced! We are looking for someone adaptable, upbeat, and who works well in close quarters.
The ideal candidate will be dependable, have excellent phone etiquette and a good eye for detail.
YOUR CO-WORKERS: Our crew is a fun, hard-working, friendly group. Most are gardeners, and all of them would tell you this is a fun place to work.
OUR LOCATION: We work out of an office in an old farm house on the property of the Washtenaw Food Hub, just north of downtown Ann Arbor.
PAY: Starting pay is $12-14/hour, with a 25% team-discount on all bulbs, Monday through Friday.
THE NEXT STEP: Complete our application. You can either submit it online or print and mail it to us at 4175 Whitmore Lake Rd., Ann Arbor, MI 48105. Feel free to include a resume.
Questions? Email Rita@oldhousegardens.com or call (734) 995-1486. We'll look forward to hearing from you!