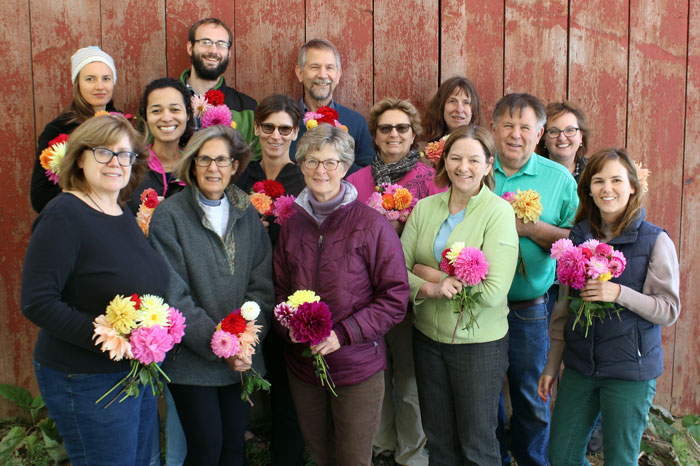 Our friendly, expert, bulb-loving crew!
WHO WE ARE: Old House Gardens is the world's only mail-order source devoted to antique flower bulbs. Since 1993 we've been tracking down rare bulbs around the world, researching their histories, growing some ourselves and recruiting small farmers to grow the others, and sharing them with gardeners through our catalog and website. Learn more.
WHEN WE NEED HELP: We're hiring now for our spring shipping season which runs from March 29 through May 5, or so.
THE JOB — BULB ORDER PICKER: Our success in delivering fantastic bulbs to our customers starts with our pickers. As an order picker you'll grab an invoice of a customer's order, walk through the tightly packed rows of our pick room, and choose top-quality bulbs to fill each order.
Attention to detail is VERY important. Our order pickers must carefully distinguish between many similar code-numbers, select the correct variety even though many bulbs look almost identical, carefully count out the correct number, and make sure each bulb is top quality.
You must be able to work QUICKLY with few or no errors. If you make a mistake, one of our customers suffers!
We spend most of the day on our feet. Lifting and carrying are required, but it's rarely anything heavy. The shipping barn is kept cool, which is best for the bulbs, so you'll need to dress warmly.
Also VERY important is a positive spirit and the ability to work well with others in close quarters.
YOUR CO-WORKERS: Our crew is a fun, hard-working, friendly group. Most are gardeners, and all of them would tell you this is a fun place to work.
OUR LOCATION: We work out of the garage area of an old farm house on the property of the Washtenaw Food Hub, just north of downtown Ann Arbor.
PAY & HOURS: Starting pay is $10-11/hour, with a 25% team-discount on all bulbs. Our order pickers work Monday through Friday from 8:30-4:00.
THE NEXT STEP: Complete our application.
Questions? Email help@oldhousegardens.com or call (734) 995-1486. We'll look forward to hearing from you!