"Catherine Becker" May Be Even Older "Wisconsin Red"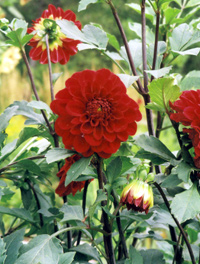 Several years ago, our good customer Vytas Virkau of suburban Chicago emailed us enthusiastically about a brilliant red heirloom dahlia he was growing. He told us that for 40 years he'd admired a long, beautiful row of it that grew in the vegetable garden of a farmhouse near his summer home outside Wausaukee, Wisconsin. One day he stopped and asked for a start, and the lady of the house, Catherine Becker, was happy to share. He grew it, loved it, and eventually offered us some — and after growing it here in our trial garden for a couple of years, we agreed with Vytas that it's a dahlia worthy of being reintroduced to gardeners everywhere.
We offered our first small crop web-only in February 2009, under the study name "Catherine Becker." Soon we got an email from Victoria Dirst of Door County, Wisconsin, suggesting that this heirloom might have an even deeper history. She wrote:
I am a Master Gardener in Sturgeon Bay, Wisconsin. Last year I spent many hours of research on the web trying to identify an heirloom dahlia that I obtained about twelve years ago from my former boss, John Hagman. This red dahlia can be traced back to his paternal grandmother's family. Her maiden name was Genevieve Hodgins. She married Walter Hagman in Appleton around 1900. John believes these dahlias were being grown by the family around that time and were spread by his grandparents to Ashland, Wisconsin. John's parents introduced them to friends in Duluth and Grand Marais, Minnesota. John has shared them with folks in Madison, Middleton, Cross Plains, Sturgeon Bay, and Washington Island, Wisconsin.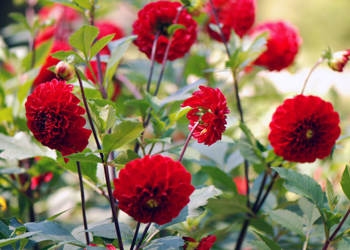 Victoria Dirst's photo of the Hagman-family dahlia
that she's been calling simply "heirloom red."
"Based on your photos, your 'Catherine Becker' seems to be this very same dahlia. You indicate it has been grown near Wausaukee, Wisconsin, since 1940. Wausaukee is just 80 miles north of Appleton.
"This dahlia is hearty, prolific, and stores well. The Door County Master Gardeners didn't want to accept it into their annual plant sale without a formal name, but now I have something to call it other than 'heirloom red dahlia.'"
This was exciting news! Victoria included photos and we had to agree that our "Catherine Becker" looked a lot like her "heirloom red dahlia." But tens of thousands of dahlias have been introduced over the past 200 years, and many of them look a lot alike. So we needed to do more research. Victoria was able to put us in touch with John Hagman's wife, Brenda, and we had a wonderful long phone conversation with her. She confirmed everything Victoria had told us and agreed that the two dahlias looked and sounded identical. She told us that their "family red" dahlia multiplied prodigiously and stored very easily. "We have seven bushel baskets of it in the basement right now," she said, "and every year we give away as many tubers as we can." That seemed to fit the history of "Catherine Becker," too.
Brenda also told us that her husband's aunt and uncle had grown their dahlia for many years in Marinette, Wisconsin, which she thought was close to Wausaukee. She emailed us the next day to add, "I looked at a Wisconsin map to locate Wausaukee and was very excited to see how close it is to Marinette (about 30 miles). My father-in-law's sister and her husband lived many years in Marinette.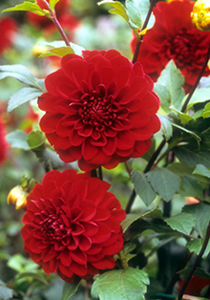 "Wisconsin Red"
(from Vytas Virkau, formerly
known as "Catherine Becker")
blooming in our trial garden.
Uncle Charlie (Koepp) was the town doctor and had many patients throughout the area as Marinette is the largest city in that part of the state. He was an avid gardener and apparently he was well-known for giving away plants to all of his patients." Imagine that.
So are we sure "Catherine" and the Hagmans' family heirloom are exactly the same? Not yet, but we've exchanged tubers — which look like identical twins! — and Brenda, Victoria, and we are all growing one of each dahlia side by side this summer to compare. We'll keep you posted, and in the meantime we're revising our study name to the more inclusive "Wisconsin Red." If you recognize this long-loved, upper Midwestern dahlia, please email help@oldhousegardens.com and add to its story.
Pass-along heirloom plants like "Wisconsin Red" often have certain qualities in common that help preserve them and make them good choices for modern gardeners: they're beautiful, distinctive, easy to grow even in tough conditions, and in the case of tender plants like dahlias, easy to store over the winter. "Wisconsin Red," for example, can be planted earlier than most dahlias – "as soon as the frost is out of the ground," according to Brenda Hagman, which is mid-April or so in her zone-5 garden. Some years the last ones don't get planted till Memorial Day, though, and that's no problem. And no matter whether the spring is wet or dry, Brenda says they always sprout.
In the fall the Hagmans dig the tuber-clusters, set them on screens to dry for a few days, knock the stems with a trowel to shake the dirt off (a technique John's father taught him), and store them piled in wooden bushel baskets in a cool, root-cellar room in their basement. As Catherine Becker did, the Hagmans grow their family dahlia in their vegetable garden, where they use it to mark the ends of rows, and they say it also makes a wonderful hedge. Plant one and in a few years you'll have enough to do that yourself! And then you can start passing it along to your friends and family, joining a tradition that, it seems, stretches back almost a century now.