'Conspicuus' Daffodil, Victorian Pioneer
Lovely, lively, and decidedly old-fashioned, 'Conspicuus' was one of the first great achievements of the Victorian daffodil renaissance. In honor of its beauty, importance, and rarity, we've named it our fall 2002 Heirloom Bulb of the Year.
Daffodils today are the most popular garden bulbs. Deer and chipmunks leave them alone, they multiply year after year in most gardens, and they come in a wide array of sizes, forms, fragrances, and delicious shades of white, yellow, orange, and pink.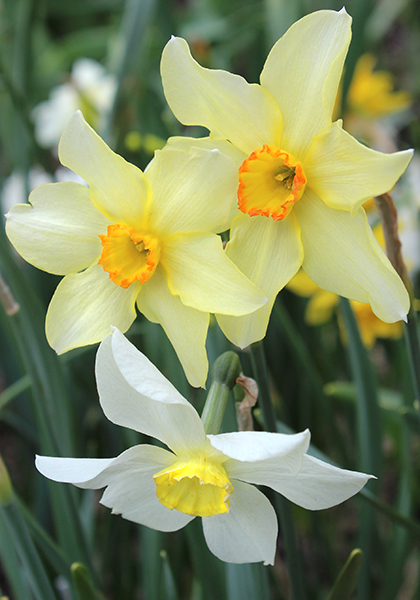 Yet just 150 years ago daffodils were minor players in the spring garden. The Vick's catalog of 1872, for example, offered 186 hyacinths, 129 tulips, and a mere 27 daffodils — only half of which were winter hardy in zone 5 and colder. But then some savvy British gardeners turned their attention to this mostly European wildflower and started breeding new forms — sparking a wave of enthusiasm that eventually swept the globe. By 1930 nearly 7000 new varieties had been introduced.
'Conspicuus' — also known as 'Barrii Conspicuus' — was a pioneer in this flower-power revolution. Introduced in 1869, it was one of the first of the short-cupped daffodils, the type Victorian gardeners loved best. With fluttering, creamy-yellow petals and short, frilly cups ringed with orange, a clump of 'Conspicuus' in bloom looks like a host of butterflies. Although not big or brassy enough for a mass-market bulb, it's a strong grower and multiplies rapidly with no special care.
In 1907, 'Conspicuus' was called the "queen of the chalice cups . . . , a general favorite and one of the best" by A.M. Kirby, author of America's first book on daffodils. In 1930 — six decades after its debut — America's greatest plantsman, John Wister, praised it as "a first-class flower in every way." And today, its old-fashioned grace and charm can enrich even the most modern garden.
"People preserve Queen Anne houses, Arts and Crafts pottery, and Eames chairs," says Scott Kunst, founder of Old House Gardens, "and antique daffodils are just as wonderful." As part of their "Save the Bulbs!" campaign, Old House Gardens spotlights endangered bulbs to persuade more home gardeners to do the only thing that can save these living relics — grow them. "It's something any gardener can do," Kunst says. "It's easy, it's fun, and if we're going to save these treasures of our shared garden heritage, it's essential."